The W124 Mercedes-Benz 500E/E500 needs no introduction here at GCFSB. These brutes rounded out the German super saloon triumvirate, along with the BMW E34 M5 and Audi C4 S4/S6. They are also the exception to the rule that says Mercedes-Benz coupes and convertibles hold resale values stronger than sedans. Clean, unmolested examples are highly prized and this example for sale in California strikes a good balance between low mileage garage queen and clapped out, high mileage runner.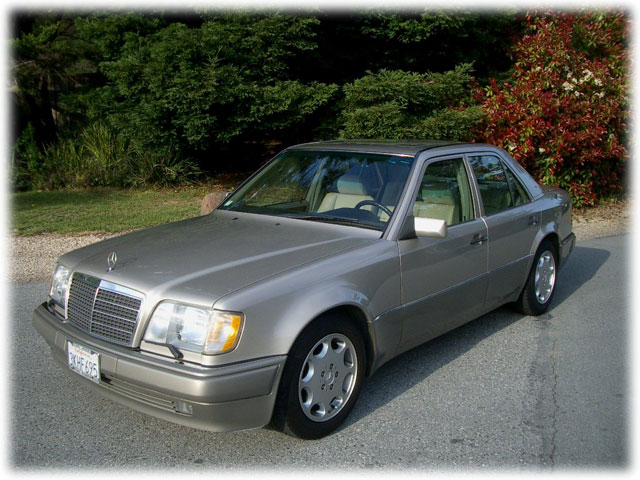 1994 Mercedes 500E the original Autobahn Stealthwagon. In 1991 Mercedes introduced the high-performance 500E (W124.036) Designed and jointly built with Porsche, each 500E being hand-built by Porsche, and transported between the Mercedes plant and Porsche's factory in Zuffenhausen over and 18 day build cycle. In 1994 the 500E was mildly face-lifted and the brakes were improved and re-badged the E500. Production totaled 10470 cars and concluded in 1995.

The 500E had a naturally aspirated 32 valve 5.0 liter V8 engine producing 322 hp and 354 ft lbs of torque which delivered performance of 5.5 seconds to 60 MPH. This sports car acceleration and its handling and braking prowess so impressed the automotive press they labeled the 500E a "Wolf in Sheep's Clothing." Because of its wide track and subtle flairs, limited production, hand-built construction, and joint provenance with Porsche; the 500E is already considered a "classic."

The particular 500E has under 75k miles, and is a local SF Bay Area car from new, no accidents, clean CarFax and never smoked inside. Cosmetics are very nice and the car is all original; no performance or cosmetic enhancements. It has the heated seats. Tires are Michelin Pilot Sports and brakes are quite new. If you are looking for a really nice "classic" that you can drive comfortably daily and that hides its skills in a subtle looks; this is your 500E.
If you can find one with under 50,000 miles on the clock, these 500E/E500 sedans can usually command prices in the $25,000 to $35,000 range. Those cars with around 75,000 to 100,000 miles are still in demand, as these are Mercedes-Benzes that were engineered to a point, not a price. With no reserve, we'll probably see this car sell anywhere in the $14,000 to $20,000 range; more than likely bringing a figure between $16,000 and $17,000. Smoke silver is a tame color for this fast Benz, but it's not a hue that offends. That might hold back bidding just a bit.
-Paul