Porsches of this era are some of my favorites, and I thought I knew of most of the special models. Like the 3.6 Turbo S of the era. But this interesting slant isn't one that I was familiar with. It's not the usual slant-nose with pop-up lights, but more like a 928/968 style that is exposed and raises up when lit. Frankly it looks a bit aftermarket, but it was actually a rare factory option referred to as Flachbau. Apparently there were less than 100 made for the entire world, and only about 40 came to the U.S.
Check out this very rare , offered by Manhattan Motor Cars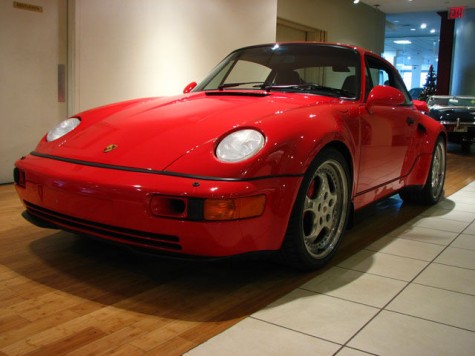 quote from seller's auction:
One of a very limited series of the last hand built 911 Porsches (76 total worldwide production), it is only befitting that this rarely seen model is here in New York City.
The auction is a little thin on information, but as the $150,000 opening bid suggests, only serious inquires need apply. With only 17k miles, this car is looking to be in fantastic shape and should fit into a collection very nicely.
Read up on this very interesting model at flachbau.com
dc