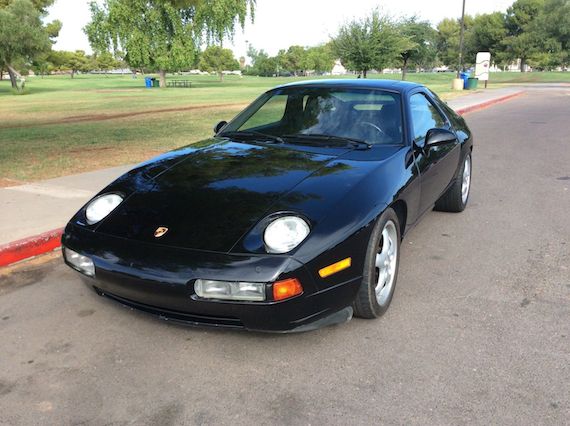 Featured here is a decent example of the highly desirable 5-speed Porsche 928 GTS. According to the 928 Registry, this particular car is the 114th out of 139 GTS's imported in 1994, and one of only 44 fitted with a 5-speed manual transmission. Furthermore, it is one of 62 GTS's spec'd with a schwartz exterior, 20 of which were five-speeds.
In addition to sporting the desirable black/black color combo, this GTS was fitted with around $12,000 of extra options. This is unusual for a later model GTS, as most were ordered as dealer inventory with few options (most GTS's with many optional extras were 1993s). Some of the options I particularly like are the rootwood handbrake and shift lever (I know that many don't like wood in a Porsche, but I do), the car phone, the extremely rare CD/cassette holder in the door, and the deletion of the exterior rubstrips. These extras, along with a few others brought the original sticker price to over $95,000.
Year: 1994
Model: 928GTS
Engine: 5.4 liter V8
Transmission: 5-speed manual
Mileage: 70,052 mi
Price: $88,000 Buy It Now
Hello guys, girls, this is my baby and I am now selling it, I have owned and enjoyed this vehicle immensely, but my priorities have now changed. And it is time for someone else to own and enjoy this vehicle as I have! I believe I am the 3rd owner 1st owner I believe was a doctor from NC. Then from thoroughbred motor cars I purchased it, it had 34,000 miles then in October of 2002. It has always been kept out of the Arizona sun in my climate controlled garage, I have up kept the maintenance on this vehicle since I have owned it I used to work at a Porsche dealership, included not in the pics will be the factory Porsche leather fender covers a 3 piece set for the 2 front fenders and front bumper cover to protect the panels while servicing it. I have changed out All The fluids from the engine oil, power steering, coolant and transmission gear oil. All with synthetic fluids, the brake fluid has always been flushed every 2 years, I have several extra oil filters and air filters that go with the car as well, everything is in working order on this vehicle except the rear tailgate electric hatch release. It needs a cleaning so the motor can park itself instead of overrunning, the interior is in very very good condition, no rips, no tears as the pics. Should show, the outside body and paint are original no claims. No damage no repaints since I have owned it, no dings. No dents anywhere on this vehicle! The timing belt and water pump and all belt tensioners were replaced at 45,000 miles, the dual ac works just as it should never any leaks, Please feel free to call me or email me anytime for further information and or questions on this beautiful rare Porsche 928GTS motorcar if you have never driven one.

You won't be disappointed at all. It drives and handles like nothing else I have ever driven very very very impressed with this vehicle.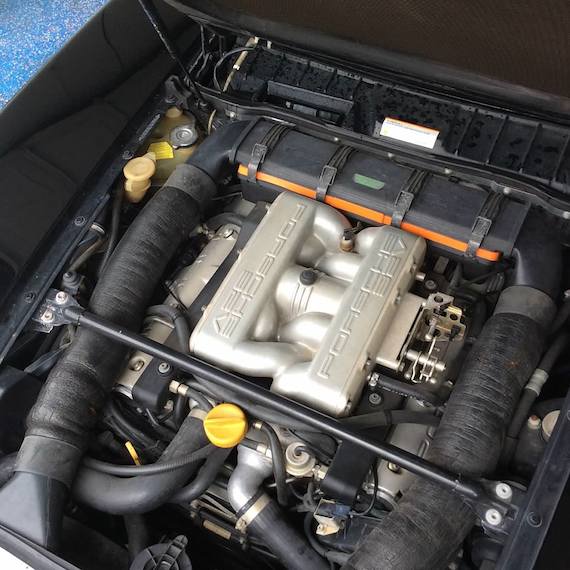 As far as condition goes, this car appears to be above average for a GTS. The owner claims that the paint is all original, but the front bumper cover could certainly use a repaint. The front spoiler looks like it may need to be replaced, there is a speaker grille missing above the left rear seat, the radio is an aftermarket unit (as well as the speakers), and the seats both have a bit of wear on the bolsters. I didn't notice any pics of the undercarriage or rear hatch area, which makes it hard to comprehensively judge the condition.
I'm a bit concerned that the owner doesn't mention whether or not the car has a complete service history. The presence of the original window sticker is nice. The Carfax and window sticker indicate that this is a southern car (original delivery to Atlanta), so I'd hope that there is no rust underneath. I'd recommend anyone interested contact the seller for pictures of the undercarriage and the other previously mentioned areas.
On the whole, this appears to be a nice 5-speed GTS in the most desirable color combo (you may not agree, but stats show that black/black is the most popular among modern consumers). The price is a bit high given the mileage, but it's such a rare car that I can't place an exact figure on it. I'll just eagerly observe to see if any offers are made.
-Andy