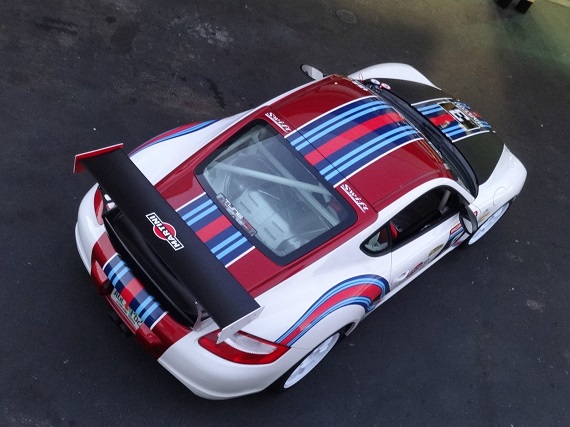 Yesterday, our editor Paul sent me a quick message with a link enclosed – "Enjoy a late birthday present!" he said. The link was to the movie Le Mans, the 1971 classic staring Steve McQueen piloting the equally iconic Gulf-liveried John Wyer run Porsche 917Ks. But while that combination would be emblazoned in history as the defacto color for the Porsche 917, to me the more memorable combination was the car that actually won the 1971 Le Mans 24 Hours. That was the magnesium-framed number 22; a pale white car that debuted an equally iconic combination for me as it was sponsored by Martini Racing. Later in the 1970s, the livery would become more famous as the multiple winners with both 935 and 936 chassis, but few remember that the connection went back into the era of the light-blue Gulf cars. The Martini livery is still popular today, carried on by a proud tradition into Formula 1 as well as being recreated by amateur enthusiasts in the Porsche Interseries, a Cayman-only race program that notably offered drivers to run famous Porsche colors. Very few can afford the opportunity to even see 917s in action – never mind own one. But a Cayman S racer? While not cheap, they're considerably more affordable than you'd expect: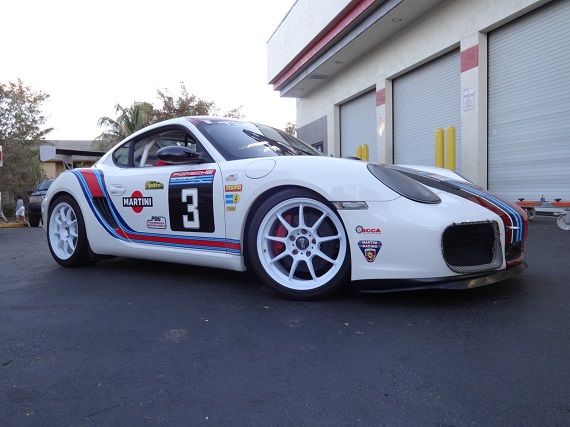 Year: 2007
Model: Cayman S
Engine: 3.4 liter flat-6
Transmission: 6-speed manual
Mileage: 53,000 mi
Price: $67,000 Buy It Now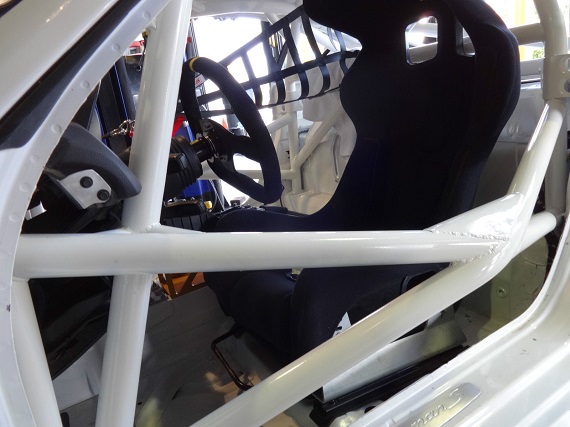 2007 PORSCHE CAYMAN S TRACK CAR

FULL 3.4L DFI CONVERSION

The owner of this vehicle spared no expense converting this 07 Cayman S into a track ready racing vehicle. The entire vehicle was stripped down and built back up as a full blown race car. It has never been campaigned in any racing seasons, only taken to two weekend track days at local tracks here in Florida. The tub is clean, no accidents or repairs of any kind. The vehicle was originally silver, then painted red, then the current owner changed it to single-stage white and wrapped it with Martini Livery. The vehicle was completely built and assembled by TuneRS Motorsports in Coral Springs, Florida who specialize in Porsche racing.

Options:
– Full weld in roll cage (6 point) , 1.75″ chromoly tubing, FIA approved design, suitable for PCA, POC, SCCA, NASA, Grand-Am racing
– Complete DFI conversion from a 2010 Porsche Cayman S. All wiring, computers, control modules, transmission were all replaced from a good donor vehicle with low miles.
— Engine leak down test performed: 5% all cylinders
– Fabspeed Supercup exhaust system with race headers (no catalytics)
– K&N drop in air filter with stock airbox
– Bilstein PSS9 coil over suspension with Swift racing springs (450/500lb rated)
– Stainless braided brake lines with Castrol SRF racing brake fluid
– Rear adjustable to control arms
– Performance Friction Carbon (PFC) Brake kit front and rear: Front/Rear floating rotors with 08 compound pads
– 3 Quart high pressure accusump kit
– EVOMS ECU Programming
– Front brake cooling deflectors
– Front aluminum mesh screens
– Front 996 GT3 cup splitter
– Front 996 GT3 5 point adjustable sway bar with drop links
– MOMO Daytona "Halo" Racing Seat
– MOMO Suede flat bottom steering wheel with quick release adapter
– OMP 6 point racing harness hans friendly
– OZ 18″ Lightweight monoblock wheels w/Hoosier racing slicks
– Driver side window safety net
– Center safety net
– Safecraft manual dual pull extinguisher (5 lb)
– Ignition switch panel
– 6 Pole kill switch
– 17″ long racing mirror
– Aerocatch quick release hood pins
– Stock shift assembly with 4″ shifter base raise

This vehicle is being sold as Private-Seller. Please note, we are not a dealership. The vehicle has a clean and clear Florida title.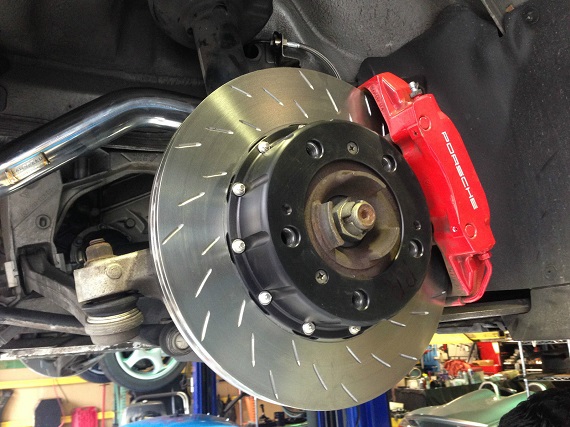 The car looks well built overall, with a focus on safety and handling rather than dropping a monster 3.6 or 3.8 into the back. The 2010 engine update should be good for around 315 horsepower and 273 lb.ft of torque; a little bump over the original power plant. It certainly looks purposeful with the Martini scheme covering the car and the white OZ Racing alloys. Front to back, quality parts were used and TuneRS is a noted Cayman/Boxster race specialist so it should be well built. At well over double the price of a streetable Cayman S, it's not cheap – but build a streetable Cayman S to this level and I don't think you'll find much savings. It's a turn-key option that's cheaper to buy and run than a 911 GT3 Cup car, and while it may not have long term residual value like the factory race chassis would, it nonetheless should offer a lot of entertainment in the intervening years.
-Carter