Update 6.22.2023: Browsing eBay inventory for a post I came across this B3 that Carter wrote up previously. The price is now $39,499, some 32% less than the original asking. While still a strong ask for an e36, it's an imported Alpina in really nice shape, has the hardtop (which is appealing to me in the PNW), and has the manual transmission too. Good luck to buyers and seller! Links updated. -dc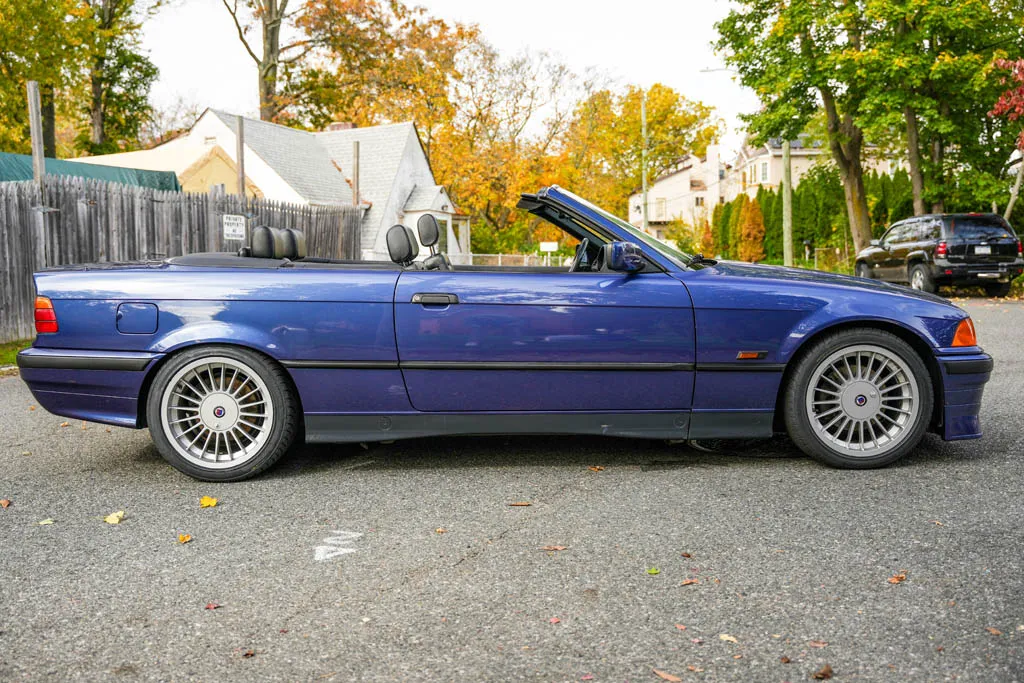 Want a 3-Series convertible that's a bit more…let's say "old school", while still standing apart from the crowd? Look no further than the wizards from Alpina. The successor of the slightly less powerful B6 model, the B3 kept many of the same improvements to the E36 chassis – unique stabilizers, springs and shocks, and larger brakes. Inside the B3 received the normal Alpina-branded shift knob, steering wheel, and seats, and in their typical style, Alpina also provided unique front and rear spoilers along with their own badging. Of course, the package was rounded out by some of the best-looking wheels ever fitted to a BMW. While the B3 was down on power to the European M3 3.2, it wasn't really much slower – again in typical Alpina fashion, the car was tuned to make the most of the power that was available rather than just provide a shockingly high number. A reported 1,000 of these ultra-exclusive B3s were produced, with about 2/3rds of those being the earlier 3.0 model, and in four different configurations – Coupe, Cabriolet, Touring, and Sedan. 119 of those were the drop-top version, and today's car is number 99: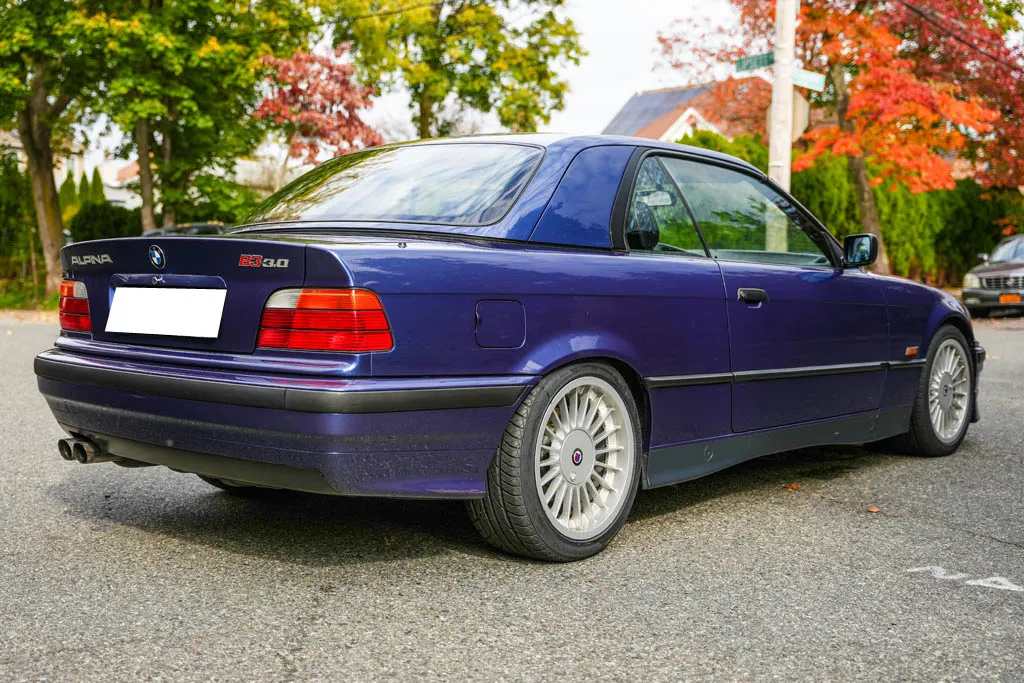 Year: 1995
Model: B3 3.0 Cabriolet
VIN: WAPB330R04E300099
Engine: 3.0 liter inline-6
Transmission: 5-speed automatic
Mileage: 118,846 mi
Location: Staten Island, New York
Price: $57,499 Buy It Now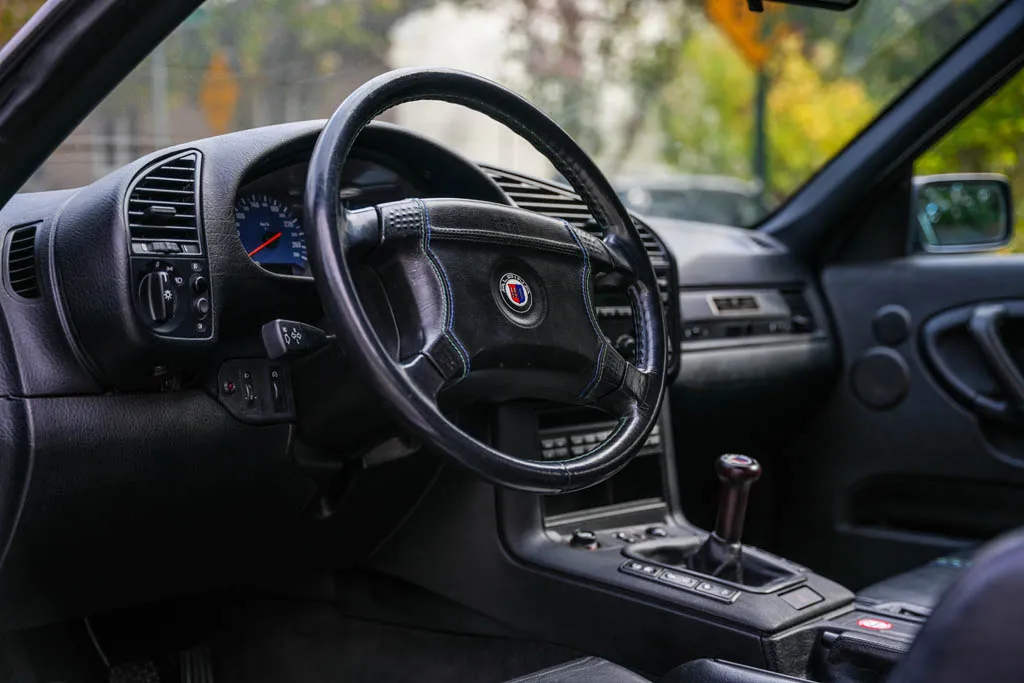 – Up For Sale is Our 1995 BMW Alpina B3 3.0 Cabriolet
– Blue exterior
– Black interior
– 5 Speed Automatic Transmission
– 3.0L 6 Cylinder Alpina engine
– Current owner reports the car was recently imported with documentation
– Current owner reports 4 new tires, balancing, alignment when car was imported
– Current owner reports hardtop included in sale
– Black soft top
– Current owner reports this is #99 of 119 Convertibles built by Alpina with Special edition emblem in car
– Alpina bumper, badging, upgraded exhaust, and wheels
– Colored stitching through out interior
– Alpina leather sport seats front and rear
– Alpina blue gauges
– Current owner reports documentation, receipts and maintenance records are included in sale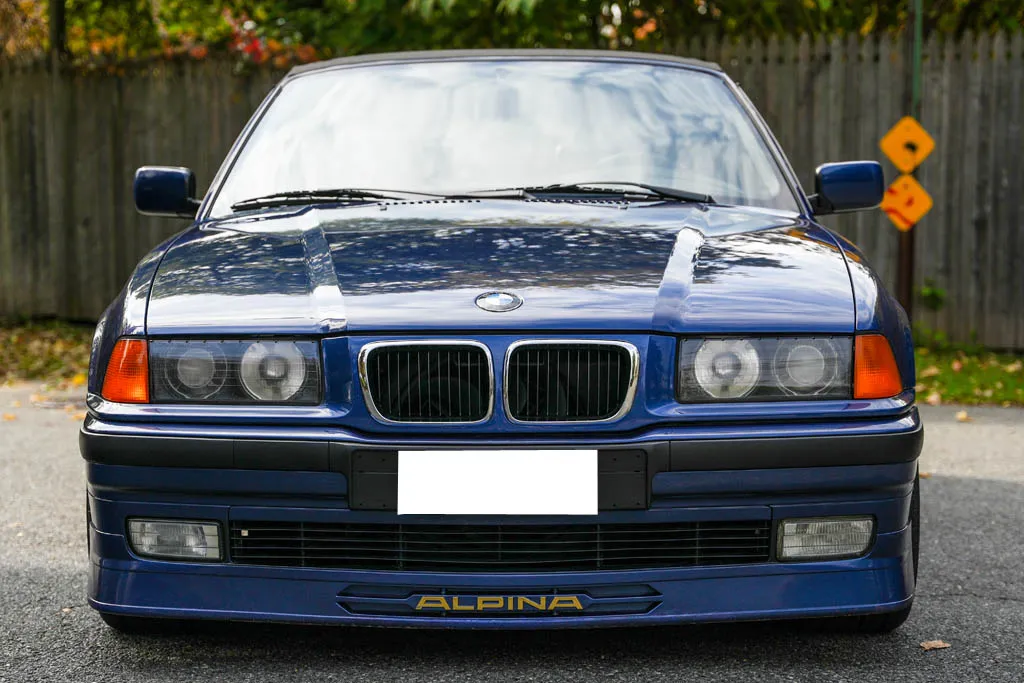 I love these cars. They're rare, good looking, and have so many special details that really set them apart. This one looks to be in great condition, and the hardtop is a bonus. There does seem to be some possible paintwork in areas; the left side seems to have a color difference between the door and quarter panel. Otherwise, it's just great to look at. The price, though, leaves something to be desired – for the same amount, you can easily get into a pretty new M4 convertible, or any earlier generation of M3 convertible (minus the E30). But if you want ultra-exclusive, this is it.
-Carter