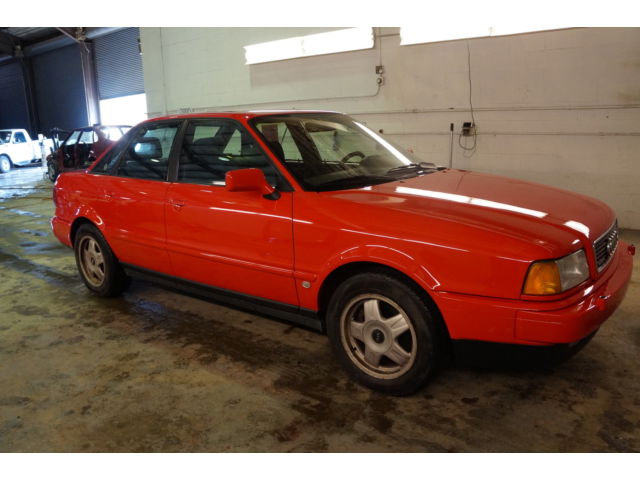 The good week for Audis continues with another car that's frankly rare to find in reasonable condition anymore; the B4 Audi 90 quattro. The 90 was a bit long in the tooth in 1995 and slated for replacement by the updated A4. However, squint a bit and you realize that outside of the reshaped bumper covers the A4 shared many design cues with the B4 Audi. It's a handsome car, and like the '95 A6 I wrote up the other day it's extremely competent. The V6 was coupled to the venerable but updated quattro all-wheel drive via a 5-speed manual transmission. While not the fastest car out there, the B4 focused on more luxury at a time when all of the major manufacturers seems to be backing away from sport just a bit. You won't confuse this car with an M3, but that said it's a fair bit more quiet, refined and quicker than a 4000 quattro. However, the car was a veritable sales flop compared to the 4000 – Audi only sold about 3,330 of the B4 90 quattros in the U.S. in total, compared to the nearly 16,000 4000 quattros sold. Rare? You bet: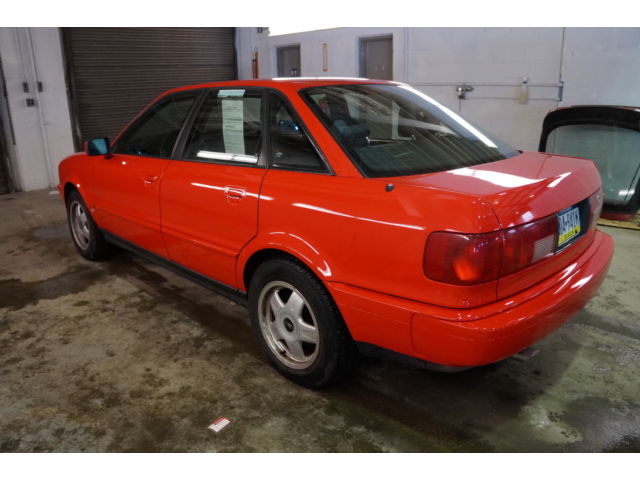 Year: 1995
Model: 90 quattro
Engine: 2.8 liter V6
Transmission: 5-speed manual
Mileage: 95,000 mi
Price: No Reserve Auction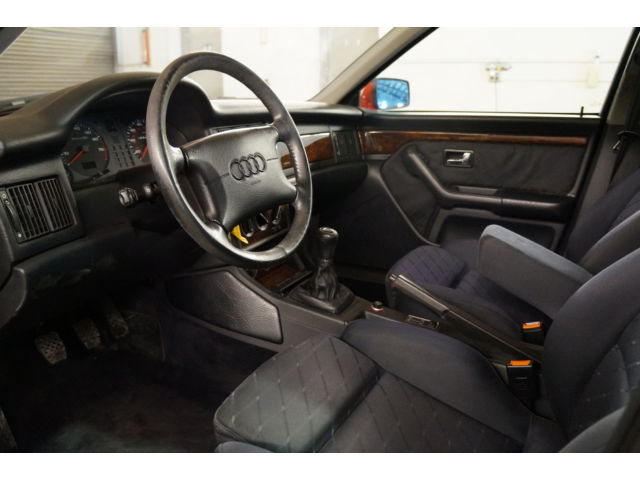 Hello and thank you for looking at my auction. My name is Joe and I sell vehicles differently than most dealers. Buying your next car or truck through one of my NO RESERVE auctions is the best way to take the games out of your next automotive purchase. I personally road test each vehicle before it is offered for sale so I can give you my first hand opinion of how it runs and drives. Please keep in mind that I am not a mechanic. Each vehicle is represented accurately and honestly to the best of my knowledge and ability. Please take the time to read this entire description as well as our Terms & Conditions carefully BEFORE asking questions or placing a bid. An administrative fee of $149 will be added to the final bid of each auction.

Up for a NO RESERVE auction is a very, very rare 1995 Audi 90 Quattro with the desirable 5 speed manual transmission with locking center differential. These cars are next to impossible to find, especially in this condition with just 95k miles since new. This Audi has had the same owner since 1997. Pride in ownership shows throughout every inch of this sedan. It is finished in bright red over black and looks great. The finish has a mile deep shine all around. The body lines are nice and straight. The hood, doors and trunk all open and close easily. All of the glass and lenses are intact. The original alloy wheels show well and are wrapped in a nice set of rubber with good tread all around. Please take the time to check out each of the photos carefully.

The interior of this Audi also shows very well for its age. The door cards are clean. The carpets show well for their age. The deeply bolstered sport seats are in good condition and hold you firmly in place. Both front seats are heated. The dash and headliner are clean. The original wood interior accents also show well. The power windows, locks, mirrors and sunroof all work properly. The climate control system also appears to be working properly. The heater works well and the air conditioner blows ICE COLD AIR, too. The trunk is spacious and clean. A full set of original books and manuals (including the original $25,000 window sticker) come with the car.

Mechanically, this Audi 90 appears to be in good running and driving condition. The 2.8L V6 is a bulletproof engine and has an excellent reputation. She starts right up and idles smoothly. I'm sure the valve covers or something seeps a little due to the age of this vehicle. However, I didn't notice any obvious leaks. The suspension feels tight and well sorted. The steering and brakes feel good, too. Her road manners are excellent. This is a light little sedan that loves corners. Audi's legendary Quattro AWD makes this sedan handle like it's on rails and gives added confidence in slippery conditions. Additionally, this Audi 90 has a locking center differential which makes this quite a formidable vehicle in any conditions. The engine feels strong and keeps perfect temperature. The clutch engages smoothly and doesn't slip or chatter. Out on the highway, she drives nice and straight with no complaints. This is the nicest 90 I've seen in at least a decade. If you've been looking for one of these cars, you know how hard they are to find. With the combination of the right color/options/miles, this Audi definitely deserves your consideration. Thanks for looking and good luck bidding.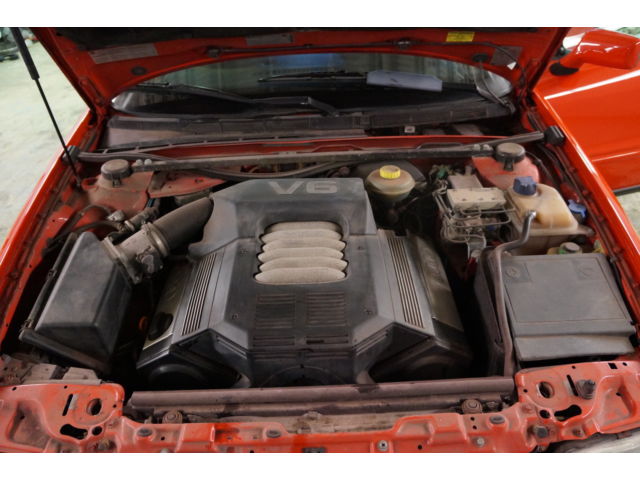 The 90 quattro came in two configurations in 1995; both with the AHA-code 172 horsepower 12 valve V6. The "Sport" option didn't really add more sport, but it did add a rear spoiler – ironically, that probably slowed it down a hair, but it did look better. This car isn't sport equipped, but shares the 5-spoke polished lip Ronal wheels that the cabriolet and 100CS quattro got (in 5-bolt configuration). This car does have the cold weather package with heated seats and was also optioned with a common to see sunroof; outside of that, there were virtually no other options you could select. Condition overall appears to be very good though it's fair to say a cleaning would make it look better – especially the wheels. The next owner's first order of business should be cleaning them up and ditching those budget and horrible Fuzion tires for something brand-name. Despite generally being unappreciated compared to the A4, ironically thanks to the rarity of these 90s and their stout reputation, they tend to bring stronger money than their replacements. While you can get just about any pre-2000 A4 for under $2,500, I'd expect this 90 to bring a bit more money. Treated properly, it's a car that should last for some time and provide you with many stories of conquering snowy passes.
-Carter