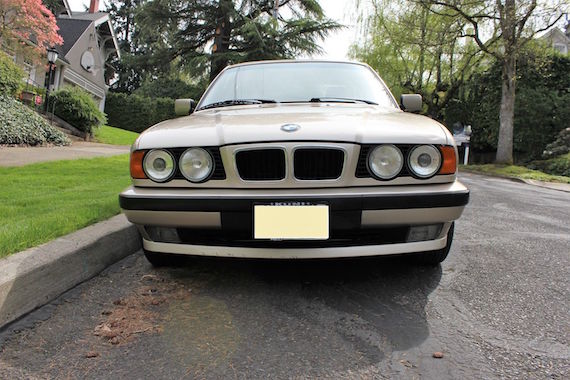 I recently sold my E34 525i and replaced it with a W126 300SE. I'll post a write up on my new car next week. I love it, but let's just say I learned a few valuable lessons about buying cars sight unseen from the whole episode. As potential buyers came to view my BMW, a funny thing happened. The more I explained my ownership experience while they test drove it, the more I began to wonder why I was selling it. In fact, I concluded, if space and money had allowed, I would have preferred to keep it alongside the Benz. In one year of ownership, I put an unusually high number of miles on it while doing a mega commute. During that time, it never once failed to start or gave me any reason to worry. I replaced some suspension parts that were worn out. But other than that, all I did was drive it and feed it fuel and oil. It was remarkably fun to drive, which I credit to the 5-speed manual gearbox and sweet chassis setup. Sure, it wasn't terribly powerful or fast, but it was certainly fast enough for me. And it made for a good commuter, getting 28 MPG on the highway. In all, I think the E34 525i is an under-appreciated gem. I'm sad I let it go.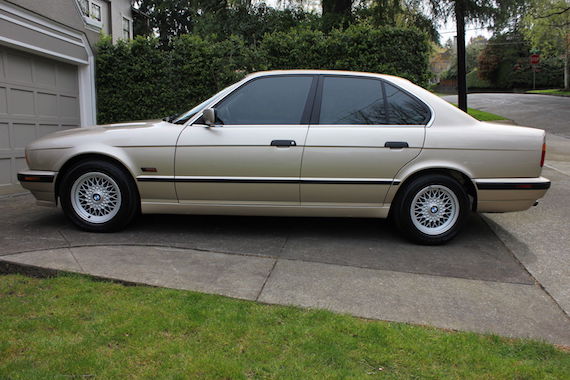 Year: 1995
Model: 525i
Engine: 2.5 liter inline-6
Transmission: 5-speed
Mileage: 96,810 mi
Price: Reserve auction with $9,350 Buy it Now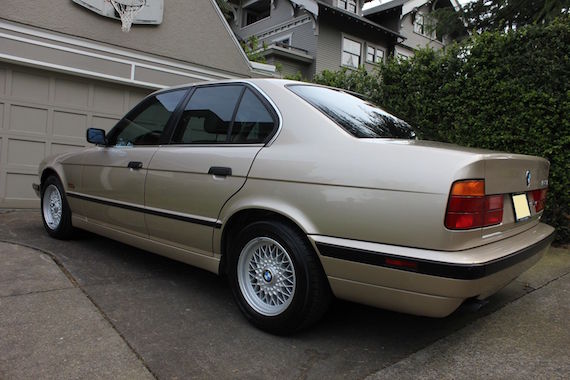 One family has owned this low-miles and hard-to-find gem, and one perfectionist mechanic has cared for it. 5-speed manual that runs like a top. Garage kept for most of its time, it has mainly served as a commuting car with a few years as part-time family cruiser. Only change from original package is professional window tinting (SunTek Carbon 38, installed July 2014). Minor and sporadic paint chips; one small dent above the driver headlight; and worn floor mats are among its few flaws. It deserves to be with an enthusiast for the rest of its time. Get ready for the adulation!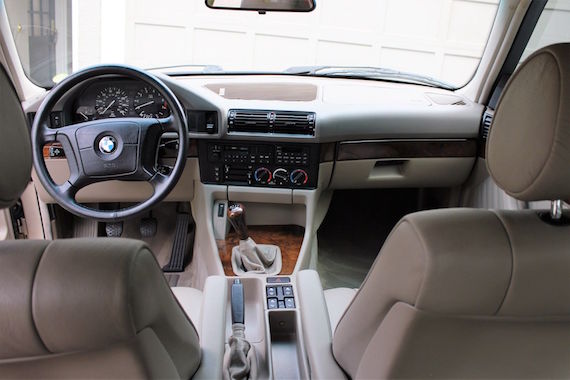 These days, it's hard to find an E34 in good condition since most have been driven into the ground. This example looks lovely though. It's a 1995, the last year this model was produced, and therefore has the wider front nose grille, color coded side skirts and improved interior door cards (which are less liable to peel than the older ones). Both the exterior and interior appear excellent. The Cashmere Beige paint looks to be in great condition, with only a few minor blemishes noted, and the Bison leather interior looks very sharp.
In addition to the 5-speed manual transmission, this car has ASC+T stability control, a passenger airbag and heated seats. It also wears handsome basket-weaves, sports a tasteful window tint and is said to have been well maintained and garage kept. With only 96k miles on the M50 motor (just a bit more than mine had when I bought it), there should be plenty of life left in this car with only routine maintenance ahead.
The buy it now price is very steep. As much as I'm a fan, I don't think there's really a market for a $10k 525i. That kind of money would put you into a more desirable 540i, perhaps even one with a 6-speed manual transmission. I think around half that is a bit more realistic. Still, like the seller, I hope this one goes to a good home.
– Craig