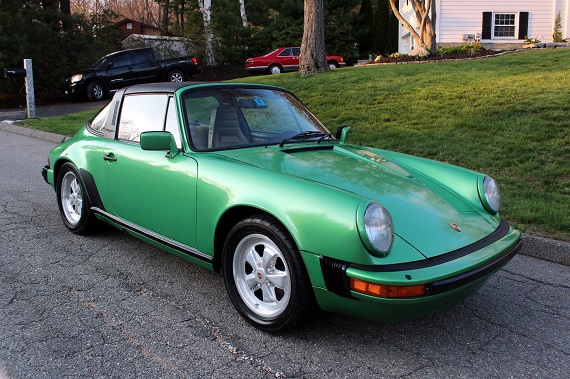 There are always a few cars that I come across that immediately I know I will have to feature. As long as the basics of the car check out there's typically enough to make it worthwhile and I begin to shift schedules and see where we can slot it in. This is just such a car: a Viper Green Metallic 1980 Porsche 911SC Targa, located in Massachusetts, with around 93K miles on it. As should be apparent, the allure here lies almost entirely in the color. I love a 911SC Targa in good shape and feature many of them, but I also pass by many of them. Viper Green does not get passed by. It's such a rarely seen color on any 911 and a desirable color. Those familiar with the color will notice that this metallic variant differs quite a bit from the slightly darker, non-metallic, Viper Green that was available in the early '70s. Both variants have points in their favor, but I prefer a metallic green so tend to lean toward this shade. I have commented before how I think green 911s tend to be under-appreciated. There is a caveat to that statement: it is typically the darker metallic greens that drift along unnoticed by many. Viper Green, and most any other pastel green Porsche has offered, rarely suffers such a fate and I don't expect this 911SC to be any different. As the seller notes, this is by no means a conservative color, but what better way to have your classic 911 anyway?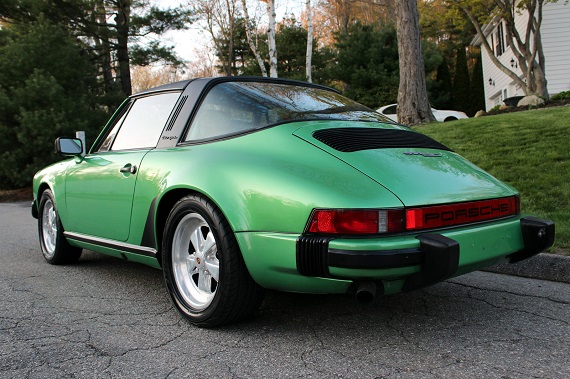 Year: 1980
Model: 911SC Targa
Engine: 3.0 liter flat-6
Transmission: 5-speed manual
Mileage: 152,276 km (94,619 mi)
Price: Reserve Auction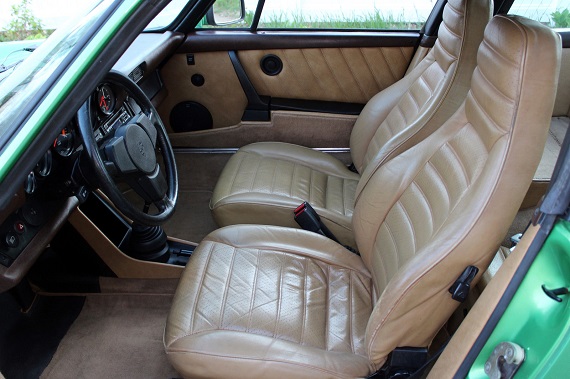 1980 Porsche 911SC Targa

For your consideration is this excellent example of the legendary 3.0 litre 911 Porsche finished a rare Viper Green Metallic (264) paint over a cashmere leather interior. This unmolested 911 has spent it's entire life in the hands of loving owners who insisted on having the car serviced religiously and comes with comprehensive service records which are about an inch thick and cover everything from oil changes to the hydraulic chain tensioner upgrade and verifies this 911's mileage as true and correct at just under 153,000 kilometers (about 94,000 miles)

-Exterior-

The body is in outstanding condition with absolutely no rust, top or bottom. The paint is in very good condition and while not the most conservative color, it presents itself extremely well against the polished Fuchs and boldly sums up what an early 80's 911 should be.

The targa top is in great condition and seals well. The headlights have been updated to Euro H-4 units. The tires are all matching with approximately 85% of the tread left.

-Interior-

The interior is in very good original condition. The car has always been stored indoors and used sparingly by it's owner. There is only the slightest bit of typical wear on the leather bolster of the driver's seat. Summed up, everything from the dash, targa headliner, front seats, door panels, carpets, sun visors, rear parcel shelf are near perfect, if 100% perfect.

-Engine & Transmission-

This 911 has been well cared for inside and out, all service has been performed on time and Porsche specialists. The car comes with a complete set of service records which encompass all repairs including Carrera chain tensioner upgrade.
The transmission shifts seamlessly through the all of the gears with no slipping or grinding. There are no strange noises or vibrations from the engine or drive train, all you hear is the music of the flat six engine. This car provides a great driving experience.

This Porsche comes complete with a full tool roll, jack, keys etc.

This 911 is free on any liens, I have a clean title in hand and it is ready for a new home.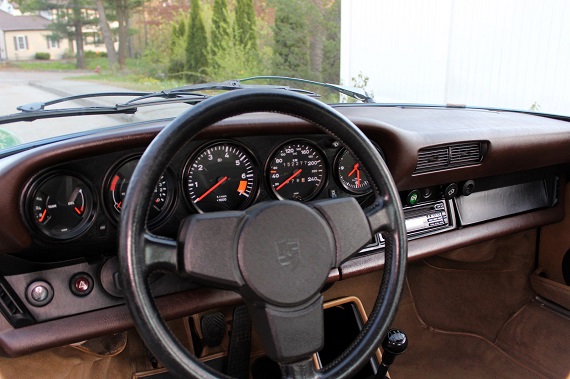 Ok, with all of that wonder out of the way, the biggest problem we have here is that the seller hasn't provided verification of the color's originality. That's going to make a big difference in the value of this 911 and is something about which we're going to need certainty. Everything else is how we'd hope: the interior looks in very nice shape and it's stated to be well documented. If I were really set on having a Viper Green Metallic 911 I would probably lean toward a Coupe simply because this is one of the instances where I don't like the way the Targa breaks up the color. I want the roof and rear pillars in that same green. I also can't say these wheels are really to my tastes. I guess nothing's perfect. I've come across a large number of interesting Targas over the past year and even if I might prefer a Coupe in this color as a Targa this one is still very excellent.
-Rob