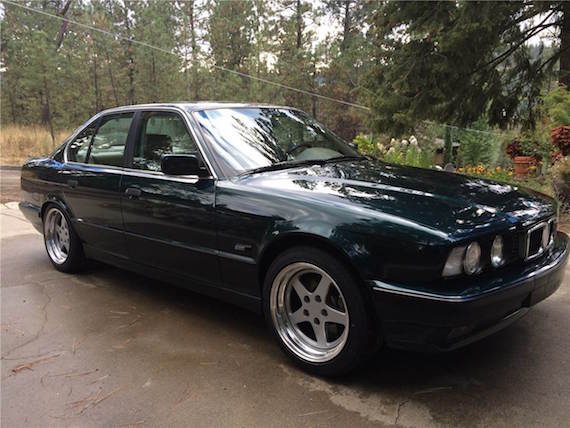 The California-based tuning company Dinan has been providing performance upgrades for BMWs since 1979. There's no shortage of newer cars on the market that purport to have some kind of mods from the firm; 20 cars come up in eBay right now under a search for Dinan, and Carter wrote up this neat '08 550i M Sport Dinan the other day, for example. But it's even more interesting to stumble upon an example of an older car with some Dinan components, like this '95 540i.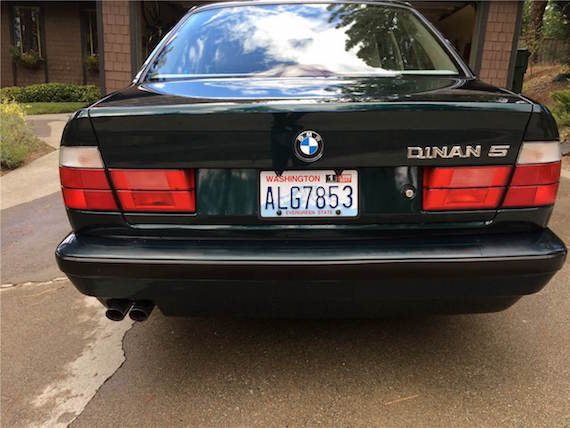 Year: 1995
Model: 540i
Engine: 4.0 liter V8
Transmission: 6-speed manual
Mileage: 127,000 mi
Price: $7,500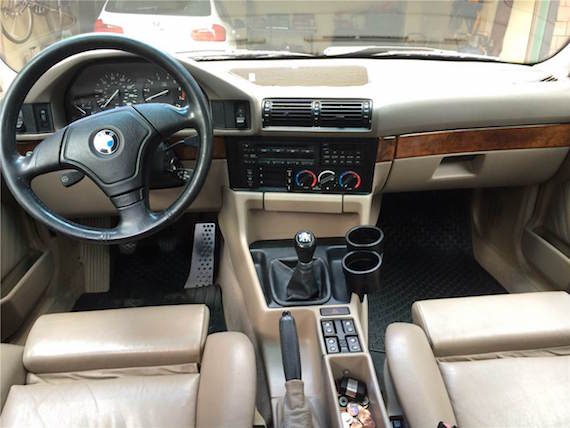 1995 Dinan 5 540i 6 speed

Selling my 1995 oxford green/parchment 540/6 E34. I am the third owner and have had the car for about 8 years. During that time it's been driven locally about 2,000 miles a year during the summer. Always garaged. During the time I have owned it there have been no major issues. The car has 127k on it and is in great condition given it's age.

The original owner had extensive modifications installed by Dinan after it was originally purchased. What follows are the various modifications:

Dinan:

-17×9 Dinan Fikse Wheels
-Stage 3 suspension
-Stage 2 Brake conversion
-Free Flow Exhaust
-Performance chip (car also has Conforti chip)
-High flow induction tube

Other mods:

-Euro e-code ellipsoid headlights
-OE clear corner parking lights
-side marker light delete bumper trim
-3 spoke euro steering wheel with airbag
-UUC short shift kit
-M5 black leather shift console
-BMW rubber floor mats (also have original carpet mats)
-Weather tech Trunk liner
-Heated memory sports seats
-BMW cd43 in-dash CD player with M-bus to I-bus conversion
-Ipod adapter with radio controls (connector in glove box (rear CD changer removed from car but still have it.

Notable Maintenance:

-Avusil engine block upgrade by Seattle BMW at 45K miles
-Rear control arm bushings at 50K miles
-Thrust arm bushings at 88K miles
-ZF rebuilt steering box at 85K miles
-New water pump and T-state housing at 68K miles
-New radiator at 104K miles
-New front support arm bushings at 124K miles
-New belts at 124k miles
-New front struts at 124K miles
-New Tires and battery

Issues:
-Brake light circuit check control warning even though all lights work. Replaced switch but still have warnings.
-Drivers side seat controls work in reverse. Looking for memory control module.

Contact Brent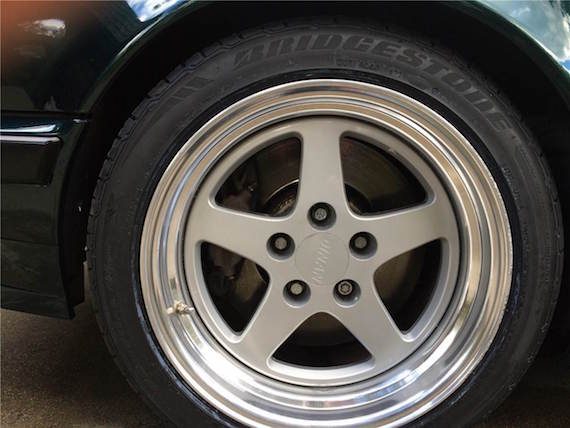 With a six-speed manual gearbox mated to the torquey M60B40 4.0 liter V8, leather sport seats and Oxford Green exterior paint (I've always been a fan), this is already a nicely-specified car before we even get to the modifications. The Dinan mods add upgrades to the suspension and exhaust systems, a remapped ECU and some rather nifty 17″ rims which, I think, give M-Parallels a run for their money in the attractiveness stakes (these would be my other preferred choice of wheel for the E34). The upgrades are rounded out by the tasteful addition of clear indicator lenses, short throw shifter, Euro smiley headlights and the three-spoke steering wheel more commonly seen in E36s (I believe). This all adds up to a very nice package – tasteful, understated and handsome.
The seller's asking price is at the very top end of the bracket for non-M E34s, but doesn't strike me as outrageous given the mods, the apparently excellent condition of both the interior and exterior and the relatively modest mileage (127k). Since I have no figures indicating exactly how much power is added by the upgrades, I can't say for sure whether this hotter 540i really is an M5-chaser. But it is certainly a cheaper alternative, since a similar era M5 in this condition would probably cost at least $4-5k more.
– Craig