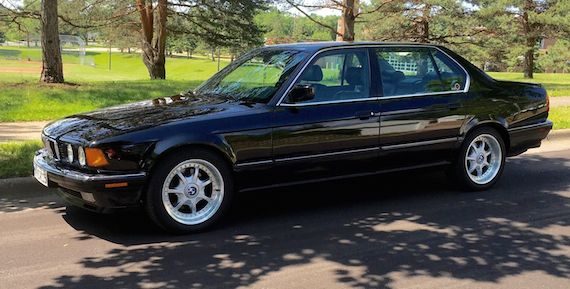 Last week I wrote up a clean and low-mileage E32 740i, noting that examples of this generation of the 7-series rarely come to market in such decent shape. A few days later, Carter shot me an email with a link to this lovely looking '88 750iL. The flagship of the E32 lineup, and available only in LWB form, the 750 was powered by a hulking 5.0 liter V12 unit, essentially two six-cylinder motors stuck together. They crop up from time to time on Craigslist and on eBay, but mostly as basket cases, with shot exteriors, torn up interiors and numerous electronic and mechanical gremlins. This car, on the other hand, appears to have received the kind of love and attention that these old cruisers really deserve.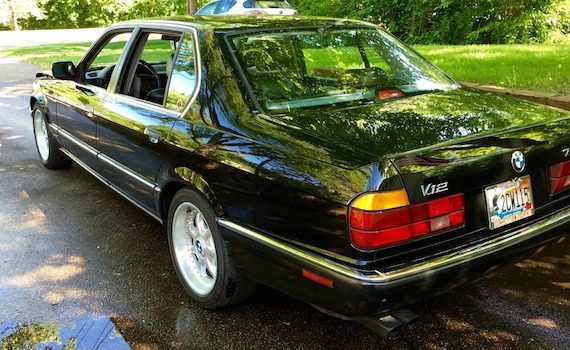 Year: 1988
Model: 750iL
Engine: 5.0 liter V12
Transmission: 4-speed automatic
Mileage: 59,999
Price: Reserve auction with $13,900 Buy It Now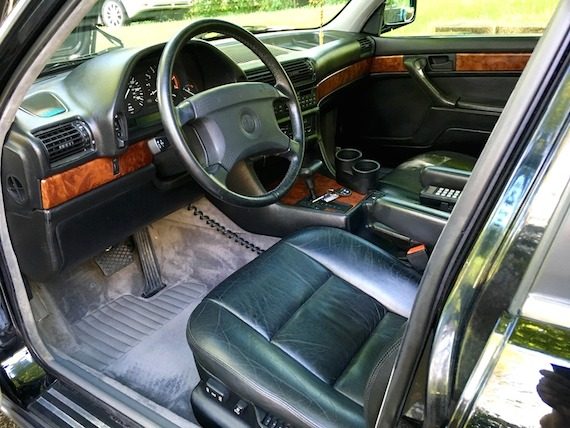 I have yet to see another V12 e32, much less one of this quality.

Updates/ upgrades.
Hood opened after each drive to let heat out. Car covered, no snow or rain if possible.
Original rubberized protectant present along with original paper tags along undercarriage and suspension/engine parts.

Main repair/upgrade/upkeep. * known issue ** here-say
Engine-fuel intake-cooling
5.0L v12, drive by wire throttle, twin CPU and hotwire MAF.

Intake and valve cover gaskets replaced*. Check Cam followers*. Compression test-excellent.

Aluminum individual intake runners restored/ polished/ matched to Head. Polish, referb, replace misc engine hardware.

New W8LCR plugs and NOS plug wires, Bosch (copper) cap and rotors.
Rebuilt throttle bodies, K&N filters (2).

Dinan ECU chips (+30HP, +30ft/lb). 330HP-406ft/lb end result not including other performance/efficiency upgrades.

Upgrade from 17.5lb 2 hole injectors to 19lb 4 hole injectors.
Way! Better fuel economy.

Royal Purple 15w-40 synthetic, Liqui Moly anti-friction, Lucas Synthetic additive. OEM filter.
New OEM radiator (was small crack in neck), thermostat, BMW "blue" fluid and 1qt of Redline water wetter.
Upgrade radiator fan from steel to plastic.

Steering-Suspention-Brakes
New Power steering pump*, hoses and filter. Flush-upgrade from outdated hydraulic fluid CHF7.1 (mineral oil) to modern synthetic CHF11s.

New/upgraded- Aluminum upper M5 control arms (with pressed 750il bushings), thrust arms, tie rods, trailing arms/bushings (aluminum), pitman* arm w/updated bushing*. Refreshed rear suspension.
E38 strut housing upgrade* (recall sticker shown).

H&R Sport springs. Bilstien Sport B8 struts. New OE mounts. Strut Upper and Lower "strut braces".

Self leveling suspension excellent no sag ( even with storage) adjusted to correct settings. I have rear H&R springs included in sale. Not needed though, excellent body control!

Brake caliper (F) "upgrade kit" and OEM pads-sensors (recall sticker shown).
Stop-tech cross drilled front rotors. Vented rear disc brakes, OEM pads.

Drivetrain
4 speed tranny with 3rd and 4th lockup. Sport, Economy and Manual shift modes.
Transmission/ cooler flush/refill. Redline Racing ATF. No modifiers/ high pressure additive.(Faster/solid shifts in sport mode!)

Differential (Optional, largest ring set of ANY BMW, same as M5) 3:15 POSI. Redline 75w110 upgrade.

Some misc
Seat back cable repair.
Front crash sensor replaced (SRS light on).
Main instrument cluster* display board short, replace.
HVAC fan final stage* faulty, replace.
HVAC blend door mounts* (13 exist, 5 were adjusted).

Unused, original (full size and matching) spare and Jack components.
Original wheels w/ Blizzak snows, 80% ( not used on this car but included ).
Sale is with 17in 2pc BBS wheels, staggered Falken Ziex ZE612+ 225/50 and 235/45.

Interior is virtually as new.
Leather seat and seat backs, armrests/ center section, doors & dash! Burl wood accents.
Rear seats and headrests power recline.
Active/ programmable venting or heating for hot or cold days.

"Full logic" (song seek etc), Dolby B/C and high bias/Metal factory tape deck in place.
Sale comes with Onkyo HXPro tape deck and Denon Metal tapes. Make your own mixed jams!!!

12in Alpine Type R sub, NON ported (top of Alpine line).
Kicker 500×1 amp. Available for sale.

App based Cobra Bluetooth "active" radar detector (installed) and 5w spare USB charge port, included.

Many, many items not noted or acknowledged in the restoration. Spare parts galore.

July Carfax and Autocheck…. Original ad from "Bring a Trailor" included.
2 binders of receipts!

Sales catalog, brochures, Road & Track-Motor Trend, M5 vs 750iL comparo.
Car now out outperformes stock M5 in handling G's and stopping distance.
0-60 in 6.3. New top speed of 171…. Pulls like a beast and smooth as a sewing machine.

Local pickup is preferred.
A MUST see to appreciate vehicle.

Check out 50+ photos!!
www.s1268.photobucket.com/user/andykazmierczak/profile/
Or
http://s1268.photobucket.com/user/andykazmierczak/profile/

** Show car for '88 Detroit Autoshow. Untitled until 1998. One owner family ( Estate willed car to elderly relative, purchased and than then flipped to me). Stored for 4 years in heated storage on stands.

Car is restored/updated, not fixed! Time for the 80's statement vehicles to get some respect!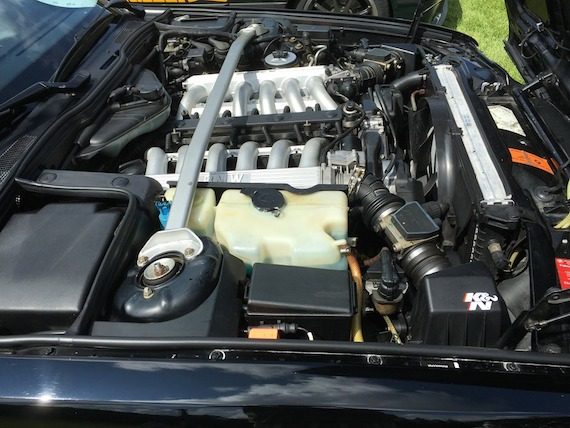 The seller indicates that he bought the car some years ago after seeing it advertised on Bring a Trailer, and is now ready to part with it having undertaken an extensive restoration and update. The latest listing is filled with details about this restoration, revealing the seller to be a knowledgable enthusiast and BMWCCA member. Almost every major system appears to have received some attention, and the updates include some enhancements, like a Dinan ECU chip, that mildly increase performance, pushing power output on the M70 motor to a reported 330 hp. The photos are not always taken from the best angles, but what we can see reveals the car to be in excellent condition, inside and out. There's a photobucket account listed in the ad with some more images of the project for those who are curious.
I can't imagine there's a huge market out there for resto-mod E32s, especially the 750, which has an engine that can be finicky and appallingly expensive to fix when it goes wrong (hence the massive depreciation on any V12-engined BMW from the period). Still, if you're going to take the plunge for an old 7er, it seems like this would be the one to go for. The E32 is a handsome bruiser to behold, especially in top of the range, long-wheelbase guise. My only complaint is that the wheels are, in my opinion, hideous. But that would be easy to remedy (the original wheels are included with the sale, though it is not clear what style they are).
– Craig