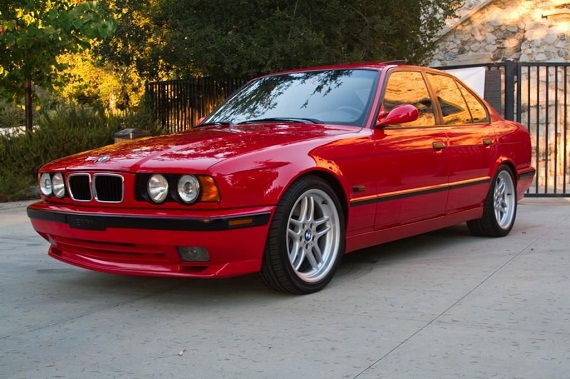 Red can be a hard color to pull off well on a big sedan – they sometimes end up looking like the Fire Brigade's car. But there are some notable exceptions; Red C4 Audis, for example, look particularly spectacular when well polished. Another car that seems to stand apart from other large red rides is the E34 BMW. Just look at this M-Sport model in Hellrot – it's a brilliant example of how to do the lines of a car properly. I really wish BMW still made sedans in this mold; it was the first step in cleaning up the U.S. specification bumpers into a well-unified design and I'm not sure that they've done much better since. While last week I wrote up a E34 M5 that most people seemed to like, today's example answers at least one of the complaints of those that didn't with the M60 V8 packed under the hood. Otherwise, this car is as close to a M5 as one could get in 1995: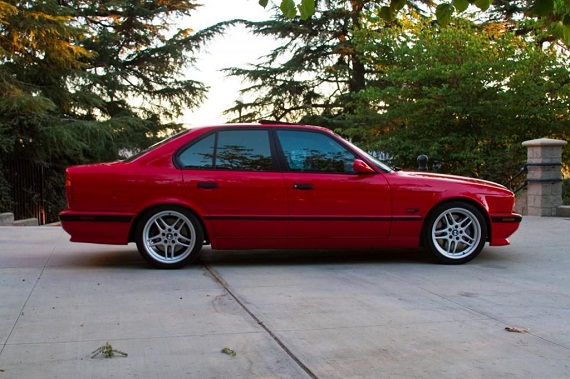 Year: 1995
Model: 540i M-Sport
Engine: 4.0 liter V8
Transmission: 6-speed manual
Mileage: 86,252 mi
Price: $25,500 Buy It Now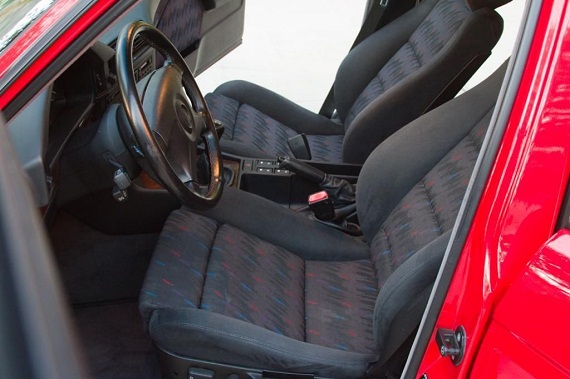 This is a collector Quality 1995 BMW Factory 540i M Sport 1 0f 200 special edition cars made. 1 of 3 Hellrot (Bright Red) cars with black interior. it comes with the 6 speed manual.

Car was purchased by a collector when new and was stored inside until 2001 with only 12 miles. Also the original owner owned one of the 32 Canadian models

in white and in 1997 exchanged the very rare M Cloth interior including the all black headliner sun visors and Black "M" door sills , Euro M brakes (all 4),Euro M parallel Wheels (5). All these parts are extremely rare the door Sills came on 22 cars in Black and the M Cloth Suede seats came on 5 cars. He then sold at Auction the Canadian model and kept and drove the M Sport until he passed away it had 34,000 miles. Its had a couple of owners since. I advise to see this car in person it looks new with very minor pits on hood edge and very few flaws. Car has the self leveling suspension which is all new including all new factory Euro brakes rotors and pads front and back, new Michelin Sport tires 275/18 rear 245/18 front, new clutch (its first).This car dances around the corners and is simply remarkable! I have owned many E34 M5s and with the best lowering and handling suspension and they cannot compete with the factory EDC suspension. Also when in comfort mode the car rides and drives better than a factory comfort suspension.

On Sep-05-14 at 12:46:17 PDT, seller added the following information:

I am the 4th owner of this car. Call me for more info if needed.

Thanks Mike…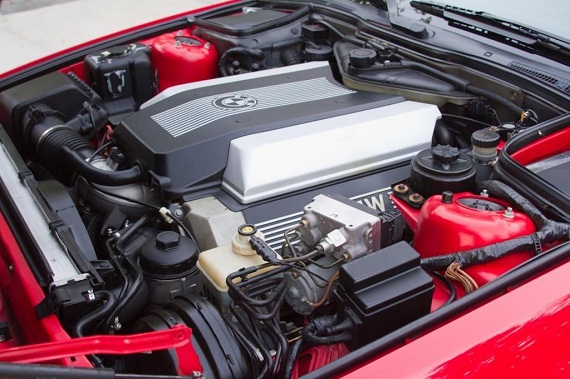 I'm curious, M-faithful – does the change of interior, wheels and brakes to the European bits change the value for you? Still present is the self-leveling suspension and what appear to be the original VIN-tagged body panels. I think this is one of the cases where I prefer the look of the M-Parallels to the standard M-System wheels – the really make the car pop. I also personally really like the cloth interior; if nothing else, it's unique. Miles are in check, condition appears very good to excellent and it's already a rare car. There's a question regarding the number of owners; eBay's program claims 7, but the seller claims he is the fourth owner so I'd want to just verify the story. Then there's the price – $25,000 sure gets you into just about any E34 you'd like. This car is a bit more rare than the M5 variants, but does that make it worth more? To the right person, if you're looking for exactly this car it may – but for most, it's a bit too much to ask to pay this much for a 540i. Still, it is very pretty and quite tempting!
-Carter