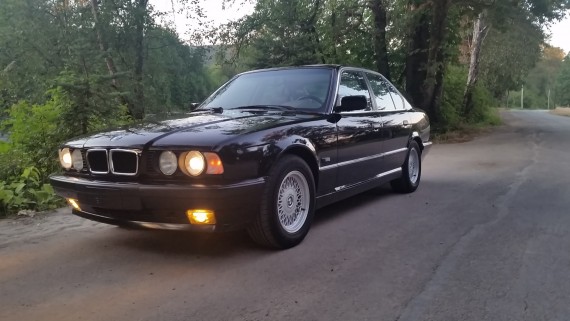 I constantly find myself waffling back and forth between preferring the BMW E34 to the E39, or the other way round. Both cars so well thought out and as time goes on I suspect that proclaiming on better than the other will only get more difficult. The older a car is, the more consideration it gets for classic status. The E39 5 Series has already achieved that to some degree and final models only rolled out 12 years ago. Does the E34 have the edge right now simply because it is older? Personally, I don't think it's the time that has passed that makes the E34 a classic, so much as the era that ended with it. I look at the E34 as the last holdout of the old guard. The round headlights, the forward tilting hood, the exterior lines, all true classic BMW. At this point both the 3 Series and 7 Series had a more modern, squared off look. Perhaps most importantly, the headlights were now enclosed, gone was the iconic side by side design. If there is one little detail that I can point to that makes a BMW a classic, that would be the one. It also happens to be the reason that the E34 typically comes out on top when I'm thinking about which body style I would rather own. I love a lot of things about the E39 5 Series, the headlights are not one of them.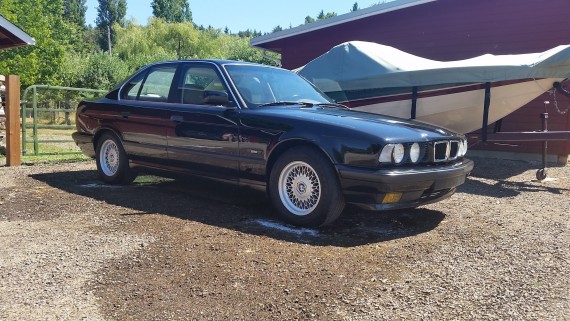 Year: 1995
Model:Â 540i
Engine: 5.4 liter V8
Transmission: 6-speed manual
Mileage: 193,000Â mi
Price: $4,600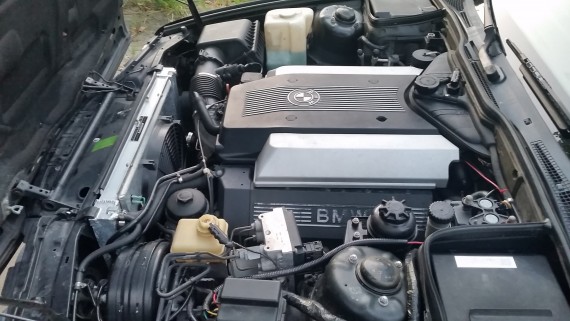 1995 540i 6-speed Black/Tan 193k miles. The car is pretty solid (see maintenance/upgrades list below). Interior is in good condition with the usual, but not excessive, wear on the driver's left bolster. The clear coat is starting to fail on the hood and rear bumper. It has been my daily driver for the last 5 years. Good driver.

Maintenance:

2011
Motor mounts (Corteco) – Feb
Front end links (Lemfoerder) – April
Tie rods (Lemfoerder) – April
e60 short shifter (BMW)- April
Kuhmo LX Platinum tires – April
Lower oil pan gasket – April
Mishimoto e36 M3 radiator with Flex-a-lite electric fan and new hoses – July
Thermostat (lower temp from 850i – Wahler) – July
Aluminum thermostat housing (as opposed to plastic) – July
Water pump (with metal impeller – Graf) – July
Pulley tensioners (both) – Sept
Belts – Sept
Seat twist fixed (driver and passenger seats)

2012
Front control arms (Lemfoerder) – May
Front thrust Arms W/750i Bushings Pressed (Lemfoerder) – May

2013
Koni yellow dampeners (with new bump stops, spring pads, boots etc) – Feb
Front strut mounts (Lemfoerder) – Feb
Rear strut mounts (Sachs) – Feb
Valve cover gaskets (Reinz) – Sept
Spark plugs (NGK) – Sept
Ignition coils (Bosch) – Sept
O2 sensors (Bosch) – Sept
Powder coated valve covers (textured black) – Sept
Euro bumper trim – Sept
Depo Euro tail lights – Sept
Deep clear corners – Sept
Clear side markers – Sept
Exhaust hangers

2014
ECS tuning frenched fog light lenses – May
Heater control valve (Bosch) – March
Brake rotors (Meyle) – March
Brake pads (Bosch QuietCast) – March
Auxiliary water pump (Hella) – Dec

2015
Heater core (Behr) – April
Mishimoto e36 M3 radiator (warrantied because of small leak)
I've found quite a few 540i/6 cars lately and what made this one stand out from the rest is the list of parts. The seller states he has been using the car as his daily driver for the last 5 years, which leads me to believe that a good chunk of the 193k miles have been put on during that period. A CarFax report could easily confirm that and should that be the case, I think that makes this car even more attractive. It would mean that the seller bought the car at the period in its life when it needed a lot of things before tackling the next big chunk of miles, and he chose well with his replacement parts. Anyone in the market for an E34 540i/6 should watch this Smoking Tire One Take. Not only is it an entertaining episode, but quite informative as well. The owner really knows his stuff and details all the part swaps done to improve the durability of the car. Many of the same parts are found on this example for sale in Washington. While the clear coat on the hood and rear bumper may be starting to fail, I don't think that should impact anyones desire for this car. To find one of these that has been beefed up and well cared for, but with the purpose of making it a solid daily vs a weekend performer, I that's pretty special.
-Andrew