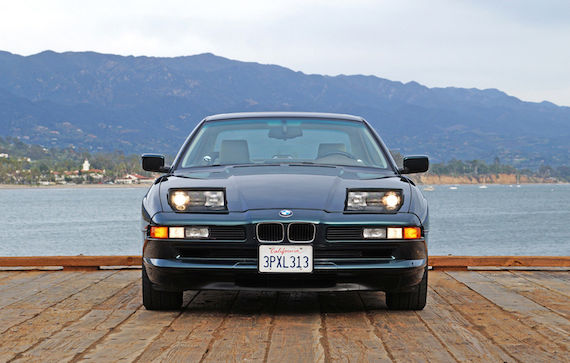 I had to do a double take when I saw this 1995 BMW 840Ci for sale in California, as Carter had featured a strikingly similar example at the end of last month. Sure enough, this Oxford Green Metallic 840Ci is a different car altogether, but one which has almost 80,000 less miles. With the lower running costs of the V8 engine over the V12 and such low mileage, this could be one of the ultimate 8 series opportunities that we've come across here at GCFSB.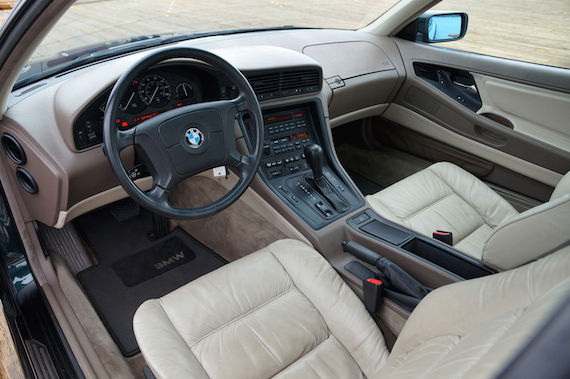 Year: 1995
Model: 840Ci
Engine: 4.0 liter V8
Transmission: 5-speed automatic
Mileage: 24,899 mi
Price: Reserve auction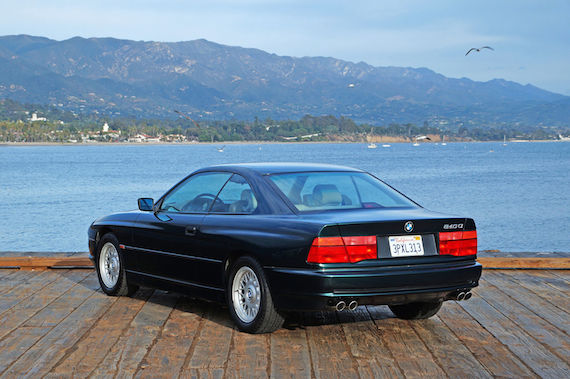 Offered for sale is an absolutely stunning, one owner, 24k original mile 1995 BMW 840Ci, finished in ever sophisticated Oxford Green Metallic over a Pergament (multi-colored tan) Nappa leather interior. Sold new to a wealthy San Francisco Bay Area businessman, he would always treat the car with the highest regard and always kept it garaged and maintained throughout his nearly 20 years of ownership. As one of many in his stable, the car was always driven sparingly, evidenced by the impeccable original condition it remains in today. Never in an accident, the car is entirely stock and original, a true time capsule for the BMW enthusiast.

The car's understated Oxford Green Metallic finish is completely original and in exceptional condition, marred only by a handful of negligible imperfections typical to any 20-year-old car, none of which are significant enough to appear in the pictures. The body is entirely straight, with factory consistent panel fits and gaps throughout, and all of the trim and glass is in excellent condition. The lamp lenses are all crisp and clear and the factory wheels are flawless and wrapped in virtually unused Bridestone Potenza tires.

The car's interior is equally as clean, the Nappa leather seats showing only negligible wear, the carpets tidy and unmolested and the dash and interior panels all in excellent original condition. The car was never smoked in and the windows, sunroof, power seats, heated seats, etc. all function flawlessly. The car comes with all of its original books and manuals, both of it's original main keys (and valet key), its original tool-kit, and a clean CARFAX report further validating its one owner, low mileage, accident free history.

The car is also mechanically excellent, the original M60/2 engine starting effortlessly, pulling strongly and smoothly through each of the gears with expectedly even compression across all eight cylinders. Ride quality is immaculate, the suspension and brakes each functioning flawlessly, rounding out a solid and secure driving experience that causes one to truly appreciate the incalculable engineering that went into the 8 series. Also worth noting, the 840Ci also has the added benefits of better fuel economy and much lower cost of ownership than it's more brutish V12 sibling, yet still provides ample power that's comfortable around town but especially at home on the highway. In terms of GT cars, it's hard to envision anything distinctly more pleasurable to drive, and that includes BMW's more modern (but less exclusive) offerings.

The E31's revolutionary CAD based design by Klaus Kapitza is the ominously gutty, patently era-specific representation of nearly $1B in total development cost for BMW. The distinctive model was envisioned in the late 1980s as the marque's undeniable flagship, symbolic of the excesses of the decade and the fierce battle with Mercedes for European luxury car supremacy. Consequently it was prohibitively expensive, something that didn't help BMW's sales targets as the party of the '80s came abruptly to a halt with the recession of the early 1990s. As such, production was relatively limited, further ensuring the 8 Series' future as an iconic collector's piece. And as the few other rare BMW models of the era have shot up in the value (the E30 M3, E28 M5, E34 M5, et al), the E31 has quickly begun to follow suit.

This car represents a truly uncommon opportunity to acquire one of the very finest examples of BMW's finest: a very low mileage, one owner, entirely original and virtually flawless 840Ci. It's undoubtedly one of the very best on the market and absolutely deserves the consideration of any BMW collector or discerning European car enthusiast looking for a striking weekend driver or worthy addition to a quality collection.

We want this car to go to great home and would be happy to discuss it further and answer any questions, so please feel free to email us or call us at 805-202-4557.

GOODMAN REED MOTORCARS

We've always had an appreciation for classic European cars and over the years have created an eclectic personal collection. We only buy cars that we'd personally be interested in owning and generally only sell them to make room for other acquisitions. We try to give accurate descriptions of the cars we're selling, but we're enthusiasts, not experts, and we encourage and are happy to help facilitate personal or professional inspections. But please do so before bidding, as the alternative harms our ability to make sales to other interested parties who have done their proper due diligence before bidding.

For U.S. buyers a 10% non-refundable deposit is required within 3 days of the auction's end, the balance to be paid within 7 days of the auction's end. Foreign buyers must pay in full within 7 business days of the auction's end. Buyer is responsible for shipping costs, however we'd be more that happy to help with recommendations and arrangements. The car is listed locally and we reserve the right to end the auction at any time should it sell prior to auction's end. Thanks for your interest.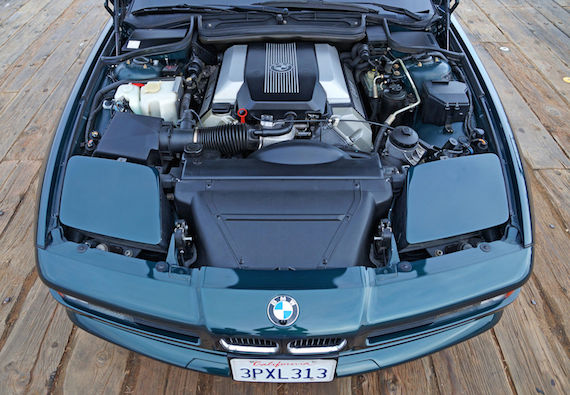 It's rather amazing that a car that cost around $1 billion to develop wound up being such a small seller for BMW over the years. Just over 30,000 examples of the 8 series were ever produced over almost a decade of production. This was a special coupe indeed, intended to reach an entirely different market than the E24 6 series and be a flagship for the marque. The ownership history on this one is intriguing, and it would be nice if more color was given on the maintenance history and whether the car was serviced by BMW all along or by a specialist. It should be interesting to see if this car meets its reserve. Somewhere around the mid $20k range is my guess as to where it would land, as the CSi models are commanding $30,000 and above these days.
-Paul