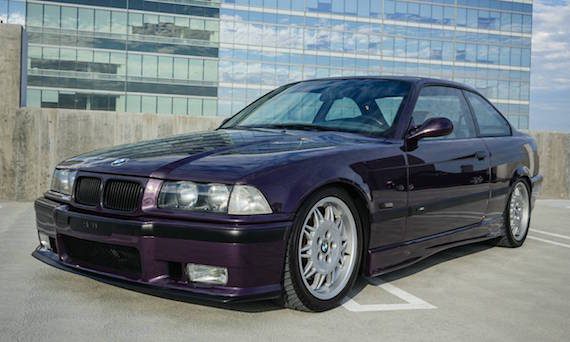 Alex over at Car Throttle recently posted a neat video entitled "10 Things I've Learnt After 1 Year Of E36 M3 Ownership" (h/t to Jalopnik).  He talks about lusting after the M3 as an "affordable dream car" only to find that, when he finally gets his hands on one, he doesn't fall immediately in love with it. All is not lost however: after spending some time with the car (including a number of weekends in the garage spent fixing all the things that go wrong with it), he's slowly won over by its charms as a car that's equally at home on the track or loafing across great distances. While US market cars were famously "neutered" by a less powerful motor than the one offered in their European counterparts, even without individual throttle bodies the E36 M3 remains a relatively fast, fun and capable car that can be picked up for not too much money. Increasingly, the challenge is to find one that hasn't been beat into the ground or saddled with hideous mods.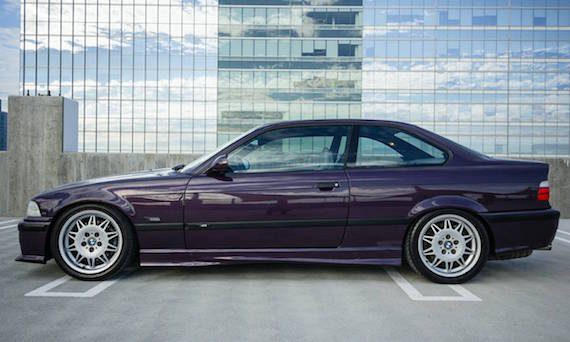 Year: 1995
Model: M3
Engine: 3.0 liter inline-6
Transmission: 5-speed manual
Mileage: 113,500 mi
Price: $13,900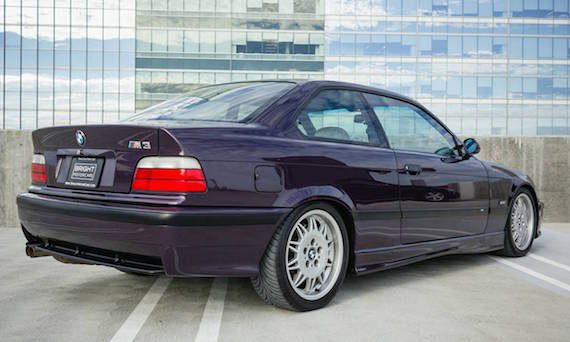 We like to call ourselves an 'enthusiast's dealership', and tend to focus on sports cars, primarily with manual transmissions, cars you think of as "drivers' cars". The E36 M3 might not be a typical sports car, but it is most definitely an enthusiast's car! There is a reason one of the most common cars one will see at any track day or amateur race is the venerable E36 M3.

This particular car has been the owners' personal car for the past 6.5 years. It took months of searching to find this rare color combo of Daytona Violet exterior with Dove Gray interior in the near perfect condition. It had 55,000 miles on it at the time, and has done about 10k miles / year since the car has been back in Southern Cali. If you check the Carfax you'll see that it not only has a clean title, but also has spent most of its life in California, with a brief stint in Kansas where it was someone's vacation car (13,000 miles over 4.5 years).

This car has been well looked after, whenever ANY maintenance was required it was immediately taken care of, and always on time with scheduled maintenance such as oil changes, brake fluid flush, radiator flush, trans/diff service. etc. This car has been mildly upgraded to make up for the few weak points inherent to the E36 M3. This car comes with a stack of receipts going back quite a long way, the original window sticker, the stock stereo, and all 3 original keys. A spreadsheet has been kept of all maintenance, parts replacement, oil changes, and the like (this record will be included with the sale of course). The upgrades to the car are as follows;

* Samco radiator hoses
* OEM Rear Trailing Arm bushing limiters
* Treehouse Racing Eyeball Bushings (Front)
* OEM Clear Corners (front), Clear Tailights
* Koni Yellow adjustable shocks
* H&R Sport Springs
* Ground Control camber plates
* Ground Control rear shock tower mounts
* ECS Tuning Stainless brake lines
* Pioneer Bluetooth and USB CD Player
* Bimmerworld Shifter (slightly shorter shifts, but replaces plastic shifter with billet aluminum and steel pillow ball style shifter for precision and longevity)

It's a 21 year old car, and like all E36 M3s the door panel vinyl is receding, it also has some wear on the seats in different areas (this could be fixed with a quality leather dye job, but decided to leave it as is so the next owner could decide between leaving it, dying it, or having it re-upholstered. Even so its some of the best looking Dove Grey seats we've seen, check the pictures for full disclosure, really they are pretty darned good considering its a '95. The exterior is really clean, only the smallest rock chips, no dings, dents, scratches, misaligned panels, etc. The car has a FANTASTIC finish to it and polishes up amazingly well.

It's 100% ready to go as is, as all maintenance and wearable part are replaced as needed, tires, brakes, oil, fluids, etc. all have been done recently. You'll be hard-pressed to find a cleaner/nicer 1995 M3 especially in the uber-rare Daytona Violet color.

WE ARE SO SURE OF THIS CAR BEING A SOLID DRIVER WE ARE INCLUDING A 3 MONTH EXTENDED WARRANTY WITH IT, which is upgradeable to longer terms if you desire.

For those that don't know, the 1995 M3 has the S50B30USA 3.0L inline 6 engine, which is still OBD-1, meaning if you are the upgrade/modding type this is the one to get, later 96-99 models have the S52 motor, which makes the same power but has the more restrictive OBD-2 interface.

See http://www.brightmotorcars.com/listings/1995-bmw-m3-daytona/ for tons of high res pics.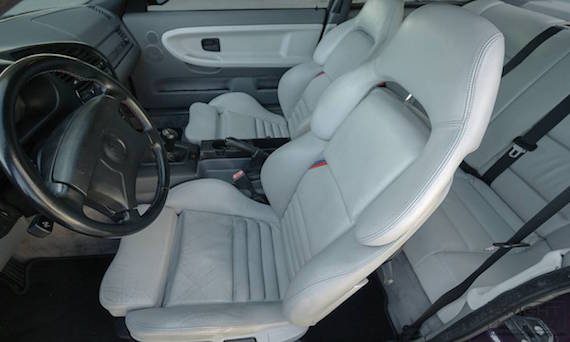 This particular example comes in Daytona Violet, a gorgeous metallic purple set off nicely by the addition of clear corners, clear tail lights and blacked-out kidneys. Thankfully there's no rear decklid spoiler to ruin the look, and while some modifications have been made to the car they're mostly limited to tasteful and useful work on the suspension. The Dove Gray "Vader" seats are a welcome addition and, while they are not blemish free, they look to be in very good shape overall. Apparently this is the dealer's personal vehicle, and as such is said to have been well maintained and is offered with a good amount of service history.
The $14k asking price is high, and for that kind of money you could pick up an E46 M3 (though probably not a nice one), which is a much better car. As nice as it is, I think it would take a diehard E36 fan to spend this kind of money. Nearer $10k is probably closer to the mark for the rest of us.
– Craig