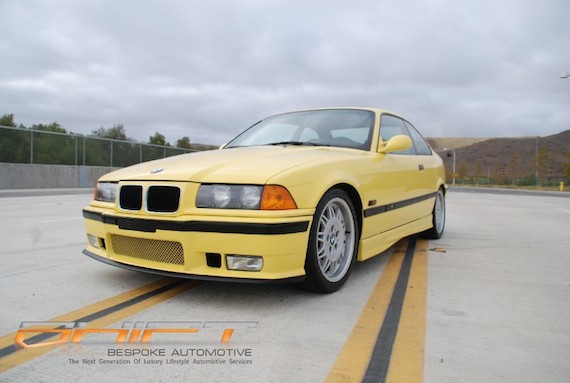 With Christmas 2014 now in the rear view mirror, did everyone get what they wanted from Santa? If not, here's something of a late present to make up for it: a Dakar Yellow E36 M3. I'm not typically a fan of yellow on cars, but Dakar Yellow looked a treat on this M3. Much like Estoril Blue, it was a color almost made for this car, accentuating the styling which was a crisp update of the E30 3 series. This M3 with well under 100,000 miles comes to us from our friends at Shift Bespoke Automotive in Laguna Hills, California.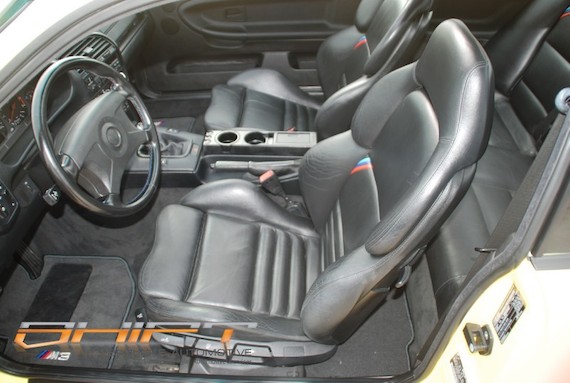 Year: 1995
Model: M3
Engine: 3.2 liter inline-6
Transmission: 5-speed manual
Mileage: 87,000 mi
Price: $19,991 Buy It Now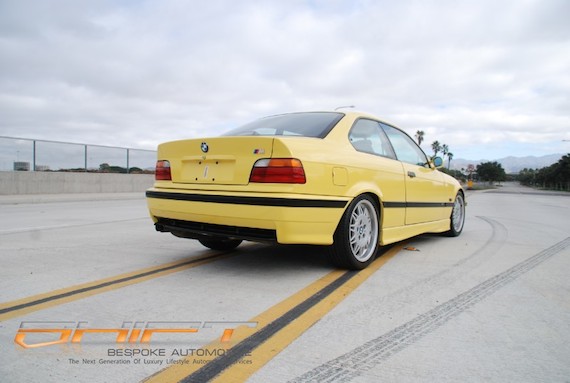 1995 BMW M3 All Books, Tools and keys! Rare Dakar Yellow!

Shift Bespoke Automotive is proud to offer this incredible 1995 BMW M3! Dakar over Black Nappa leather hides. These M3's combined blistering performance with impeccable manners and oozed sex appeal. They also are the last of the simple raw driver M-Car's for BMW. This Coupe is an absolutely amazing. For your convenience we took over a 150 photos in natural daylight. Please feel free to contact us at 949-891-Cars (2277) FOR QUESTIONS, SCHEDULE TEST DRIVES OR INSPECTIONS. Inspections are welcome and encouraged if you have any reservations. Keep in mind we ship cars worldwide – sight unseen!

The BMW E36 M3 arguably one of the best handling cars of all time! In my opinion the last simple, light weight and fun BMW's!

Model description: M3
Market: USA
Type: BF93
E-Code: E36 (2)
Chassis: Coupé
Steering: links
Doors: 2
Engine: S50US – 3,00l (176kW)
Drive: Heckantrieb
Transmission: manuell
Body Color: Dakargelb (267)
Upholstery: Teilleder W.n./schwarz (N5SW)
Production date: 30.08.1994
Assembled in: Regensburg

S243A Airbag Beifahrer Airbag for front passenger
S401A Schiebehebedach elektrisch Lift-up-and-slide-back sunroof, electric
S494A Sitzheizung Fahrer/Beifahrer Seat heating driver/passenger
S530A Klimaanlage Air conditioning
S540A Geschwindigkeitsregelung Cruise control
S554A Bordcomputer V mit Fernbedienung On-board computer V with remote control
S676A HiFi Lautsprechersystem HiFi speaker system
S686A Antennen-Diversity Antenna-Diversity
S694A Vorbereitung BMW 6 CD Wechsler Provisions for BMW 6 CD changer
S710A M Lederlenkrad M leather steering wheel
S818A Batteriehauptschalter Battery master switch
S900A Elektronische Wegfahrsperre Electronic immobilizer
S925A Versandschutzpaket Transport protection package

*** All of our cars come from collectors, customers or reputable sources never from auctions. Why is this important? Not all cars at auctions are bad, but all bad cars are at auctions.

For your convenience we took a small library of photos, these photo are taken in natural sunlight. We don't have a mock studio or photoshop/edit any of our photos.

THE EXTERIOR, BODY AND TRIM

Unbelievable Dakar Yellow paint looks is in Showroom New condition! The Headlights are crystal clear. The body is silky smooth and straight! The wheels are good, wrapped in New Tires! All of the rubber and plastic trim is in excellent shape and isn't dry rotted like most E36's! All of the original glass is in the car! Original Body panel car with all proper vin tags in place. The Motorsport wheels are perfect!

THE INTERIOR

The Black Nappa leather hides are in incredible shape with Vader Seats. M-Sport Steering wheels is flawless. The pictures or words cant describe the condition of this car. On board computer works as if new. Hi-Fi sound system is excellent. Brand new Sunroof works as it should. All of the interior readout lights are as if excellent with zero pixelization. All of the knobs, switches work as they should and look and feel as if excellent. Headliner is all intact and not sagging. Air blows cold. I know some of you viewing the pictures won't like the conditioners applied to the interior materials. Please understand this is a Concours detail sparing no expense. We take pictures immediately after the detail prior to the Leather Conditioner absorbing. The products applied are of the highest quality and are "conditioners" not some auto parts store vinyl dressing garbage.

THE ENGINE/SUSPENSION

This M3 is an absolute blast to drive! The M3 uses an inline-six-cylinder engine. The sport suspension handles and tracks awesome, this car drives excellent. The engine pulls strong and the tranny shift perfectly! The coil-over suspension is true and exact. The brakes feel incredible and the car has excellent stopping power. We installed brand new plastic covers underneath, as most of these never get put back on after getting oil changes.

THE DRIVING EXPERIENCE

The driving experience is unbelievable! Everything about this car is setup right and begs to be driven. Quite possibly the last real Drivers BMW! The cars starts and performs flawlessly! The heel toe and clutch action is almost perfect and the car shifts effortlessly.Thru the turns and straights she perform exact and precise. I love driving these cars and to find a gem like this is rare!!

We offer airport (SNA) pick-up if you're flying in to pick-up this beautiful vehicle or we can help facilitate shipping directly to your front door.

Contact Us
Dealer Contact
Shift Bespoke Automotive
949.891.2277
info@shiftbespokeautomotive.com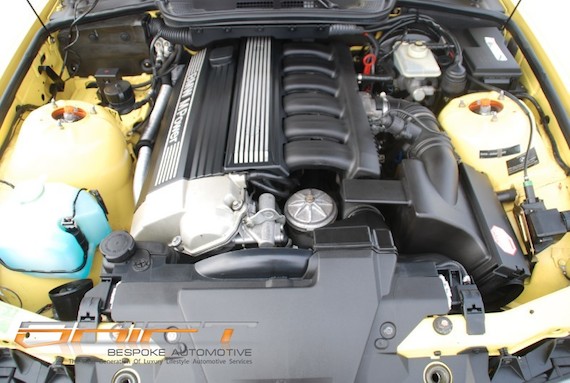 For a while, E36 M3 prices stayed a bit flat, but with the surge in popularity and values of the E30 M3, it's shined off a bit on the E36 M3. We've seen some very good, low mileage examples of sedans and coupes with the manual gearbox push the $20,000 envelope. Most M3s in good condition with higher mileage are fetching in the meaty part of the $10,000 to $15,000 range. For a car with almost 90,000 miles, the asking price is strong, but the car does look sharp, aided by the color and manual gearbox.
-Paul