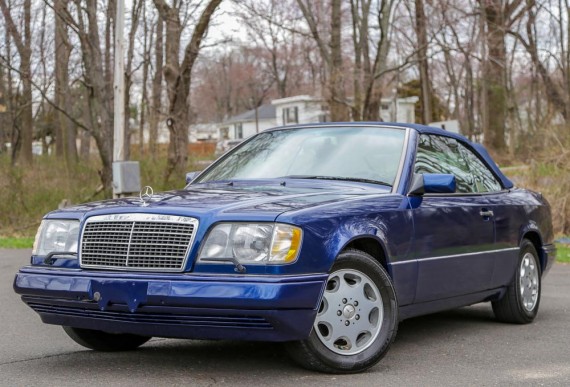 Aside from the 500E I can't think of another Mercedes from the 90s that I like more than the E320 'vert. All the reliability and practicality of the W124 mixed with the fun of having a convertible that can comfortably seat four adults, that's a recipe for something really special. The only real knock against these cars is that the tops can wear out both mechanically and cosmetically but that's true of many convertibles so I don't think it's fair to hold that against the car. If you're in the market for a classic drop top you've already accepted that there may be some issues in exchange for bathing you and your passengers in sunlight on a regular basis.
Thankfully this beautiful example has been extremely well kept and the top looks wonderful in addition to operating properly. In fact the entire exterior looks wonderful, both in condition and aesthetically. The Azure Blue with blue top is classy as can be, contrasts wonderfully with the tan leather interior. I've always felt these cars had a distinctly nautical vibe regardless of what color they came in but it's especially strong with this example. Perhaps it's the fact that much like a boat you and 3 friends can go out and feel the wind in your hair, not always the case with convertibles. I can't think of a car currently on the market that is both a drop top and legitimate four seater. Perhaps that's why the E320 cabriolet is quickly becoming a much desired collectors car.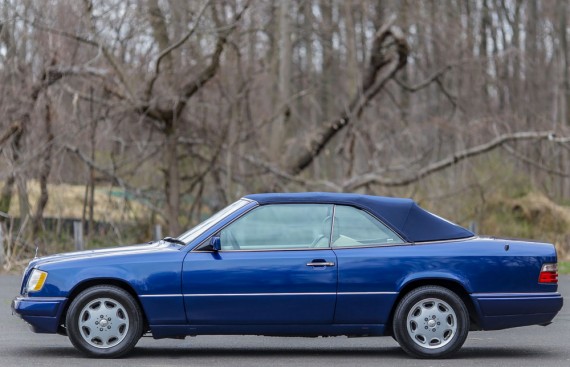 Year: 1995
Model: E320
Engine: 3.2 liter I-6
Transmission: 5 speed automatic
Mileage: 104,106
Price: $12,950 Buy It Now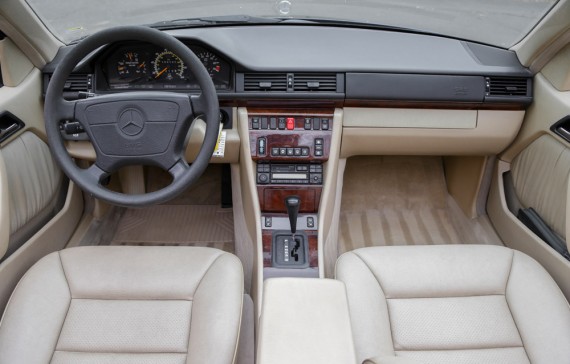 You are looking at a very popular sporty luxury convertible. The vehicle has been made and assembled entirely in Germany, and consists only of Germany made parts! This vehicle has a good sport car feeling to it. Because it's a 3.2L engine, it has nice performance to it. The midnight blue exterior color gives the car a certain kind of unique classy appeal.

The car spent most of its life in Florida!

There are no reported manufacturer's defects on this vehicle. A never-smoked-in before beauty that looks great and smells clean.

The engine is very strong and provides the power you have come to expect from a Mercedes and runs extra smooth. The transmission has the Mercedes mark on it as well and shifts like on a new car, no skips or slips on shifts. The suspension feels very nimble and comfortable at the same time.  

The A/C works well and blows cold air!

All the electrical options appear to be in working order. As you can judge for yourself from the pictures – the interior is clean!   The check light of the diagnostic computer reads ok. The engine compartment is clean, and free of any leaks.
The power locks, windows, seats and moon roof all work and are in good condition. All the power controls and buttons work.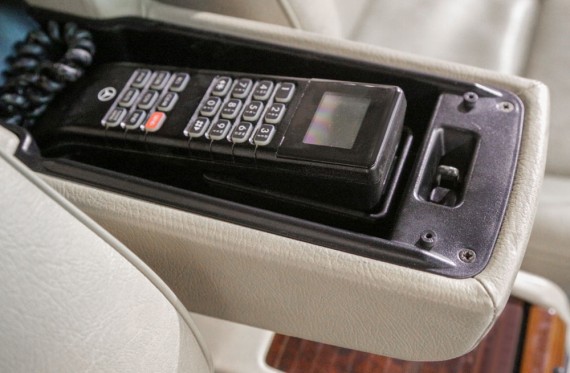 Like so many of these cars it appears to have lived a pampered life in Florida(of course) where it was probably used as a secondary vehicle, hence the low mileage of 104,106. The interior looks just as good as the exterior, I love that it still has the mobile phone in the center arm rest, little period correct details like that get me every time. The leather still looks fresh, no cracking or wear of any kind. After all these were incredibly well built cars from tip to tail so the detailed service records are really an added bonus here. Too often do I come across W124 Benzes that have been let go, their owners relying on the solid reputation to keep them going instead of going the preventative maintenance route. It's nice to know that the previous owners really cherished the car and made sure it never wanted for anything.
Though currently located in Pennsylvania and photographed against a bland backdrop of northeast flora, it's easy to envision yourself cruising through South Beach with a cigar in one hand and the other on the leg of some beautiful woman. Maybe she's your wife, maybe not, it's your fantasy not mine! $12,950 isn't much to make at least part of that fantasy a reality and you'll even have some money left over to buy some cubans. In many ways I think the E320 cabriolet is still very much a status symbol just not in the same way it was when it debuted. These days I think it lets people know that you're an enthusaist, a saavy buyer of used cars, someone who knows a classic in the making when they see it. I really don't think this car will run for its entire 19 day bidding period, not with this level of tidiness. If you like it, better act fast because the E320 cabrio secret is out and I think we're going to see these things start rising in value considerably over the next couple of years.
Cheers,
-Andrew