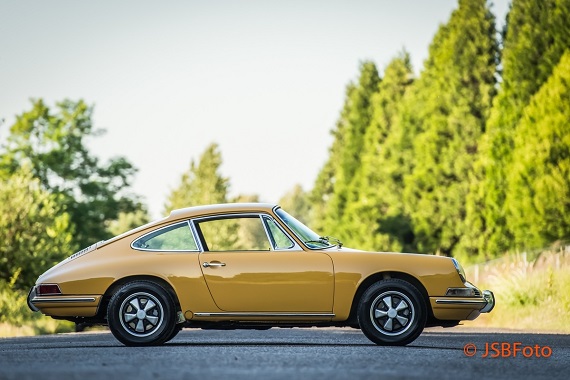 The 912 had a fairly short run as Porsche's entry-level coupe. Though it had a lot of early success and seemed well liked, its appeal seems to have waned rather quickly and after a short 5 year production run it was replaced by the 914 as Porsche's cheapest offering. It did reappear for one year as Porsche transitioned from the 914 to the 924, but it is that first run that was most interesting. Perhaps the 912 simply was too similar to the 911, a trait that now stands as one of its best features, and as Porsche released the 911T the writing on the wall was clear, the 912 would be replaced. Nearly identical in appearance to the 911, the 912 used a 1.6 liter flat-four derived from what had been standard in the 356. This smaller and lighter engine had the effect of creating a more balanced chassis relative to the 911 and early 912s were reputed to handle better than their more expensive sibling. On the short-wheelbase models produced from 1965-1968 those dynamic differences were at their most pronounced. In 1969 Porsche decided that with the release of the 914 and 911T that production of the 912 would no longer be viable and the model was discontinued. Here we have what looks like a very nice example of one of the short-wheelbase models: a Bahama Yellow 1967 Porsche 912 Coupe, located in Oregon, with 58,516 miles on it.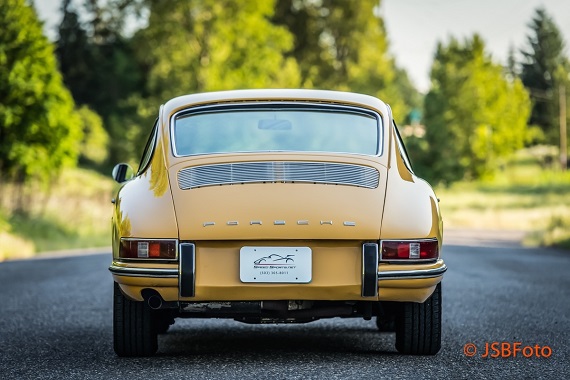 Year: 1967
Model: 912
Engine: 1.6 liter flat-4
Transmission: 4-speed manual
Mileage: 58,516 mi
Price: Reserve Auction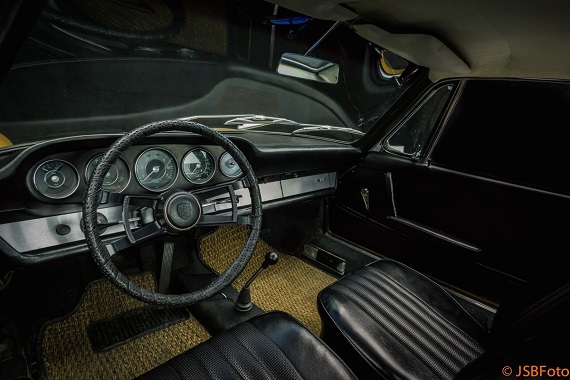 1967 Porsche 912 SWB

Vin # 459619

Engine # 751841

Bahama Yellow Factory 6605

This locally owned 1967 Porsche 912 was a trade-in at a friend of ours dealership. Naturally he immediately phoned us, as we are completely nuts for these cars.

We sell a good number of vintage Porsche's, so we have a lot of experience and know what to look for on these cars, I'll list below both the positives and negatives on this car.

We sold this car a couple of years ago, and are thrilled to be selling it again.

Exterior:

Repaint in Bahama Yellow about 13 years ago, paint is in very good condition overall, shiny, smooth, no bubbles or peeling.

Trim is in very good condition, very little pitting. A few of the lenses have minor cracks, but serviceable. Gaps are excellent; do not see any evidence of body damage. There were a couple small holes in the floor under the passenger seat these were repaired by CPR (California Porsche Restoration) to the highest standards with the best parts. You can not tell on the underside where work has been done. All this work has been done in the past year.

Interior:

Very, very nice, no rips or tears in the upholstery, dash is good, carpet is good, headliner is in great shape, all the switch-gear is in good shape and functions properly. Heat and defrost work very well, all gauges work with the exception of the clock. This car even has the period Coco mats. The car is very original, not restored on the interior. Very nice to find a car like this, with no aftermarket parts. The Green faced gauges look exceptional.

Mechanical:

We have detailed records on the car for the last 15 years.

The 901 transmission shifts very smoothly and has a fresh rebuild and new clutch. All work just done by Porsche experts.

The motor runs great, starts easily hot or cold, no smoke, and quite dry underneath.

Fresh tune-up less than 100 miles ago including belt, oil, filter, points and spark plugs. At the same time rear axle bearings, trailing arm bushings and Elephant adjustable spring plates were done.

The work was done by the very reputable Heckmann & Thiemann Motors and the total came to a little over $3000.

The car has a very nice stance to it, especially sitting on the light alloy Fuchs wheels and like new tires. Also the Engine has upgraded Weber dual carbs and K&N filters assemblies

Engine Shifts very smoothly, fresh rebuilt transmission and clutch. No leaks or issues.

We have inspected this car and it has no Mechanical issues, ready for road trips!

Overall:

A very nice example of a 1967 912, completely rust free, well taken care of, with excellent records.

This would be an excellent driver, nicer than 90% of what I see out there today.

If you are on the lookout for a vintage Porsche, you know what the market is like on these cars.

This is a chance to own a nice, clean, well maintained, short wheelbase long nose before these get so expensive that most people can't afford them.

Both Matt and myself are avid Porsche enthusiasts that own and drive early 911's. We are actively involved in the Porsche community and enjoy these cars very much. Feel free to call or email with any and all questions, we are more than happy to talk shop.

If you have a Porsche you would like to locate a new home for, we specialize in marketing these cars. As you can see from our presentation we do a proper job and have many satisfied clients.

Please remember that if you bid and win the auction, you will be expected to complete the transaction.

Inspections are welcome, but must take place prior to the end of auction.

Feel free to call or email with any questions, 503-475-8078 Josh, or 503-819-9007 Matt.

We are happy to help you arrange shipping anywhere in the world.

Good Luck and Happy Bidding!!!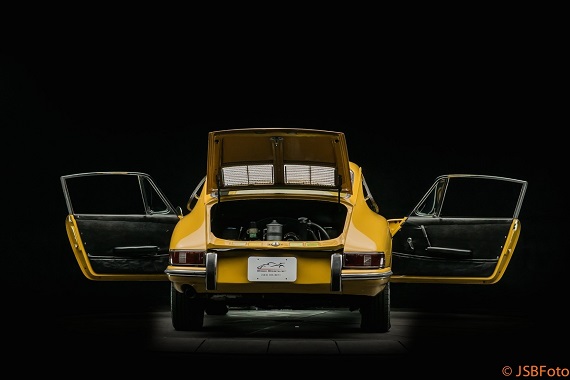 I've said before that I'd love it if Porsche released a model like the 912 once again. I know it won't happen because there really isn't much need for them to do so and the brand itself is upmarket enough that a "cheap" Porsche doesn't fit within the marque's image. But a smaller, lighter, and, yes, less powerful rear-engined coupe would make for a wonderful car to enjoy for weekend motoring. This particular 912 appears in very nice shape and I love the Bahama Yellow exterior. Assuming everything is mechanically sound this should make for a fun vintage Porsche and unlike the 911 prices for a 912 haven't shot into the stratosphere. With bidding currently at $29,100 we are higher than where we used to see a 912 sell, but on the current market that is a fairly good price. Were I in a situation where another car made any sense at all I think I'd give this one a hard look.
-Rob