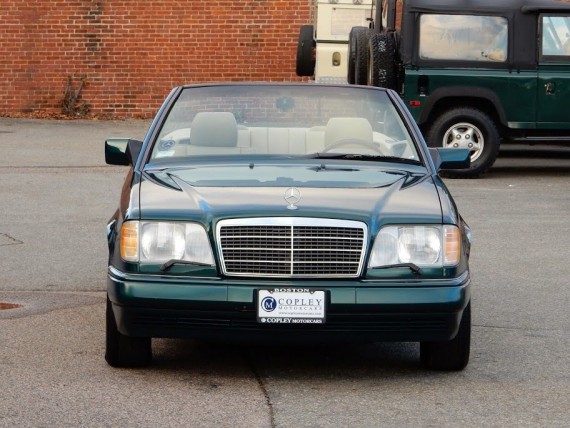 When talking import convertibles from the 1990s, the conversation has to start with a Mercedes-Benz. Whether it's the SL, E-Class, or even the SLK, Mercedes ruled the luxury droptop market from the day MC Hammer told us we couldn't touch this, to the day we all realized computers could in fact count past 2000. Neither Audi, nor BMW had a competitor for the SL or E-Class, the closest competition came from Sweden in the form of the SAAB 900 convertible. As is usually the case with SAAB, the car was popular within a niche market, whereas Mercedes' convertibles cemented themselves in pop culture again and again. As wonderful as the R129 SL is, I've always favored the W124 cabriolet over it, and I never much cared for the SLK. Among the many great drop tops to come out of Stuttgart, I'd place the '92-'97 E-Class in the top five. It perfectly embodies what Mercedes was all about when they were at their best, comfort, luxury, understated style. Nothing about the W124 cries out for attention, the design simply draws you in because it's timeless. Mercedes hadn't offered such a car since the '71 280SE, and the return of a two door, four seat convertible was welcomed by consumers with open wallets. Now here we are 20 years later and the W124 cabriolet is still turning heads, still commanding a pretty premium. This Brilliant Emerald over Parchment leather example look to be a very solid example, but is it worth classic 911 money?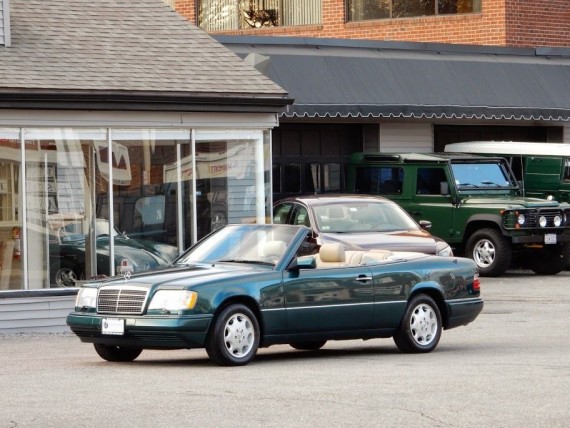 Year: 1995
Model: E320 Cabriolet
Engine: 3.2 liter inline-6
Transmission: 4-speed automatic
Mileage: 30,200 mi
Price: $34,800 Buy It Now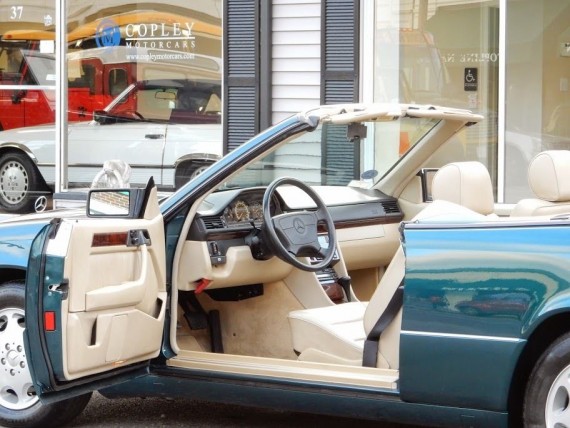 1995 Mercedes Benz E320 cabriolet, S/N WDBEA66E0SC279846, 269 Brilliant Emerald with parchment leather, black convertible top, 3.2 litre in-line 6 cylinder engine, automatic transmission, dual zone climate control, heated front seats, electric seats, electric convertible top with glass rear window, fresh servicing with all updates, factory original am/fm stereo with 6 disc remote CD changer, only 30,200 miles from new, original owner's manuals and spare keys, delivered new American Service Center, Arlington, Virginia, one of 3,676 E320 cabriolets imported to the USA in 1995.  To see additional photos, please send us a note and we'll send a link to the complete photo file.  Nationwide and international delivery arranged from our suburban Boston showroom.  We reserve the right to end the auction early if the reserve has not been met.  For more information about Copley Motorcars, please refer to the "About Me" button in this listing.  Telephone:  781.444.4646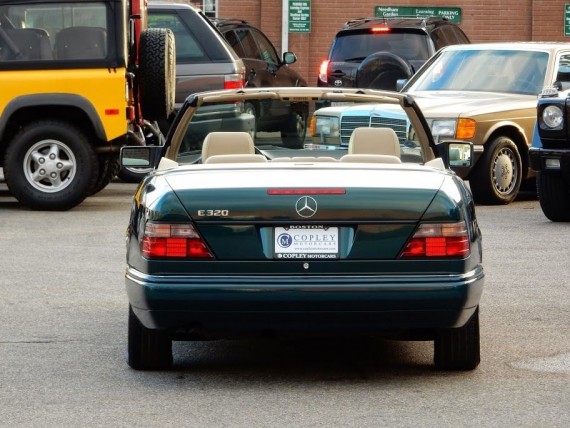 Aesthetics go a long way in adding value, but they can only go so far. There's no question that the color combo on this example fits the vibe of the car perfectly, so from an investment standpoint, it's a safe bet. However, the point of an automotive investment is to have a little bit of breathing room and with an asking price of $34,800, there's not any there. Sure, with just 30,200 on the clock this is a very low mileage example of a bulletproof Benz. However, that really works against the seller in justifying the top dollar price. The M104 straight six is one Mercedes' most solid power plants and buyers know that. So aside from presenting as a cosmetically clean example, what about this example should make a buyer want to drop all that dough when they could get a higher mileage one for less?
I'm sure the seller would argue that in purchasing a low mileage W124, you're essentially getting a used car that will run like new, and last for a long, long time. That's a great sales pitch, but more often than not, and especially with vehicles like the W124, I'd rather have a higher mileage example that's been regularly serviced, and worked out. Just as many things can go wrong with a car that has sat for awhile, as one that has seen regular use. This car has averaged just 1,510 miles per year over its lifetime, so I'd certainly want to know how that mileage was parsed out. At some point this thing has to have sat for an extended period of time, a buyer would do well to know what the circumstances of that period were. Don't get me wrong, I think this is a great example of a car that is near and dear to me, I just think the buyer has to be prepared to come way down on price.
Hagerty has a tier one example of a '95 E320 at $25,600, and based on these pictures, this example looks like it could be a concours car. Go down to a tier 2 car and you're looking at $17,300, a far cry from the $34,800 this seller is looking for. Those tier 2 cars may have many more miles, but based on what I've seen, the owners of these cars treated them really well. Even if the odometer has more ticks on it, you'll still be getting a clean ride, and at a significant discount. If the seller was willing to drop the price down under $30k, I think this car would be a solid investment as it is certainly going to appreciate further. We're still in the early stages of 90s nostalgia and you can be sure it's going to grow over the next decade. Lets just hope that Arizona jeans and the Macarena stay dead when it reaches a fever pitch.
-Andrew