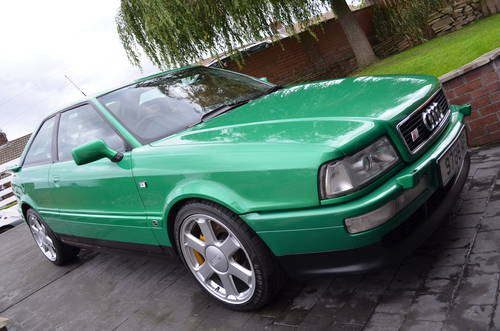 While some may feel that my foray into BMW ownership has swayed me to the dark side of German motoring, I still have a very large soft spot for the classic inline-5 powered Audis. And one of the most outstanding deals, until very recently, was the S2 range. Oft copied in the United States as it was never offered, the S2 was available in frequently seen Coupe and far less found sedan and Avant variations. The last is best known in its ultimate development as the Porsche-built RS2, but even the standard S2 range was nothing short of impressive. With 220 horsepower available from the 3B and later ABY turbocharged dual-cam inline-5s driven through all four wheels, they weren't the fastest off the line but could hang with their countrymen easily on the fly. As they near legal importation status, prices have started to rise slightly – but they're still quite affordable compared to many other contemporary limited-run performance options. This '96 is a great example: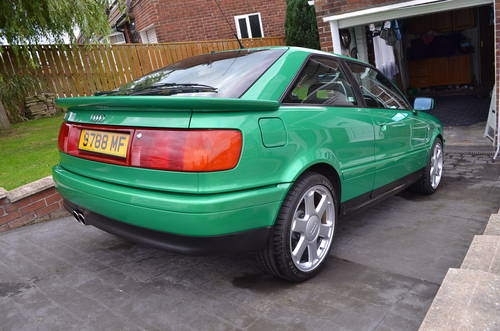 Year: 1996
Model: S2
Engine: 2.2 liter turbocharged inline-5
Transmission: 6-speed manual
Mileage: 55,795 mi
Price: GBP 15,450 ($20,080 today)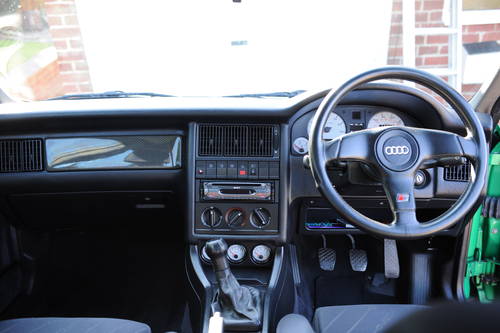 Description
1996 n reg with only 55,795 recorded miles, i have owned this car for the last 16 years.in which time it has only covered 20.500 miles,bringing the total milage to 55.795 (verifiable by old MOTs etc) it has spent much of its life on a SORN and has been dry stored and covered all that time and never used in winter. Interior condition is as new,no rips,tears or worn seats etc., the interior is the Jacquard Satin with Quatro logo fabric. Carbon fibre trim, electric sunroof,windows,mirrors. Sony single CD player, illuminates red to match instruments. Toad Cat 1 alarm/imob, two keys and three alarm fobs. Engine and running gear: Please see hand written list on photos of parts/costs recently fitted. The car also comes with the original set of 16″ Avus Alloys with Avon ZZ3 tyres (5/6mm tread) in very good condition with centre caps. Cambelt changed at 51,507 miles, M.O.T. till May 2017, but will have full M.O.T. for new owner. The car is 21yrs old and although not showroom condition it is in very, very good condition with some minor age related marks. The car drives superbly with approx 300bhp, it is very smooth and powerful and can quite happily potter around in town traffic or if you wish to push on, then you will be impressed with its performance. PLEASE NO TIME WASTERS, OR TEST PILOTS OR DREAMERS. Proof of deposit before test drive, I will drive the car until you own it. Any further questions contact MARTIN ps private reg will be removed and original reg of N78 FFC willbe reinstated.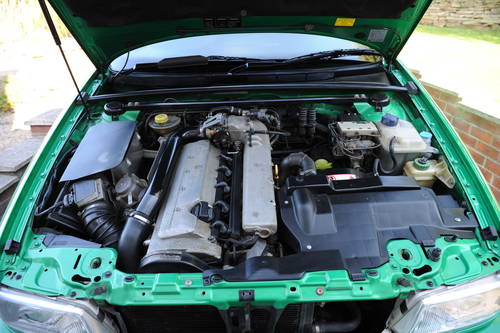 Presented in the impressively bright Cricket Green, this S2 wears the awesome looking Speedline-made 18″ S8 alloys from the same generation that I mentioned in the S6 post just the other day.. They fit the design perfectly while sizing up to fill out the arches. Inside is the fantastic Nardi wheel met with the preferred quattro script Jacquard sport cloth. The combination is stunning. With lower mileage and in mostly original configuration, this is certainly one of the nicer ones to hit the market. Yet pricing is very reasonable at only the equivalent of $20,000 – what wrecks of E30 M3s are trading for today.
While the S2 might not have had the race results of the Bavarian, in terms of exclusivity, build quality and performance, the nod must go to the Audi. There is something magical about the S2's combination of performance, soundtrack and look that few other cars mimicked, and this is a stark reminder of how disparate the US lineup was compared to what Europeans were offered before the launch of the B5. For me, the only thing (outside of legal importation woes) that would hold me back is that I'd prefer a S2 Avant, and in an ideal world it'd be left hand drive – but for an example like this, I think I could learn to cope.
Thanks to our reader John for the spot!
-Carter