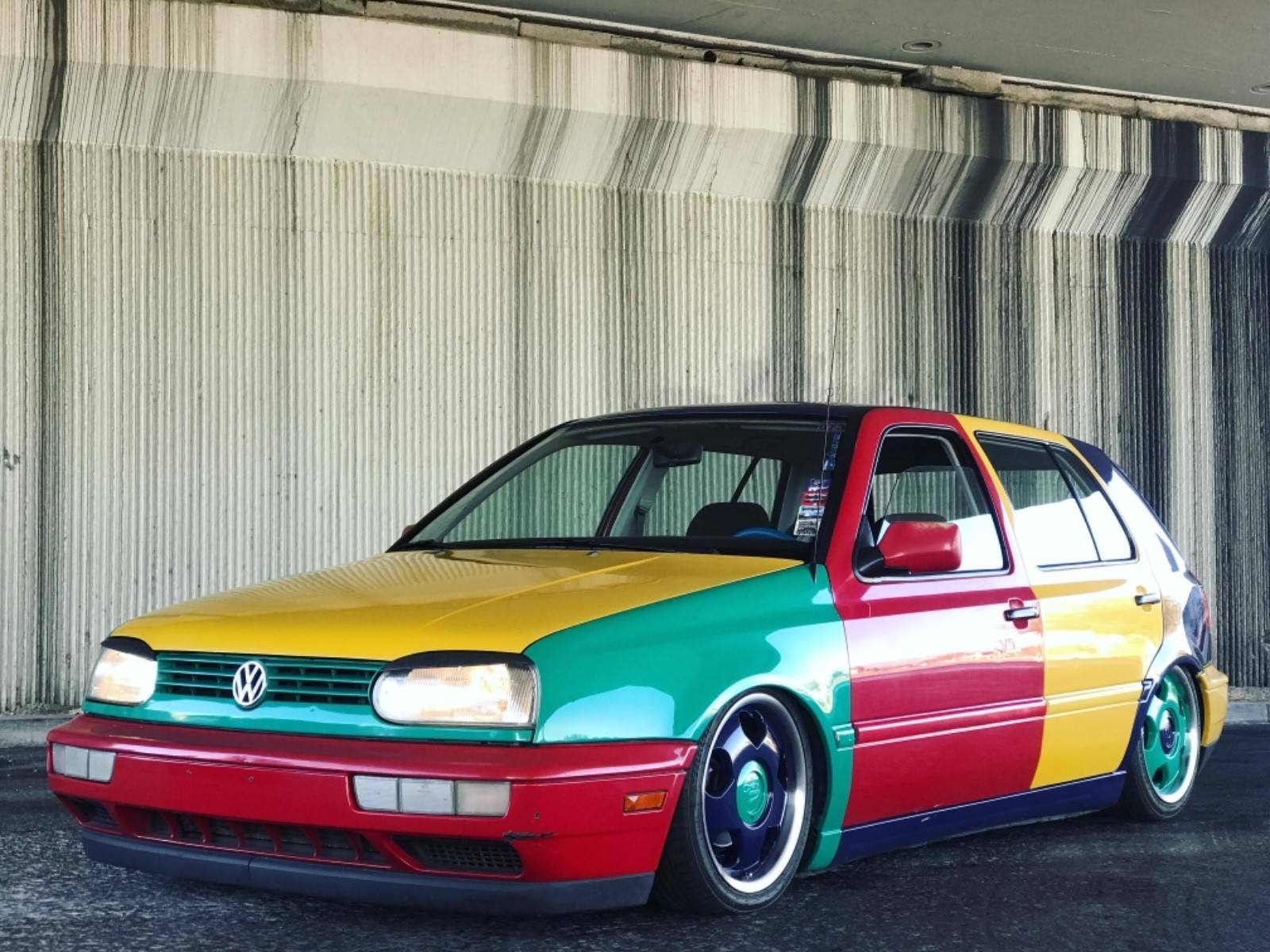 The Golf Harlequin is the model that answers the question no one asked. It's the model that proves Germans have a sense of humor. It's also a model which defies logic. If you told your automotive-inclined friend you bought a 22 year old 2.0 automatic 4-door Golf with mis-matched body panel colors, he'd probably offer you the couch in his living room to sleep on for the next month. Things must be that hard for you, after all.
Now, tell him you paid a premium for that car. "How much?", he'd most certain quip.
"$10,500"
The stunned silence which would undoubtedly be followed by the most boisterous of laughter would be punctuated only by the whipping out of a phone and a call to the local insane asylum for an admit, or at the very least a consult. But who's the joke on here?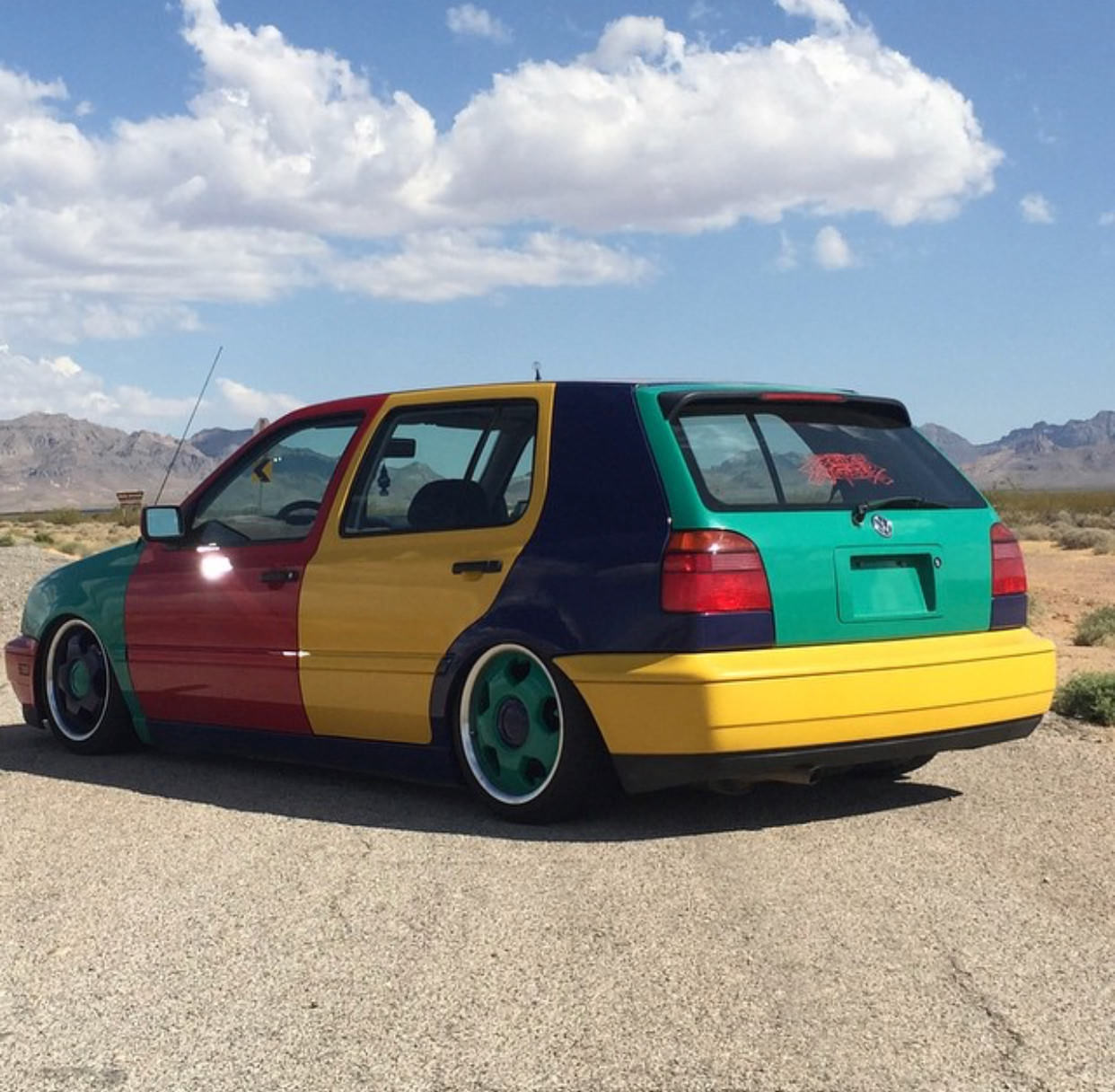 Year: 1996
Model: Golf Harlequin
Engine: 2.0 liter inline-4
Transmission: 3-speed automatic
Mileage: 90,663 mi
Price: $10,500 Buy It Now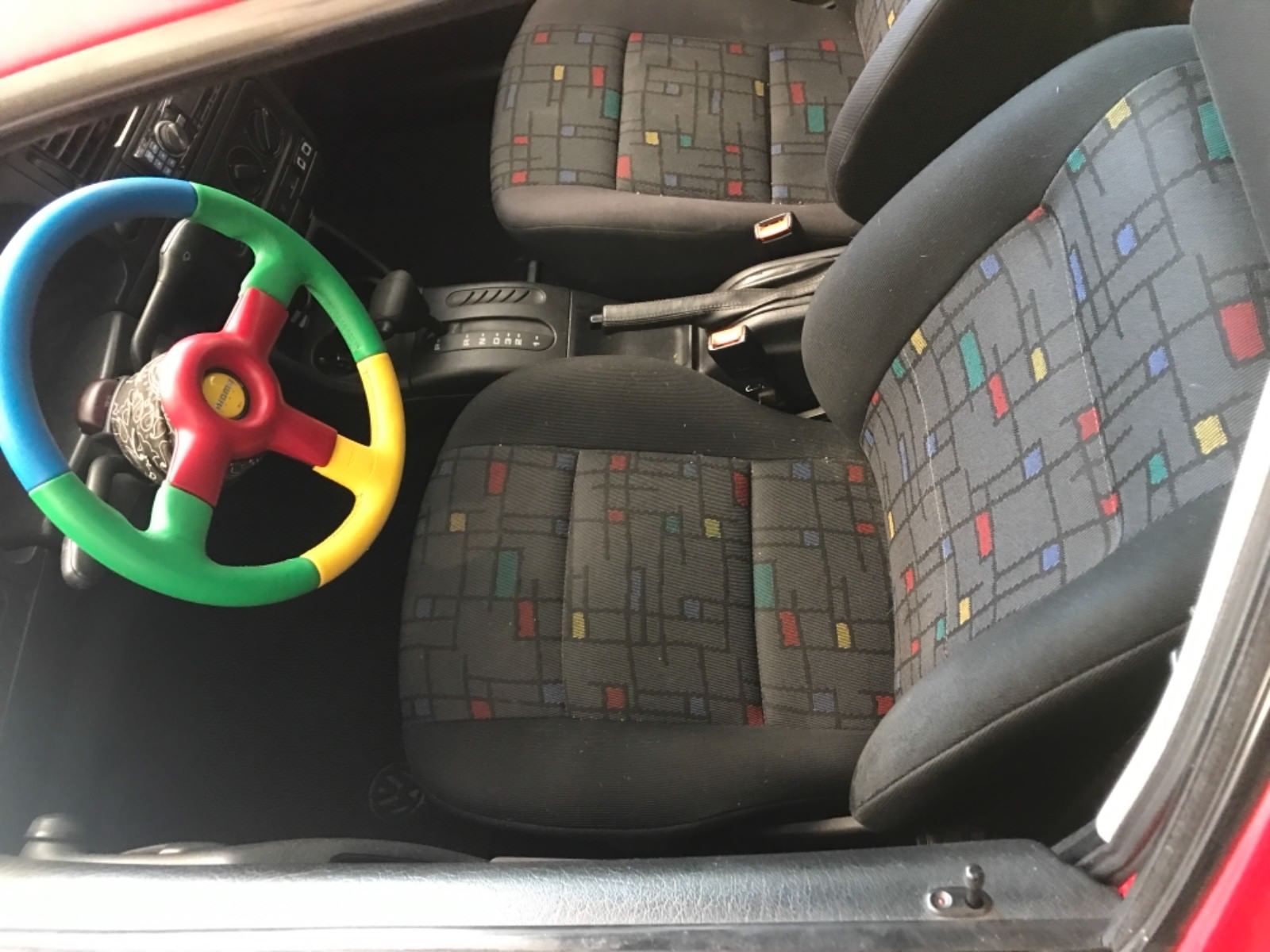 Up for grabs here is rare Volkswagen Harlequin Golf. This Harlequin is #28 of the 200 car run.
There were only 264 cars made in 1996 only.
This Harlequin is the Chagall Bkue base Model.

It has just over 90k miles on it

New brakes
New timing belt
Full tune up
All new fluids
Air suspension that was very cleanly done and we didn't modify anything structural or put in to many hole as to keep the originality of the car in tact, and allowing us to easily put it back to stock.
It has an alpine stereo with a 500 watt alpine amp and a 8" alpine sub woofer

Original MOMO Benetton steering wheel

The roof does have some slight waves in it. Not sure exactly why, but they are there.
The drivers mirror is faded
The front bumper has a few scrapes
And there are other minor imperfections.

We have the original wheels and hub caps still, stock struts, stock steering wheel, a glove box for the passenger air bag area for dual glove boxes, we still have the factory hatch floor cover.

There is a vacuum leak at the passenger door. I haven't been able to fix it. The hose for the door locks keeps coming out randomly.

Drivers rear wheel bearings are making a little noise. I've replaced them twice now. It might need a new spindle.

The cars air suspension is controlled by level ride. It has a phone that's works as a blue tooth controller that displays all information and allow any adjustment both manually and automatically.
I will also include a brand new controller if you decide to take of the leveling suspension.
Car also has all hydraulic hoses, either 3/8" hardline, or 3/8 soft line with all JIC fittings. Basically bullet proof. We have over $4k in suspension alone.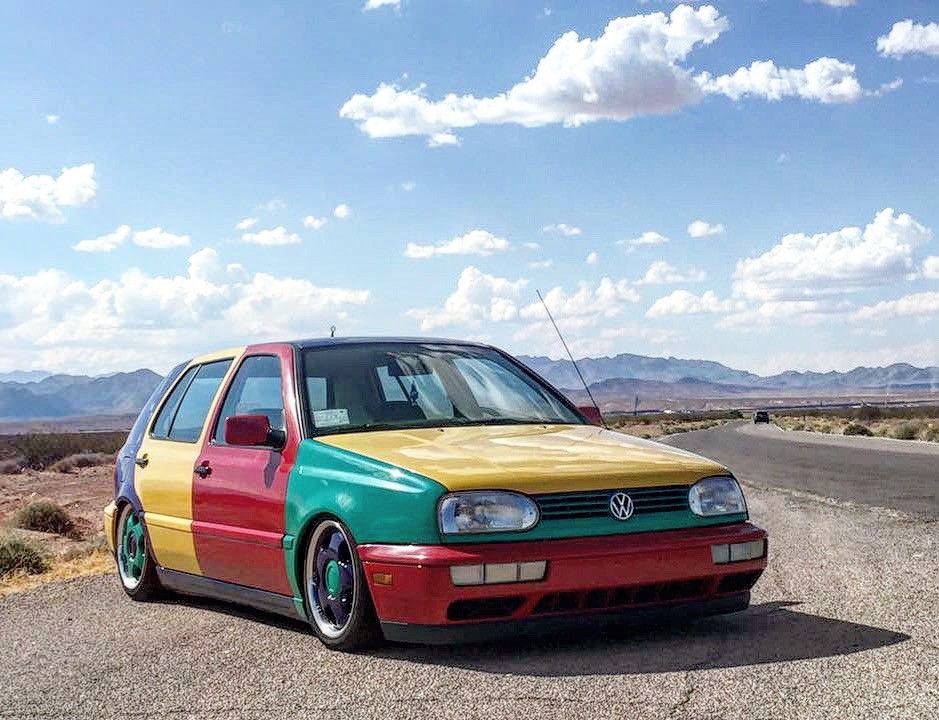 The best information on the Golf Harlequin is still Ross VW, where there is a registry of about 50% of the Harlequins sent to the North American market. There we actually find the earlier record of chassis 113346 from 2010, wearing it's original low-spec wheel covers. Remember, the bulk of these cars were basically stock Golf GLs, meaning little equipment and steel wheels. There are no other records disclosed about the car at that time, but it's nice to have some history and know the car was at least appreciated and identified by prior owners.
The current seller has apparently done even more, and most obvious is the change in suspension to air ride and alloy wheels. I can't quite tell what they are, but like several others the seller did a neat job of color-coordinating the corners. While mileage is lower, it shows some bumps and scrapes. But for a low-spec Golf, the head-scratching Harlequin's appeal is reinforced by the seller's careful disclosure that they didn't do any irreversible modifications. They've also done some maintenance and are pretty careful about disclosing the damage. You know what? My Golf had a bent roof too, and I could never figure it out.
It would be easy to be snide and laugh at the $10,500 asking price – heck, even the $8,000 opening price – and say this seller is dreaming. But these Harlequins are more than the sum of their multi-toned parts to the enthusiastic fanbase that follows them. They took the spunky (albeit slightly portly at the time) Golf and made it spunkier, combining the four best shades in Chagall Blue, Ginster Yellow, Pistachio Green and Tornado Red with a funky confetti interior. They attract attention, they are neat to see, and they're fun cars to drive. I sincerely doubt this car will sell close to the $10,500 ask. But will it fetch more than most of the Mk.3s we write up, including recent VR6s? Without a doubt.
-Carter