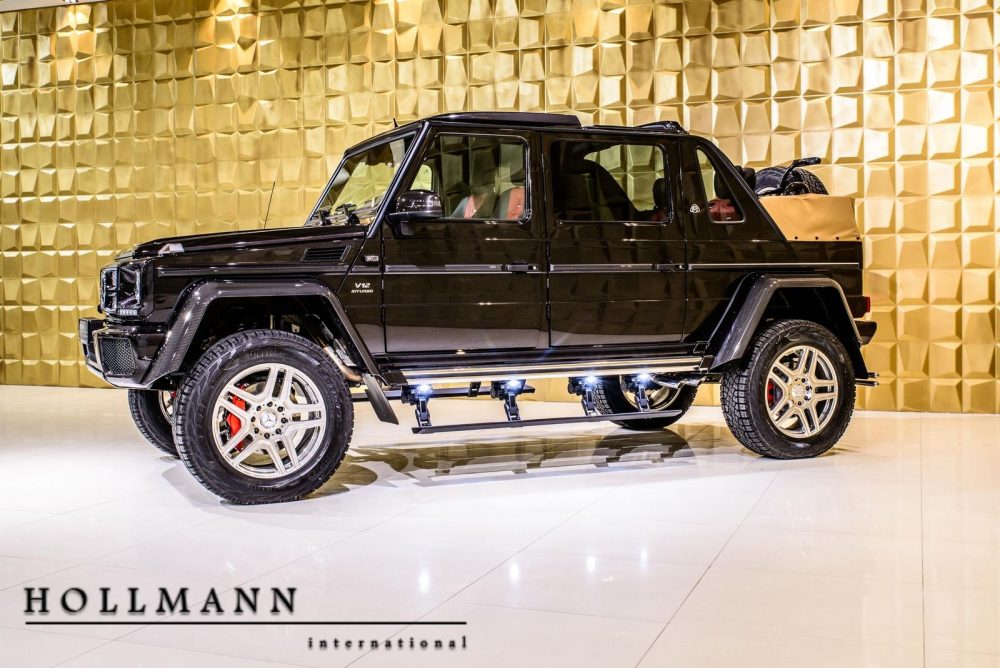 Late last year, Mercedes-Benz cooked up one of their craziest creations yet. One part G550 4×4², one part G65 AMG and one part Maybach S650 Cabriolet. They threw all that together and the robots from Affalterbach spit out this thing: the Mercedes-Maybach G650 Landaulet. It weighs 7300 pounds, has 621 hp along with 738 lb-ft of torque and will get to 60 mph in 5.8 seconds. Every angle of this W463 on steroids is totally ridiculous and we didn't even open the doors yet. Even more ridiculous? The price tag. I hope you are sitting down.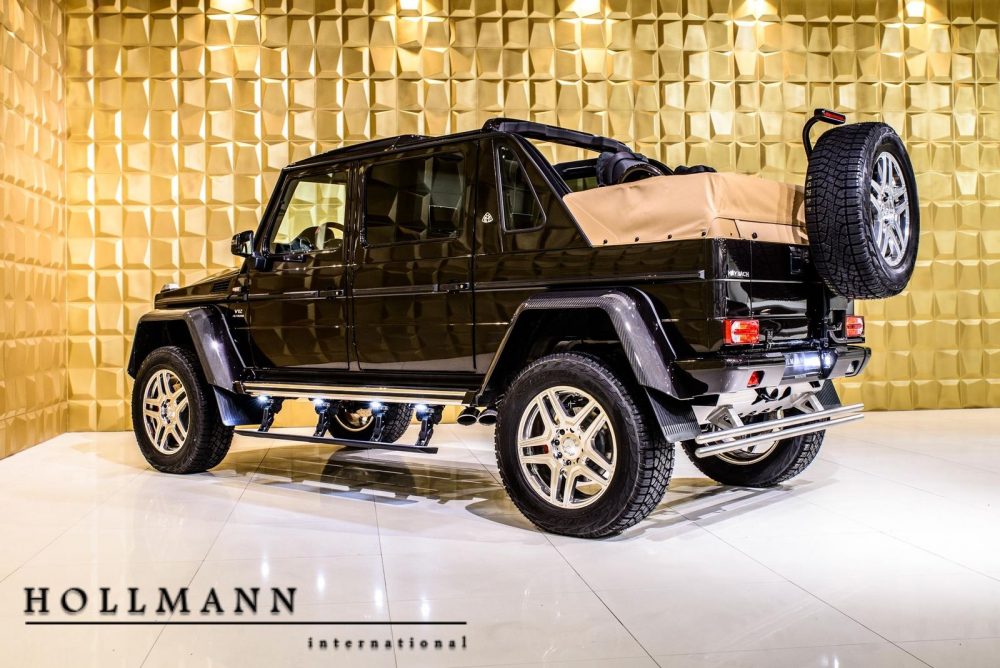 Year: 2018
Model: G650 Landaulet
Engine: 6.0 liter twin-turbocharged V12
Transmission: 7-speed automatic
Mileage: 50 km (31 mi)
Price: €1.100.000 ($1,351,405)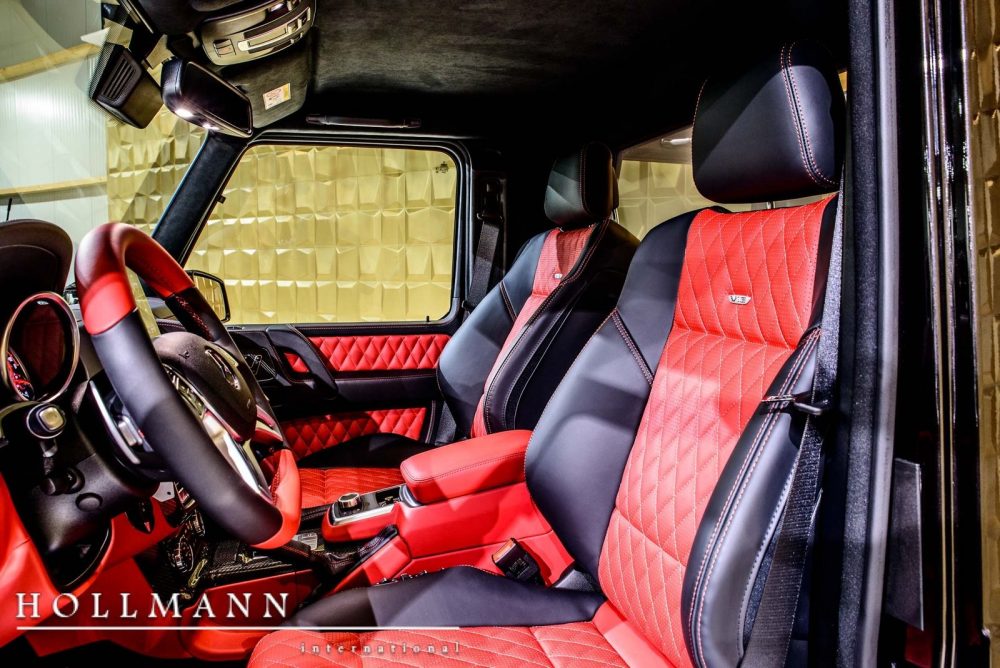 WWW.HOLLAUTO.DE
EU VAT PAID YOU REGISTER IN EU AND DRIVE!
Mercedes Maybach G650 Landaulet 1of 99 units
Body Color: Designo Black Mocha Metallic
Upholstery: Exclusive Leather Classic Red
Soft Roof Color: Beige

BB3 Electronic Stability Program (ESP)
C95 Side Molding Under Carbon
EU4 COMAND Online
EU9 Harman Kardon Logic7 Speaker System
EV1 Integration for Smartphone
EX9 Free update cards for 3 years
FH2 Designo ceiling cover in microfiber DYNAMICS in black color
G42 AMG Speedshift Plus 7G-TRONIC
H12 Parking heater without remote control
PA1 Package Comfort seats
PA6 Design Exclusive package
RK6 Light alloy wheels AMG 22 Inch, 5 spokes, immersion polishing
V32 Ceiling handles in black leather
W72 Tinted rear window glass and luggage compartment glass
X04 standard label
Y16 built-in fire extinguisher
YF9 Remote opening of garage door
ZA2 Packing
ZD0 G-Class 463 series
ZD6 Chrome Package
ZG6 Decorative finish carbon AMG
LQ0 Package Landaulet

Worldwide Shipping Possible

EU VAT PAID YOU REGISTER IN EU AND DRIVE!
The production of the classic G wagon wants to be terminate this year.
This particular chassis style has been in use for more than 40 years, giving the car a very long history.

The G650 Landaulet is limited to 99 pieces in the world, making it an absolute gem for top end collectors.
As Mercedes Benz's last tribute to the classic G, prices will definitely increase over time.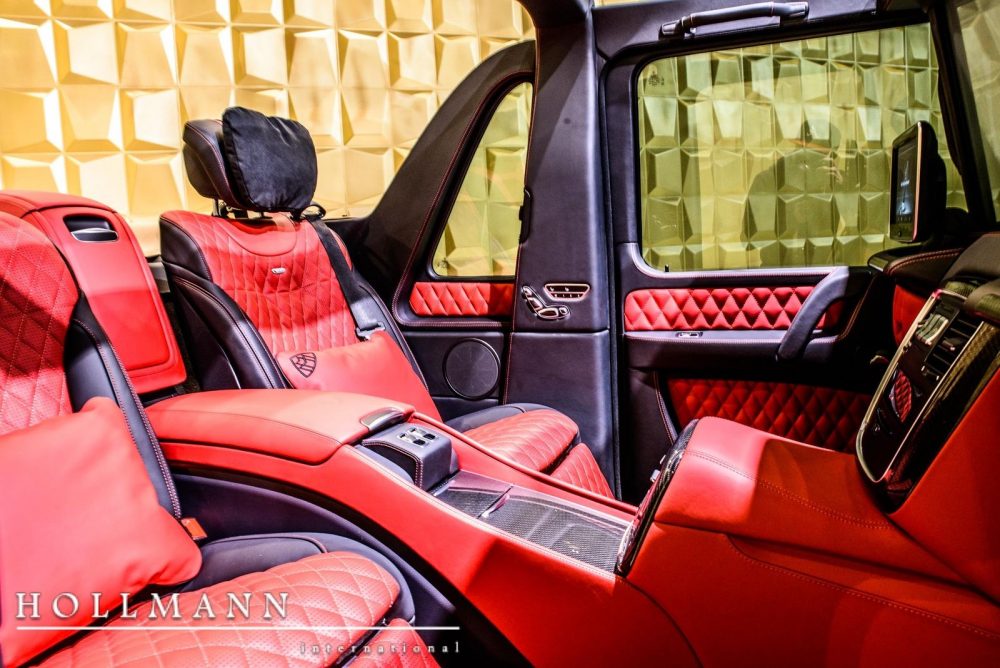 We've seen the Landaulet from Mercedes before and they were actually really cool. Most were used for dictators heads of states or celebrities with the W100 600. From there, a lot of other Mercedes through the years received the Landaluet treatment to some degree or another on a really small-scale and even Maybach made eight examples of the 62 Landaluet. No one really saw the G650 Landaluet coming but I suppose when you are saying goodbye to the W463 chassis, this is how you go out with a bang. The front half of this G650 is basically the same treatment you'd get from the G63/65 AMG but from behind those seats things get really crazy. It's half luxury spa and half business media center. Each seat gets it's own screen, pop up table and a little pillow if you want to take a quick nap. (I don't want to think how much those pillows cost.) This example for sale in Germany is dressed in all red and black that looks so garish I am having trouble thinking of the words to describe it. Thankfully, this is probably the only one of 99 that Mercedes is making in the color combination because I can't imagine who would find it attractive and want to spend money on. Speaking of money.
Mercedes said these would sticker for around $550,000 and only go up from there depending on options. Of course, this doesn't mean you can actually buy one right now for this price. A handful of independent car dealers have got their hands on these and are listing them well over $1,000,000 with some even asking as much as $1,800,000. Insane. This dealer actually has five of them with this example being the least expensive at $1,351,405. You can literally buy a Bugatti Veyron for that kind of money and still have $150,000 left over for an oil change or two for it. But then again, everyone has a Bugatti now, but only 98 others will have a 2018 Mercedes-Maybach G650 Landaulet. Spend it if you got, I suppose.
– Andrew