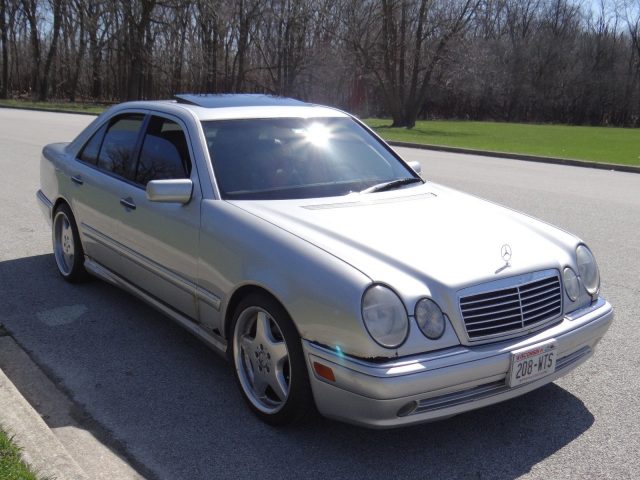 They say looks aren't everything and that it's what inside that really counts. Sometimes that's the case with cars but a lot of times, well, it's not. Sure, it's great to have both but if you don't want to spend a ton of money on vehicle you might be settling with one or the other — maybe neither. Today's 1997 Mercedes-Benz E300 in Wisconsin has it's fair share of exterior flaws and wasn't the most handsome car to begin with, but it's got a good soul and is ready for many miles of dependability.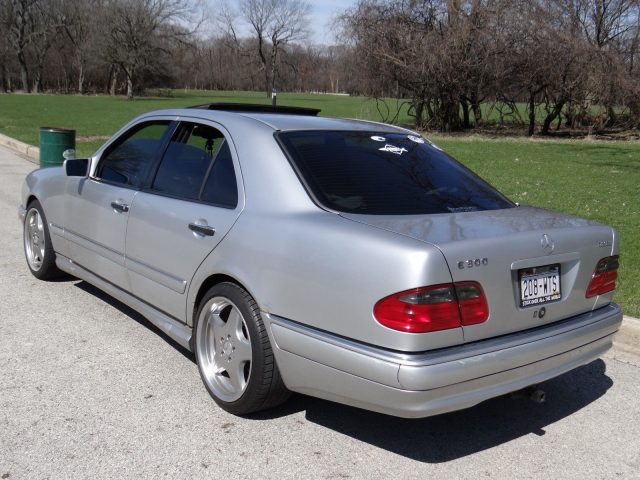 Year: 1997
Model: E300
Engine: 3.0 litre inline-6
Transmission: 5-speed automatic
Mileage: 279,933 mi
Price: Buy It Now $3,200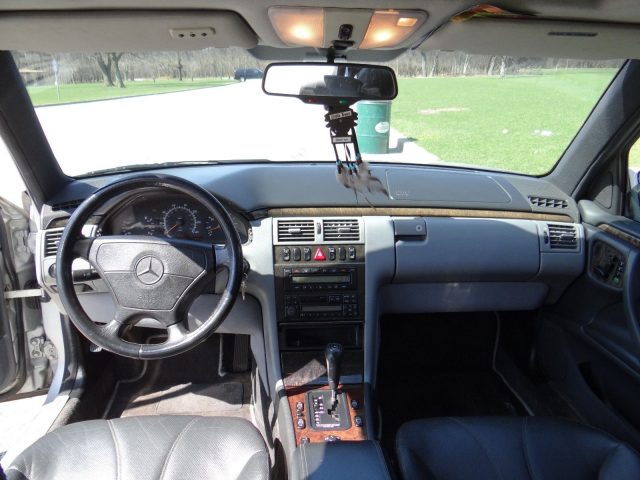 Please read through the ad, I'm going to do my best to describe what this car is all about. Most ads I'm seeing are honest looking looks with a lot of hidden nonsense. This is an honest car with everything put up front.
I'll also preface this by saying this car has very typical W210 body rust problems. They do not extend to the underside of the car, surprisingly! The entire underside has been treated multiple times and show's no sign of troubles. The rockers are solid, the spring perches are perfect, and the control arms are newer. So all the major rust concerns on the car have been addressed and are kept up on. My next step with this car would be body work, but it's time to move on.

I have an autocheck printed out from a year or so ago, if I remember right I'm the 6th or 7th owner (hopefully you can verify this through eBay's autocheck) but the car had two accidents in the early 00's….BY THE SAME LADY, a month or so apart!!! I actually got a hold of her as she was local and the two or three receipts I have are from her. She nailed an oddly offset light pole at very low speed. So just behind the driver headlight you can see some wrinkles in the metal. It's all original metal, nothing was cut out/welded, etc. The hood and fender were replaced – the core support and fender supports are original and untouched

So if you're reading this far, here's as much as I can think to write about this car. Genuinely, the only thing this car needs is a southern parts car or something to donate it's body pieces to finish it off and make a gorgeous car. I'll have pictures of everything I can show. Total disclosure here, there's nothing to hide – the car's history is out there anyway lol

In November of 2014 I bought this car in fairly poor condition. By poor, I mean the car probably should've been written off. The owner tried doing veggie, thankfully didn't get past halfway installing the system. The driver side trunk well has a hole cut out for fuel lines to run through and the rear hat shelf has a tank gauge or something stuck into it. Car wouldn't start, all the glow plugs were dead, etc. For some odd reason I took a liking to it and started rebuilding it and using it as a daily driver/cross country cruiser for myself. I received NO prior service history for the car – however in the past 2 1/2 years of me owning it, I've put in upwards of $4500 in parts. I don't use URO or garbage aftermarket parts. Everything I buy is either from wholesale MB or the best of aftermarket parts. Every last receipt I have for the car is organized in sheet protectors and is neatly organized by date in a binder. I do it for every one of my cars. I work on MB, so my labor was free. This car's been dubbed the "AsthmaticMG" among the Chicago area MB crowd – I also have some blog posts about the car "artisanexcite.blogspot.com" just search DailyDiesel. Reason for sale? I just picked up a W211 and am in the process of bringing that back from hell and doing the same thing I did with this car. I seem to have a perverse satisfaction with daily driving and rebuilding doomed cars. Gives me something better than drugs to do, I suppose.

UPGRADES:
This car is nearly entirely fitted with period genuine AMG and other factory options:
– The entire interior (not the dash, still gray) has been converted to the black perforated heated, orthopedic AMG leather. the seats need the heated seat harness and the vacuum tubes put in to function.
– AMG door panels
– black birdseye maple interior wood trim (not the shifter console, but I do have one to include, has wrong holes though)
– the correct AMG sway bars with springs
– RARE factory Hella XENON headlights
– facelift AMG taillights (trunk light plastics had to be modified to fit to prefacelift trunk)
– even the AMG floor mats are in place (slowest E55 in the world)
– front and rear prefacelift AMG bumpers
– facelift AMG sideskirts
– two tone SPORT shift knob
– W202 SPORT "sportline" steering wheel (slightly smaller diameter than stock)
– LED lighting all throughout the car
– not really an upgrade per se, but the car has a CURT hitch installed.

Please note: the 18″ AMG wheels will NOT be included with this sale. The wheels stay with me as I went through hell finding them. They can be sold for $900 additional should you want them. The car will be rolling on rare euro special order 16″ wheels with stock size winter tires. I may have some sort of MSW 17″ to include with the car. Two tires are Pirelli and two are michelin I think. They need to be balanced for sure.
ENGINE/Transmission:

Around writing this ad, the engine will be just about ticking over 280K miles. I bought the car with 234k miles and have driven it 800 mile round trips regularly and have crossed the country a few times with it (have a picture of this car on Pikes Peak and in front of the Classic Center in Irvine, CA).

– injectors rebuilt with monark nozzles and all balanced to 120bar
– all the fuel lines, plastic and rubber, have been replaced
– glow plugs were replaced when I bought the car at 234k miles
– fuel filters are changed every 2nd oil change (i have a bunch to include with the car, ill have new ones on for a new owner)
– oil changes are done every 3500 miles with 15W-40 Delo or Delvac and a Hengst filter, I never miss a change. the engine burns no oil and does NOT LEAK in between oil changes!!
– i put a new conductor plate in the trans when it was bought and serviced the trans at the same time. trans was serviced again 8k miles ago. a month ago I put in a new connector plug as I noticed it was seeping.
– Trans shifts like it should. no delays, no smelly or dirty fluid. doesn't leak a drop.
– flex discs and center support done last year
– injection pump was just pulled out to reseal it and adjust pump timing
– diff was drained/filled 6 months ago

SUSPENSION/Brakes:

Everything suspension related was done from 234k miles to now

– moog tie rods
– moog ball joints
– moog control arms
– rear has brand new subframe bushings front and rear
– new hub carrier bushings
– new rear toe arm, new "torque" arm
– A 4 corner FULL brake job was done on the car last year. New brake hoses front and rear, all 4 calipers were rebuilt and painted gold, brake pads and rotors are made by Brembo. Total brake fluid flush done at the same time
– engine mounts done
– trans mount has been polyurethane reinforced

*** Wheels on car in pics are not included. 17″ MSW's as well as a set of 16″ with winters will be include ******

EXTERIOR

– it's got rust and dents folks, what can i say
– AMG everything

Overall

A lot more was done to the car that would be too much to list. Lots of small parts were bought, etc. I bought a brand new key for it when I first started driving the car. Has a new shut off valve, new K40 relay, etc etc. List goes on, ask me whatever you want to know and I'll tell you if it's been done or not.

– Major AC components were replaced with NEW. AC works GREAT. New compressor, drier, condenser… AC is ICE COLD.
– because the car didn't come with a spare tire, i found a BRAND NEW one and stuck a good new tire on it. 17″
–
WHAT IT NEEDS/Notables

– blower motor is off balance it seems. it works perfectly and quietly, but if it's on the 3rd speed you can hear the cage sort of tapping the housing. Functions well and strong otherwise.
– sunroof tilts, but doesn't go back. it'll go back a little, but that's it. Definitely needs cables, haven't looked into it otherwise.
– if it ends up in california, the exhaust does have a magnaflow diesel cat installed as the factory one was missing. I think it's too far back in the exhaust stream as the exhaust has a little bit of a rasp to it. I'm not sure if magnaflow cats are Cali compliant. EGR is "bypassed" so it doesn't soot up the intake. It's VERY easily reversible and i'll include parts to do so.
– body work
– thrust arms for the rear suspension. the tires don't wear badly, but the car feels like it'll shimmy if a rear wheel drops onto a wet sewer cap or very crowned road.
– passenger front wheel bearing – I WILL BE REPLACING this as soon as it comes in. Quality part with receipt will be stuck in the binder like everything else.
– doesn't need them, but I never did the shocks so as far as i know they might have 280k miles on them. car is tight and doesn't bounce, so do with this what you will.

This car will be ready to cross the country!
Have a couple pictures here, will be adding pictures of the underside soon! here

Make me an offer! Please be reasonable. The parts on this car alone would make it more worthwhile to just part out. I'd rather see it continue on and would love for a new owner to take her over 300k and beyond.

So, with listing close I need a $500 deposit within 48 hours. From there, you've got all the time in the world to come pick up the car. I don't care how long it takes you. I'd like to receive full payment within 14 days of close. You'll have plenty of time to organize shipping or pick up. Please don't hesitate picking the car up – it'll make it cross country without a problem. Pay for my fuel and a way back home and I'll drive it to you! Might end up being cheaper than shipping anyway and I do these sorts of trips all the time.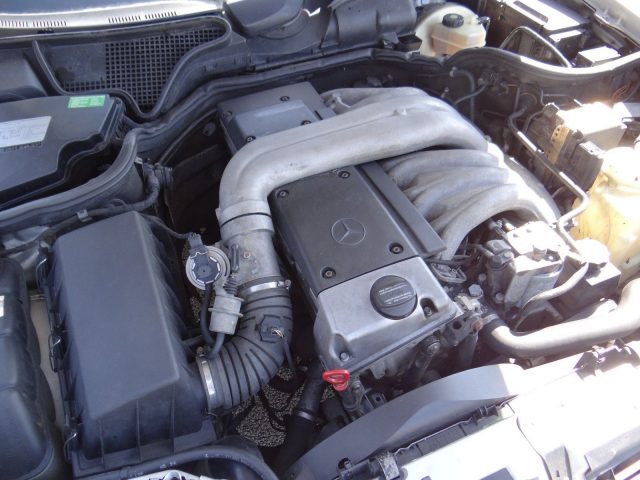 For the looks of it, you can probably tell this isn't your typical W210 diesel. The owner, a great guy in the Mercedes community, has pulled parts from various other W210s to give it look of a sporty AMG-like version both inside and out. The front and rear bumper were pulled from the 1999 pre-facelift E55 AMG while the side skirts and taillights came from the facelifted E55. Inside, you find more W210 AMG parts like the seats, door panels and the wood trim. These are all huge improvements are the pre-facelifted E300 felt and looked like a sterile operating room. Everything was plain and cold without having much styling. Just adding all these bolt-ons did wonders for the car. Of course being a W210 from the mid-west with almost 280,000 miles on it, you are going to deal with rust. The good thing is that nothing is structural and you can shop around for clean fenders and doors if you really wanted to freshen things up.
This being a 1997, it combines the last year of the non-turbo OM606 engine with the first year of the 722.6 transmission. In my opinion this makes it the best W210 diesel to get by far because what I want out of a diesel car is efficiency and reliability. Yes, it only has 155 lb·ft of torque but again, I'm not looking for a drag racer here. I'll happily take consistently averaging 35 mpg in comfort from a car like this.
As for the price of $3,200, I think it's totally fair seeing as what's all gone into this car. The repairs and maintenance list looks to be a mile long and it sure is assuring to know that it came from someone who understands this car completely. If you aren't bothered by the rust, a few thousands dollars to have a car that is comfortable, looks great, gets great mileage and almost completely sorted through, is well worth it in my eyes.
– Andrew