As you hopefully know, it is Fathers Day and I thought it would be fun to take a stab at finding the ultimate "dad car." Many vehicles crossed my mind, the majority of them were Mercedes, a few BMWs and Audis as well, but there's just something so grown up and bossy about a Benz that it makes the brand feel paternal. My own father isn't particularly fond of the three pointed star marquee, so it is not with him in mind that I chose this car. He's like me, a fan of hatchbacks, sleepers and rally bred machines, not the brash hardware like the SL600. However, I have no doubt he'd enjoy the soundtrack courtesy of the 48 valve V12 because who the heck wouldn't? There may even be a chance he'd be swayed, as I was, into lusting after this car as it has a Vortech V2 Supercharger stuck on it, pushing the horsepower figure up over 400. My father was the one who taught me horsepower isn't everything but I'll be damned if the man doesn't love it just as much as I do. It's the torque that's really impressive with these cars and all 420 lb-ft of it is needed to move the 4,445 lb chassis. Just goes to show that in a big 'ol silver rocket ship with a removable top is where a motor like this belongs and few do this style of car better than the folks at Mercedes Benz.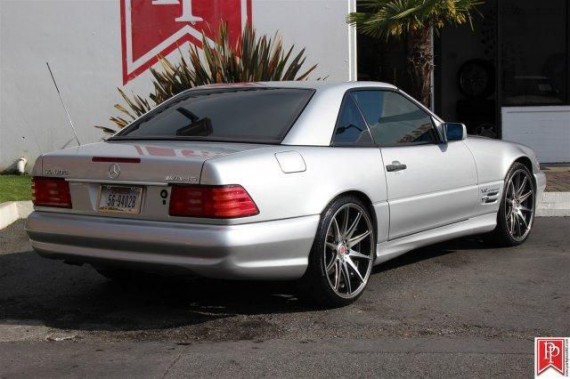 Year: 1997
Model: SL600
Engine: 6.0L liter V12
Transmission: 5-speed automatic
Mileage: 22,191 mi
Price: $29,950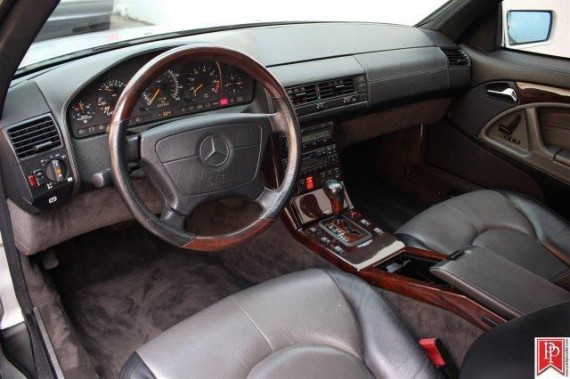 Uber-Rare 1997 Mercedes Benz 600SL AMG Convertible. Stunning and Exclusive, less that 60 of these AMG built 600SL's were produced. Very well appointed in Silver over Full Black Leather. 6.0L/400+hp/V12 with Vortech V2 Supercharger. 5-speed Auto Trans. AMG Sport Appearance Pkg. Power/heated front seats. Brembo Big Brake Kit, H&R Sport suspension kit w/Bilstein shocks/struts. Xenon headlamps. 20 Bavaria wheels. These cars offer tremendous value for the money, they were the top of the line SL in 1997 and had an MSRP of more than $130,000 in 1997!!!This roadster is in excellent condition. With only 22,121 miles, this elegant rocket ship is ready to whisk you away for your next highway journey in style. Her original Silver exterior paint is excellent. The black interior is outstanding condition as well, the leather supple and unblemished. Powered by the venerable 6.0 Fuel injected M-B V-12 Engine, this German marvel has few peers. The Black Canvas top is in excellent condition, and the hydraulic top mechanism works as it should. She comes with her original, matching silver hardtop. The handling and ride are unmatched and offers exhilarating high speed touring capabilities as well as everyday drivability.New Arrival. Photos and details coming soon.The car comes with the original owner's manual, original books, and original keys. For more information, or to schedule a private viewing of this 1997 Mercedes 600SL, call our friendly and knowledgeable sales team at 877-678-0658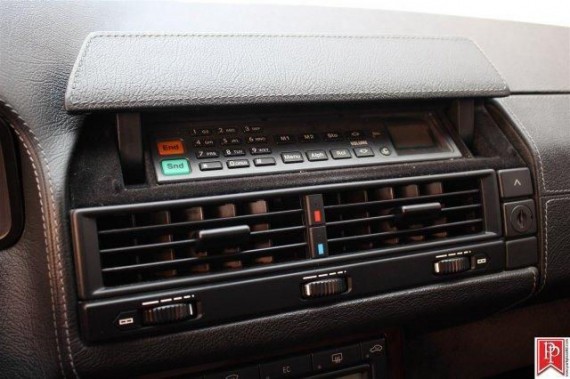 The Bavaria wheels are sure to be divisive among GCFSB readers but I'm ok with them on this car. I think they add to the bold style, although I would have gone with the Matte Black inner finish to add contrast and match the Brembo calipers. It's annoying that the seller didn't photograph the car with the hardtop removed, I think the profile of the R129 is at its best sans top and in my opinion the whole point of having one is to fill the cabin with the sound of the V12. This example has just 22k on the clock, very low miles which is comforting. These motors are known for being impressively engineered even by todays standards and are practically bulletproof. Seriously, if you go on Mercedes Benz forums and read reviews you will find next to nothing about reliability issues. Of course that doesn't mean the car isn't without expenses the V12 uses about 10.5 quarts of oil and some of the earlier models are known for having electronic problems.
Overall, you have to admit this car is really something special. Even if you're not a Mercedes fan, you know you'd be pretty psyched to drive this thing. Around town the V12 can behave itself, perfect for leisurely cruises around well to do areas that may or may not have noise ordinances. On the open road it'll be more than happy to transport you plus one at high rates of speed all whilst enjoying the smell of rich premium leather and perhaps a hint of the many cigars you'll have undoubtedly smoked during the course of ownership. Priced at $130k when new, this seller is asking $29,950 just 18 years later. For what this car is and what it represents, I'd say that's a pretty attractive deal. What do you get the father who has everything? An SL600 with a supercharger and low mileage might just be the right answer.
-Andrew