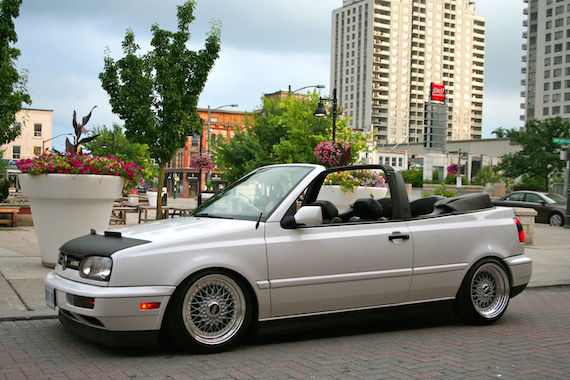 Sometimes the most unsuspecting vehicles in the lineup make for the most interesting tuning subjects. The introduction of the VR6 engine in the early 1990s got the enthusiasts' minds racing, especially when it was dropped under the hood of the Mk3 GTI. Hot hatchbacks would never be the same again. Ever since, the VR6 has found its way into unsuspecting VWs, from Mk1 Golfs to drop top cruisers such as this Mk3 Cabrio for sale from our reader Daniel. Under the hood you'll find a 2.8 liter VR6 with a shot in the arm by way of a Vortech supercharger and coupled to a limited slip differential.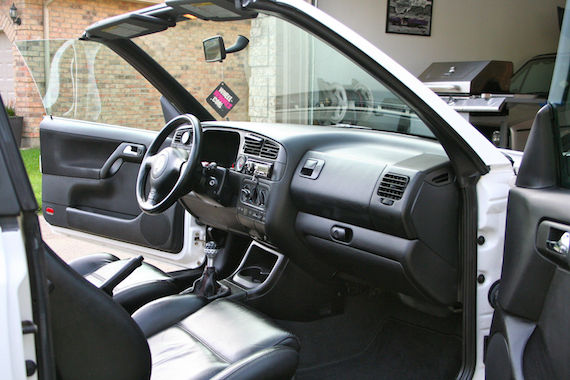 Year: 1997
Model: Cabrio
Engine: 2.8 liter supercharged VR6
Transmission: 5-speed manual
Mileage: 159,355 mi
Price: $7,500 Buy It Now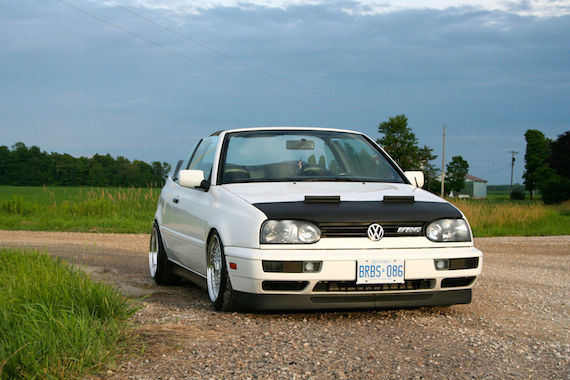 1997 Volkswagen Cabrio, originally sold in Louisville, KY. Imported to Canada in September 2011. Chassis has about 265,000 km (165,000 mi), Euro cluster currently shows 256,4xx km.

Vehicle has a full MK3 GTi VR6 swap, Vortech V2 supercharger kit, Peloquin limited-slip differential and is a lot of fun to drive.

Reason for selling: one too many summer fun cars.

I purchased the vehicle approximately two years ago and have immensely enjoyed it. It has been super reliable – in addition to driving it daily in nice weather, I drove it from Toronto, Ontario down to SoWo VW meet in Helen, GA and in September to Ocean City, MD for H2Oi. I would not hesitate jumping in the car and driving it across the continent.

It took a few awards at last summer's VW events/shows, including 1st place at H2Oi 2013.

It was dyno'ed last summer and showed 264 WHP @ 13.2 PSI on a hot, humid +32C summer day – puts it right around 300 crank HP factoring 12% drivetrain loss.

The good:

– Car is exceptionally clean – no rust anywhere on the body except for a very tiny bubbling spot on the rear passenger fender
– Paint is in very good condition all around except for a few small rock chips in the front (bumper/nose panel) and a couple of small dings on rear quarters
– All power accessories work: power mirrors, power windows with Auto down function, power locks, factory keyless entry

The not so good:

– Oil consumption – uses up to 1.5L of oil between oil changes, however, this appears to be the norm with most supercharged VR6
– Occasionally grinds third gear when driven spiritedly (no grinding at all when driven normally; suspect third gear synchro is on it's way out)
– ABS does not work – no rear sensors (dash light is disconnected)

Always stored inside, only driven in the rain once.

Car is located in London, Ontario, Canada.

Buyer will be responsible for paperwork/shipping, however, I can deliver the car over the border into Michigan (Port Huron/Detroit) or into New York (Buffalo/Niagara).

Exterior:

– Candy White factory paint (LB9A)
– White vinyl top (manual top)
– Black top cover
– Black hood bra
– Smoked E-code Headlights with amber city lights
– Euro-spec rad support
– Rare set of Hella red/smoked tail lights
– Smoked fog lights with 4300K HID bulbs
– Smoked turn signals
– VR6 Euro-spec front lip/valance

Interior:

– Black interior swap (carpets, dash, seats, door panels)
– OEM VW MK3.5 Cabrio door panels/cards
– Mint set of MK3.5 Cabrio black leather seats front and rear (new plastic sliders for front seat rails)
– Heated front seats (heaters not hooked up)
– OEM VW GTI "golf ball" shift knob
– Black leather shift boot
– OEM VW MK3.5 steering wheel
– OEM VW Euro VR6 cluster with red needles and pure white LED backlight
– OEM VW upper and lower glove boxes with matching key
– Power windows
– Power mirrors
– Factory alarm/keyless entry
– 42dd single gauge pod with mechanical oil pressure gauge
– Driver side vent mounted boost gauge
– JVC CD/USB/MP3 deck
– Factory Speakers
– 10″ JBL subwoofer and amp
– OEM VW Euro Switch with parking light, front and rear fog light function
– New "banjo" remote
– OEM VW MK4 switchblade key with MK3 key blade
– Audi TT aluminum pedals

Engine:

– Full MK3 GTI VR6 swap
– 5 speed 02A transmission with Peloquin LSD
– Lightened 8lbs flywheel
– SAI delete
– AC delete
– Power steering delete
– Gutted 2.8 intake manifold (white powder coat)
– Ported exhaust manifolds
– TT downpipe
– 3″ MBS catless exhaust with Magnaflow muffler

Within last 15,000 km /10,000 miles /2 years the following has been replaced:

– Cylinder head fully rebuilt
– TT valve springs
– 286 DRC camshafts
– MK4 headgasket
– new timing chains, guides
– valve cover gasket
– Low temp thermostat
– Thermostat housing
– Aluminum crack pipe
– water pump (metal impellers)
– auxiliary water pump (Bosch)
– crank seal
– oil pan gasket
– oil sensors (low psi, high psi, oil temperature)
– coolant sensors
– throw-out bearing
– 02A transmission brace
– 02J shifter tower and shifter box
– VF Engineering mounts (all three)
– fuel filter
– K&N air filter
– Royal Purple Maxgear 75W90 gear oil
– OEM VW G12 coolant flush in September, 2013

– Vortech V2 supercharger kit with 2.7″ pulley (13psi)
– Brand new Rheiland Technik supercharger bracket
– C2 software
– 95mm MAF housing
– 30# injectors
– inline Walbro 255 fuel pump added
– Oil changed every 5000km/twice a year with 5W50 Castrol Syntec and OEM VW oil filters

Suspension/Wheels/Brakes:

– CX Racing 32 step dampening adjustable coilovers, height and spring preload (10k front, 8k rear spring rates)
– New strut mounts when coilovers installed (within last 15,000 km / 10,000 miles)
– MK3 GTI VR6 5×100 rotors all around
– Rear bearings and calipers with new emergency brake cables and cable guides (within last 15,000 km / 10,000 miles)
– Front control arm R32 bushings
– BBS RS 16×8 fronts / 16×9 rears with 205/45R16 Falken 512 all around with approx 75% tread remaining
– Front end alignment done in September 2013

Please feel free to contact me for any additional information. Vehicle is sold AS-IS.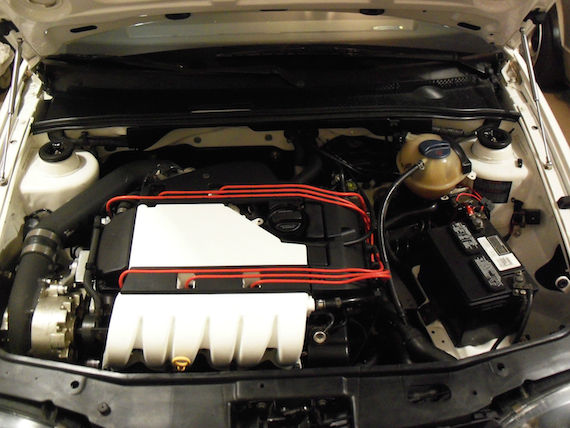 This is one Mk3 Cabrio that's been well looked after, as you can see from the seller's description and recent servicing. It's no wonder, then, that this car took home a first place trophy last year at H20i, a mecca for the VW enthusiast. A lot of times these modded Mk3s are a bit over the top for my personal taste, but this Cabrio strikes a nice balance, throwing off a look that might have you thinking Volkswagen produced a VR6 Cabrio in series production. Luckily, a few dedicated enthusiasts out there have gone and answered the question VW thought no one ever asked.
-Paul