For some enthusiasts, the BMW Z3 is a bit of a hairdresser's car. Even with rear-drive and some models employing the silky smooth BMW inline six cylinder engine, they couldn't escape the stigma of being a fashion statement for the beautiful people when new. Almost 14 years on since the original four cylinder Z3 debuted, these roadsters have become an attractive second hand buy and a viable alternative to the beloved Mazda Miata. But it was in 1998 that BMW introduced the M roadster, enhancing this car's performance credibility. Packing the 3.2 liter, 240 horsepower S52B32 inline six, flared fender arches, wider wheels and quad exhaust pipes, this two seater had a much more menacing look and a bite to match. Sixty miles per hour arrived in just a tick over five seconds and could cover the quarter mile in about 14 seconds.
Those who read GCFSB regularly know that I'm a sucker for unique colors. This M Roadster for sale in Utah painted in Evergreen might not be to everyone's taste, but I like it with the matching green and black leather.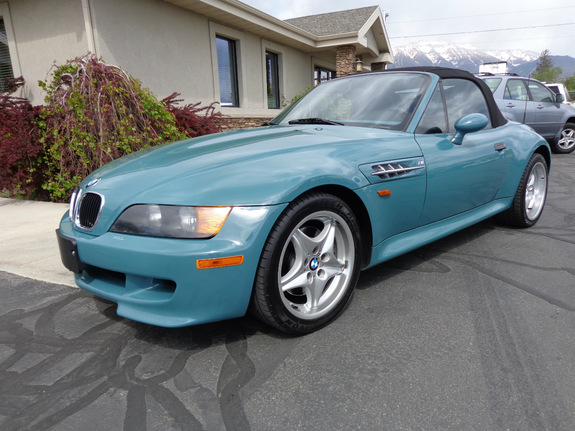 We are thrilled to have for sale a very rare 1998 BMW M Roadster in Evergreen. There were only less than 9000 of these cars produced from 1998-2000. And Evergreen with Black was an incredibly rare color combination offered. This is for sure not the car that your neighbor has! This is a super fun little car to drive. The seemingly small horsepower numbers do not tell the full story of this car. It is a true performance machine and one of the most fun reasons why BMW is the "Ultimate Driving Machine". The car is very light so the power to weight ratio means that this car is just a scream to drive. This car is a blast to drive anywhere. It is at home on a workday commute or a weekend canyon drive. Or it would be great as a weekend beginning racer. The seat of the pants performance of this car is very hard to beat. And yet when driven civilly is also a fantastic, enjoyable car to drive casually. With the top down it is possible to carry on a cell phone conversation at 65 MPH without heavy distraction from the wind. With the rear wind screen in place your hair hardly gets jilted out of place even at freeway speeds. This car is equipped with a 5 speed manual transmission with excellent shifting manners. It is just really fun to run it through the gears it is so solid and responsive. The car has plenty of tire shredding, tail wagging power. I believe that it would be nearly impossible to beat the "bang for the buck" of this car. There are not many cars on the road that will run with it, let alone that are as comfortable and joyful to drive.

This particular car has just had new tires installed and had a service performed at out local BMW dealership, BMW of Pleasant Grove. It is ready to driven and enjoyed by its new owner. The A/C blows ice cold. This car is exceptionally clean and nice for its age. The leather seats are soft and supple and everything on the car works. If you are looking for a great value in a sports car this has got to be one of the top cars on your list. The depreciation from here is negligible. The car is wonderful to drive and experience. It is really what pure driving is about. This car has the original rear window "sock" for when the top is folded. It has the original boot to fit over the rear although it is slightly age hardened. The car has most all of its original tool kit and the top is in excellent operating condition and the fabric is in great shape as well.

The only negatives that should be discussed about this car is that is has a BMW factory replacement (BMW DOT-R) Hood on it. All of the rest of the front of the car is original but the hood was replaced along the way for some reason. Also it appears that both plastic bumpers have been painted and there is paintwork on the rear bonnet. All parts but the hood are original and there appears to never have been any collision damage. Weird about the hood but the car looks and operates fantastic. Even on close inspection you would not be able to tell the car has had paint unless you have a paint meter. The interior is exceptional, the only "flaw" is that the factory head unit has been replaced with a Kenwood stereo. Not a huge deal but notable. For a car that is 14 years old this one is a truly exceptional low mile example with a clean and clear www.autocheck.com vehicle history report. In fact it has an exceptionally high number 87 compared with the usual numbers of 27-71.

If you love to drive and enjoy a snappy throttle and superbly delivered power this is about the best bang for the buck that you can buy. The depreciation on these cars has been great! They are awesome to drive everyday or they super fun weekenders. This is the type of car that makes you want to even run and do the honey do list just because you get to drive somewhere in it. All I can say is WHAT A CAR!

All that is left is for the car to be delivered or driven to its new home and new owners. Take a look at all the pictures and see what kind of care that this car has had. I can all but guarantee that you wont find one this clean unless you buy it new. The fuel economy as rated by the feds on http://www.fueleconomy.gov/feg/bymanu.htm is a reasonable 18 City and 26 highway. This car is amazing quick and very spirited to drive but also has a wonderful touring car component that makes it very livable on long distance road-trips. I have driven an M Roadster from California to Utah several times and they are great on the open road!
While this M roadster has a clear title, I'm curious as to why this car has a replaced hood and paintwork. With this kind of mileage, prices are hovering around the $12,000 mark these days. Granted, this is a rare color, but for some, that might not be a bonus. Even though this car looks clean, it does raise some questions when it comes to bodywork. If I could inspect this car in person and find no faults during a drive or evidence or bodywork, I'd say an extra $2,000 or so off here would be in order. It would give me the piece of mind that I didn't overpay for something that might not be all that it appears.
-Paul