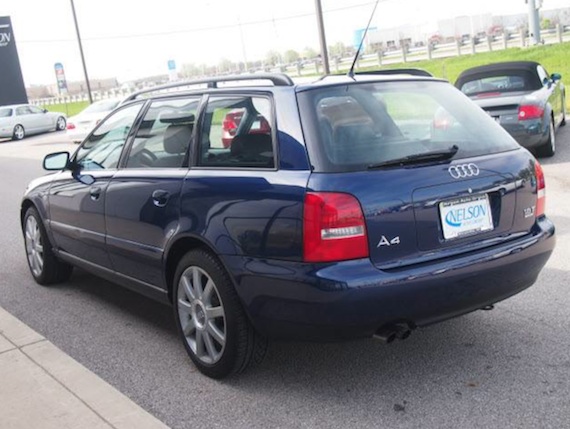 The progression of vehicles in my garage may have been solidly German, but I've never been beholden to one marque. I went through my BMW phase, Volkswagen phase, Mercedes-Benz phase and now back to a BMW of sorts, with the MINI Cooper S. But other than the elusive Porsche, the one brand that has escaped me has been Audi. However, this could change sooner than later. The styling of both BMW and Mercedes-Benz doesn't really appeal to me as of late, but for the last decade, Audis have steadily grabbed my attention each time a new model appears. In the future, I hope the company decides to bring back a standard Avant to these shores, sans Allroad trim, such as this 1999 A4 Avant 1.8T Quattro. The B5 A4 Avant styling for me was an exercise in tasteful restraint. Equipped with the 5-speed manual gearbox and Quattro, it would be fairly easy to forget you are driving a family oriented vehicle.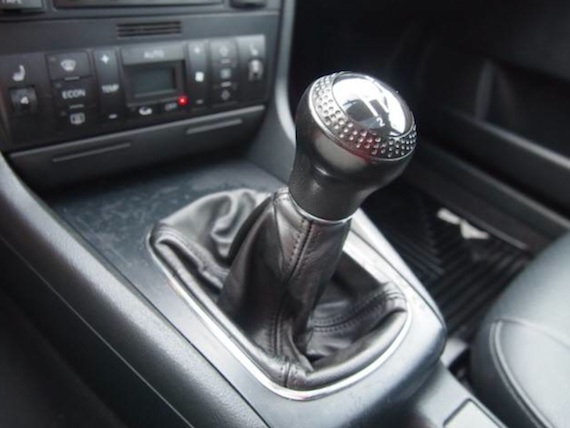 Year: 1999
Model: A4 Avant 1.8T Quattro
Engine: 1.8 liter turbocharged inline-4
Transmission: 5-speed manual
Mileage: 86,444 mi
Price: $9,999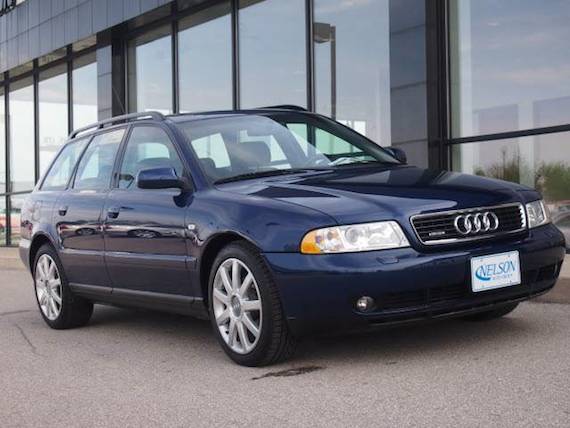 SUPER RARE AND HARD TO FIND! But if you are an AUDI enthusiast you already know that! This 2001 Audi A4 Avant Quattro 4Dr Wagon AWD is an EXCEPTIONAL wagon! These Avant's are really hard to find and darn near impossible to find in OUTSTANDING condition, but we have one here! Powered by that infamous 1.8 litre 4 cylinder TURBOCHARGED engine that is matted to a 5 speed manual transmission that pushes this little wagon right down the highway! This kid hauler spaceship is finished in Santorin Blue Pearl Effect with Onyx interior and features include power windows, power door locks, power mirrors, remote trunk release, cruise, traction control, rear window wiper, rear defroster, roof rack, AC, AM/FM, CD, ABS, PS, PB, anti-theft alarm system, side airbags, front fog lights, alloy wheels, PLUS MUCH MORE!

We just serviced this Audi replacing a front wheel bearing, changing the oil, checking all of the fluids, brakes, lights, etc. This Avant Quattro is ready for your driving enjoyment and scaring the little tykes to death 🙂 Just kidding Mom! If you are in the market for an Audi Avant Quattro then you need to come see this one, it really is SUPER CLEAN and has had GREAT CARE! Now for the best part, YOU have the INCREDIBLE opportunity to purchase this TURBOCHARGED little grocery getter for a lot less than you might think! For the ALERT purchaser we have priced this "CREAM PUFF" AUDI to sell quickly, our most REASONABLE price is only $9,999.00!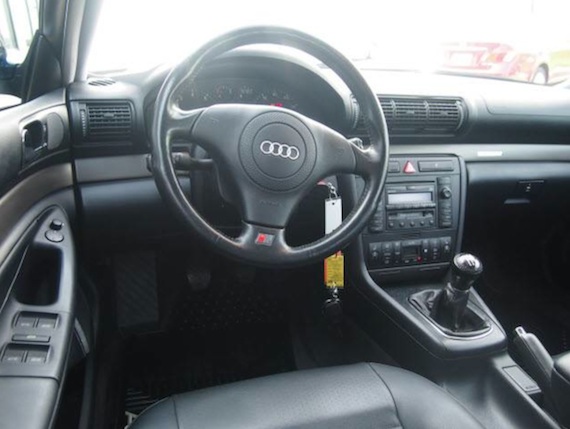 With exception of some S4s, it's not common to come across an A4 Avant of this vintage. The manual gearbox is just an added bonus for an enthusiast like myself. An Audi Avant like this makes me wonder why folks prefer the small SUV to an all-wheel drive estate like this. With a lower center of gravity and manual gearbox, this combines "sport" and "utility" much better. The price for this A4 Avant is probably a little bit optimistic considering this is not an S model. Somewhere around the $7,000 to $8,000 range would be more realistic
-Paul