Another fun wagon for the soccer parents.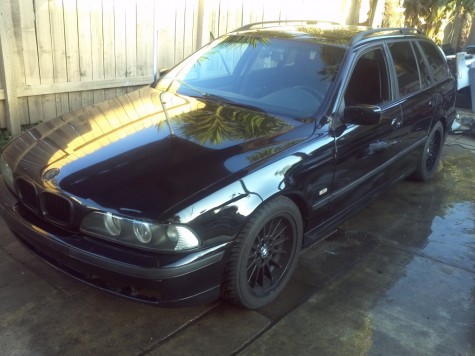 This pretty much stock looking 540i Touring has one sneaky change that makes a world of difference. The automatic transmission has been hauled out and a six speed.
The car itself has 135,000 miles on it, the engine is a replacement unit from a 740i with 90K and the transmission has 110K. Other mods include upgraded steering from a 2001 7 series with an M5 steering box, an M5 sway bar, some A.C. Schnitzer springs, and Dinan tune. A set of black BMW rims add to the stealth look.
The car comes with a rebuilt title, from what the seller says is a fender bender. You will want to get more details there.
The ask price is $7,000 with no reserve. While that isn't very much to pay for a BMW wagon with V8 power and a 6 speed manual you are putting faith in the previous owner's conversion/transplant on a car with a previous salvage title, that has zero warranty. Cool car, it would bring twice that if it came that way from the factory. I wish the parts used in the engine and transmission conversion had less miles on them, but an enthusiast whose good with a wrench should be able to keep this one on the road no problem.
~Evan