For years I've had the Porsche Carrera 3.2 on the back of my mind. Ever since driving a 1984 hardtop when I was on my learner's permit back in high school, I've been hung up on these things. It's like your first love; for some reason, you never forget it. There's no shortage of low mileage 3.2 coupes, targas and cabriolets out there, but prices are strong. In most cases, you're looking at $25,000 on up. Every now and then, I see one being driven around the urban jungle. True, they look beat up cosmetically, but it's a testament to the durability of older Porsches. Not only are they high performance machines, but they can handle the traffic and weather that East coast cities can throw at them, sometimes twenty and thirty years on. This particular 3.2 for sale is particularly tempting for me, as it is for sale right in my backyard and has had a series of hardcore enthusiasts own it. With some attractive performance upgrades and a full mechanical rebuild at 160,000 miles, this car is making the right noises.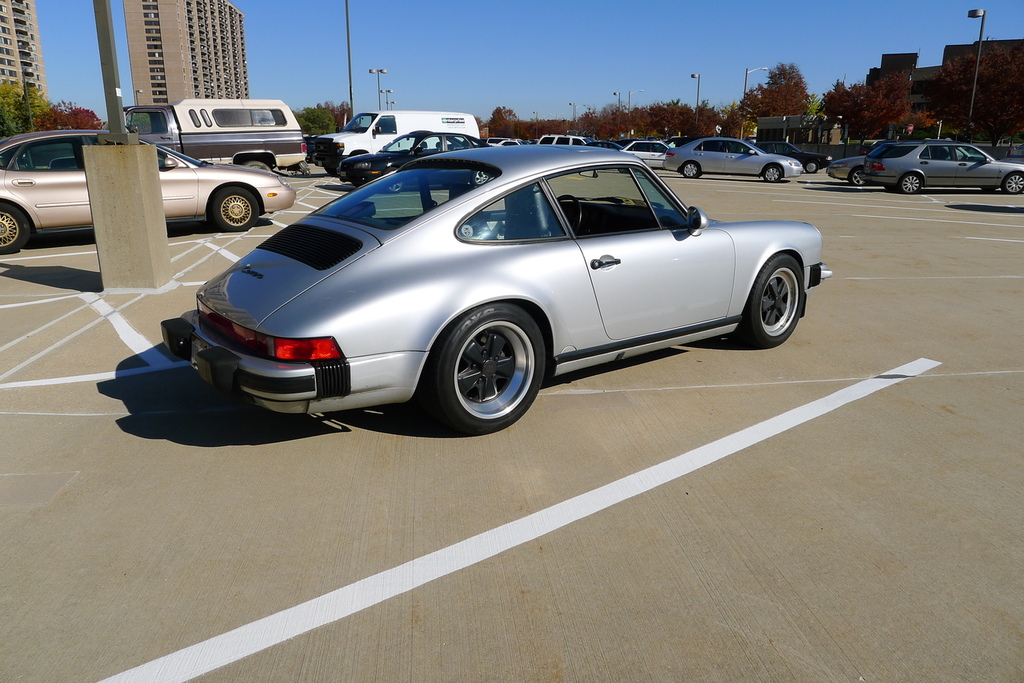 Welcome to my 1987 Porsche 911 Carrera. The 3.2 Carrera represents one of the greatest Porsches ever made. From 1984 to 1989, this 911 represented the peak of 911 evolution and stands today as a great blend between the classic and modern 911. I am not a car dealer, I am an individual selling my own personal car. I've been active on ebay for twelve years, with a perfect 100% feedback record. I intend to keep it that way. I will disclose to you here absolutely everything I know about this fantastic car. Test drives are welcome, just let me know when you'd like to come over. Professional inspection at one of the area Porsche shops is also welcome, contact me for details if you are interested. Please note that all test drives and inspections must be completed by the end of the auction; this is a no-reserve auction, and when it's over, the high bidder wins.

The first thing I will say, is please do not write this one off due to the mileage. There are plenty of all original one-owner Carreras out there with only 80k or 100k miles or so on them. Those cars are great – if you're looking for a saggy worn out car that will cost you thousands to refresh, or if you just want a car that looks nice in your driveway. If you want a real drivers car, one that has been impeccably maintained, and one that has had a full mechanical rebuild, is tight and crisp, and is ready for many more years of reliable service, then keep reading:

This car has a documented provenance of Porsche enthusiast ownership here in the Washington, DC area. I have owned this spectacular 1987 Carrera for 7 years now, since 2005. I purchased it from Bill Hagy, a manager/owner of RPM Performance, a local Porsche specialist. Just before he decided to sell the car, Bill rebuilt the engine, rebuilt the transmission, rebuilt the suspension with all new rubber bushings and shock absorbers, and rebuilt all four brake calipers. It had essentially a mechanical "total makeover", returning it to like-new mechanical condition. It literally drives and runs like new! There is no smoke at cold start-up. There is no oil leaks or drips, none whatsoever! The entire underside of the engine is bone dry. Good luck finding another air-cooled 911 with a tight dry engine. You only get this with a high quality rebuild! Bill used this car for years as his daily driver before retiring, and selling the car to me. Prior to Bill's ownership, this car was owned by Marvin Jennings. Marvin is the current Technical Chair of the DC Region Porsche Club. He knows his Porsches! As you can see, this is not some mystery beater car from a shady dealer. This is a mechanically excellent enthusiast owned car, with no excuses. A thick folder full of many years of service records and receipts is included with the car.

Please scroll down and take a look at the photos. I have tried to photograph the vehicle from every possible angle. As you can see the paint is spectacular, and looks great in the sun. There is not a single dent or ding or scratch anywhere on the body, not one! The front end has 3M clear bra applied to keep rock chips away and keep it looking perfect. The drivers door handle has the usual scuffs from rings and keys, and there is a chip in the clear coat right next to the handle. It's very minor and is not noticeable unless you're looking for it. The wheels and tires are excellent. Recent Toyo T1R tires with lots of tread life remaining. The wheels all look great, no dents, no curb rash, no damage at all. One of the rear hub caps is missing, as you can see. They are inexpensive and readily available if you want to replace it. There is an aftermarket oil cooler scoop on the front bumper, passenger side. It is a popular aftermarket item for these Carreras, as it directs more cooling air into the oil-cooler. The scoop is painted to match the body so it looks almost factory. There is a marker light that goes in place of that scoop, should your state inspection require it to be present. Yes, the original marker light and mounting hardware are included with the car. On the front of the car, you will notice that it is equipped with the factory black rubber "chin spoiler", a nice factory upgrade. The 911's suspension is of a fully adjustable design. The ride height has been set to Euro ride height, which is just a hair lower than US ride height. Most people think the tall US ride height looks funny, and leaves large gaps in the wheel wells, while the Euro ride height looks more sporting. The suspension has Bilstein Sport shock absorbers. The tie rod ends have been upgraded with 911 turbo tie rod ends. The side mirrors on this car have been upgraded. I had the local Porsche specialist swap the black square shaped Carrera mirrors for the more curvy and attractive Porsche 993 "aero" mirrors. It is all Genuine Porsche parts, and the power mirror functions all work perfectly. I think it looks way better than the older "flag" style of mirrors.

Mechanically, this car is excellent. Not just "good", or "okay", but excellent. As I mentioned earlier, the engine, transmission, suspension, and brakes all had a complete rebuild at 160k miles in 2004. The car has only driven about 40k miles since then, so it still drives like new! Before you decide on that garage queen with only 90k original miles, please please go test drive it. Then come test drive mine. I know that other one will feel clunky, saggy, and worn-out in comparison. The engine has received all the factory recommended updates including the newer cylinder head temperature sensor, 911 turbo valve covers, and 911 turbo engine mounts. It has been run exclusively on Brad Penn and Redline brand high ZDDP oils. The gearbox oil has been changed annually, with Redline synthetic. The valves have been adjusted annually. All other filters have been changed annually. There is no "Made in China" or no-name brand service parts on this car. You know all the usual high quality German and European car parts suppliers, Mahle, Mann, Zimmerman, Brembo, Bosch, etc. The battery is an Optima Red Top. The catalytic converter was replaced in 2009, and will easily pass the strictest of state emissions tests.

The front brakes have been upgraded to the aluminum four-piston Brembo's you see on later model 911's. This particular upgrade came from VCI, and cost nearly $2000. It uses Porsche 964 calipers and 951 rotors. All Genuine Porsche parts! No weird one-off or strange parts to track down, it's all proper Porsche parts. I had VCI media blast and powdercoat the calipers in the original gloss black. They rebuilt them with Genuine Brembo seals and pistons. One of the biggest complaints about the 3.2 Carrera is that its brakes were not upgraded significantly over the previous model, despite adding significant horsepower. You won't have that complaint, because you've got Porsche 4-piston Brembos and huge 951 turbo rotors now! As an added bonus, the 964 brake pads and 951 brake rotors actually cost less than the original 3.2 Carrera service parts. Better performance, lower service cost, all Genuine Porsche parts.

The interior of this car is two tone, with cream colored carpets and door panels, and black seats and trim. The interior is in fair condition, no glaring defects or severely worn-out stuff. Unlike the mechanicals, the interior has not been updated or refreshed in any way, so it's starting to show its age. The top of the dashboard has a thin crack, as do most cars of this age. The passenger's knee pad has a dime sized tear in it. The drivers seat has one or two seams that are just barely starting to open up at the corners. It's been that way since I bought it though, and hasn't gotten any worse, so I've left it alone. The sunroof does not open. It does not leak either, so I've left it alone. The CD stereo was high end for 2001, but is dated by today's standards, and it recently stopped working. There's a CD trapped inside, a bonus for you if you can figure out how to retrieve it! 🙂 The air conditioning is disconnected and does not work. These cars have over 40 feet of ac hoses and dozens of o-rings, and the whole system is an old R12 design and needs to be replaced with modern R134a components to have good cold ac. Anyone who is selling one of these cars and says "maybe it needs to be recharged?" is either clueless or is trying to deceive you. There are several aftermarket ac kits designed specifically for the 911, take a look at Rennaire, Griffiths, and IceAC. No matter whose 911 you buy, if it's older than 1990, you'll need to replace the hoses, condensers, and compressor from one of those three suppliers. It's a common upgrade and very straightforward bolt-on install, and now you know.
While it might need a good detail and have mismatched front seats (I don't believe they came from the factory this way), I am drawn to this car because it appears to be mechanically sound from the extensive description. The upgrades, rebuild and lowered stance make it even more appealing. This would be the kind of classic that I could envision using on a regular basis. Now, to convince myself to keep holding on to that R53 in the garage and not go for a test drive in this thing…..
-Paul