Warning!
This post is in our archives. Links in this post may have been updated to point to similar cars available to bid on eBay.
Welcome to the latest installment of "Cars that Should Have Been Built, But Never Were." Today we have the BMW "M3" Touring.
It's one of the more ironic trends in the US auto market in recent years. Wagons are on the rise in popularity, yet manufacturers are discontinuing all of the cool ones. Wagons like the S4 Avant and the V70R Estate that appealed to enthusiasts have been phased out, in favor of 4 cylinder, automatic boredom machines, leaving enthusiasts to take matters in to their own hands.
That's exactly what the owner of this 323iT did. By combining the best of BMW wagons with later model M3 components, it has gone from a 170bhp family hauler to a 333bhp ass hauler. With all of the right M3 parts to make this car more than just an engine swap, the owner has overlooked nothing in the completeness of this transformation.
For wagon enthusiasts and performance car lovers a like, this clean modified 323iT for sale in Chicago, IL represents the best of both worlds.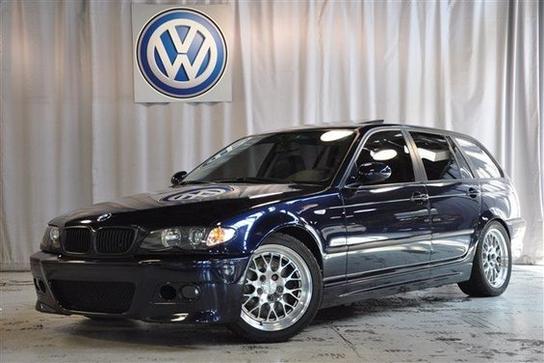 Have you ever dreamed of owning a BMW wagon with all the performance of an M3? If so then this is the car for you! This 2000 BMW 323it has been fully and seamlessly converted into an M3 to create the ultimate in utility and performance. Lots of time, money, and dedication were put into ensuring that no shortcuts were taken, and it shows! The body of this car has about 130,000 miles on, but don't let the high miles worry you. Every bit of the drivetrain on this car was swapped from a 2004 M3 coupe with 55,000 miles including: 3.2L 333 hp Inline 6 engine, 6-Speed manual transmission, Full rear end (including subframe, differential and axles), Brakes/Suspension (control arms, trailing arms, links, etc.), Gauge cluster that reflects the actual drivetrain mileage, Steering wheel, Exhaust, Trunk floor sectioned in (along with mobility kit), all welds seam-sealed, HVAC/Air conditioning/Cruise control/all electrical functions work as intended.

The car has also received some factory BMW (non-M3) and aftermarket upgrades. The front fenders/hood/headlights were converted to the 2002+ facelift parts, and brought with the addition of bi-xenon headlights. The front bumper and mirrors are M3 style, and the rest of the car still maintains all original paint in great condition. The interior features trim from the ZHP model 3 series and a Whalen Shift Machine stainless steel shift knob. Currently, the car sits on FK coilover suspension and 17′ Fikse FM10 wheels. This one-of-a-kind wagon is wolf in sheep's clothing, but still turns heads with its good looks.
This car really speaks to my inner wagon geek, as it has almost everything I'd want in a wagon (minus AWD). There is no doubt that this car was someone's labor of love, and it shows in the attention to detail. From the driveline to the interior, this is truly a car that BMW could have built.
Like I said, I love this car and the concept behind it, but in order for me to shell out that sort of money for something like this, I'd have to go over it with a fine toothed comb, as almost everything on this car has been gone through and modified. While that sounds good, the workmanship would need to be top notch in order to command the top dollar that this car is.
When it comes to putting a price tag on something like this, it ultimately comes down to what someone is willing to pay. This car is priced right up there with the 2004 M3 from which many of its parts came from, but at the end of the day, it's just a modified 323iT, so where should the pricing fall? With a clean 2000 323iT priced just shy of $10,000, and a 2004 M3 going for $22,000, I'd think a fair value for this car to be somewhere in the $16,000 to $17,000 arena.
-Brian