As each year passes, the list of performance estates offered here in the US dwindles. Audi pulled the plug on their A4 and A6 Avants recently and BMW no longer sells their 5 series Touring here. That mantle has been taken over by the aesthetically challenged 5 series Gran Turismo. Volkswagen still offers the Jetta Sportwagon, but the Passat Wagon is conspicuously absent from the current lineup. Mercedes still sells their venerable E class wagon here, and even offer up the E63 AMG Wagon at a shade under $100,000 for the power hungry. If we dial back about a decade or so, the selection of sporty estates was a bit more vast, and one of my favorites was the BMW 5 Series Touring. Offered with the 2.8 liter inline six or a 4.0 liter V8, the six cylinder version was the only one to offer buyers the chance to row their own gears. This 528i Touring for sale in New York is one of those Tourings so equipped.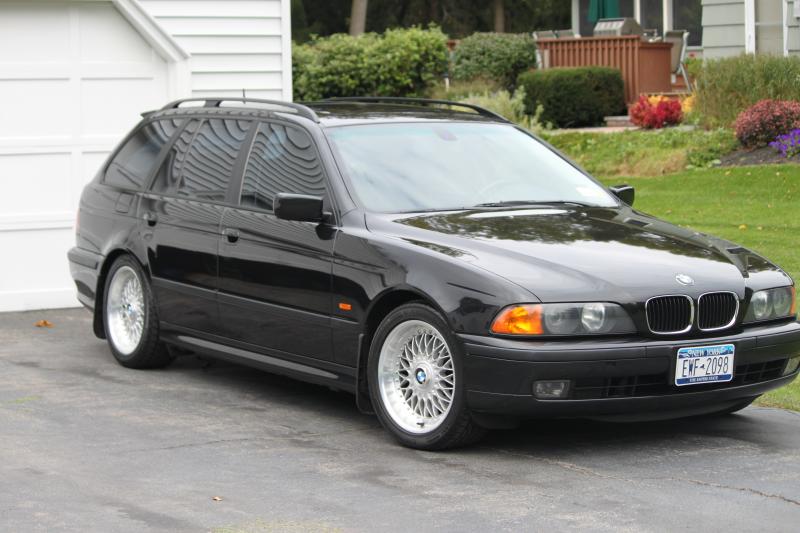 Sport & premium packages, short-shift kit (545), new brake pads, all fluids flushed, third owner, over nine years of records, mechanically solid, great body, great interior, only minor wear on driver's-side bolster, well cared for, daily driver.
The price on this one is a bit optimistic, somewhere between $6,500 to $8,000 is probably more like it. A more comprehensive description with regards to the car's history and service records would have gone a long way towards assuring potential owners as well as possibly securing a bit more on the sale price. Still, it's nice to see a few of these three pedal Tourings are still out there which haven't been completely worn out. For the SUV averse, it's a breath of fresh air.
-Paul