It's no secret that I love wagons, my first car was a wagon, and I still drive one to this day 16 years later.  Here in lies my constant struggle, I'm a car enthusiast and a wagon lover, 2 things that are generally at odds with each other. If I lived in Europe this would be more the norm, than a problem, as the European market understands the need for practical performance. Sadly though, in the states this is not the case
Historically few marques like BMW, and Audi have understood the need to practical performance, and have offered options for a rare breed like myself to satisfy both needs in a car.  Though as the model years progress, sport wagons are becoming a thing of the past, and sport wagons with manual transmissions are approaching extinction.
In my constant quest for the perfect sport wagon, and the eventual replacement for my aging Audi, I came across this stunning 325xi for sale in Riverdale, NJ.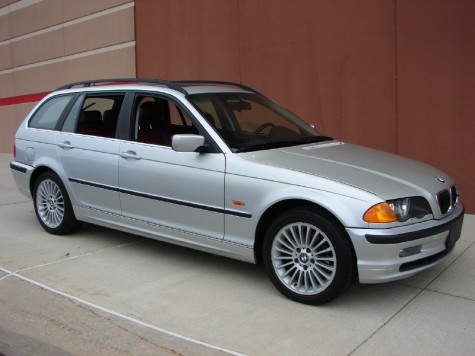 2001 BMW 325 XITÂ 

VERY RARE

RED INTERIOR

5-SPEED MANUAL

EXTENDED WARRANTY AVAILABLE. FORM 6 MONTHS TO 4 YEARS UNLIMITED MILIAGE

 
This 325 was clearly owned by someone after my own heart, with the stunning silver exterior, Imola Red leather interior, and the ever important 3rd pedal, this is exactly how I would outfit my wagon.
This one owner beauty looks to be well cared for, and saw just over 10K/yr, which by today's standards is less than average.  At $11,499, they're a about $2K strong on the price, but if you're like me, and have to have a manual transmission in your sports wagon, this clean BMW may just be worth paying over market value.  If this car were just a bit cleaner, with less mile I'd be willing to go upwards of $10K  because there just aren't a lot of options out there anymore.
-Brian