Over the years, the presence of diesel engines in the Mercedes-Benz lineup has waxed and waned. For 2012, a variety of Mercedes-Benz models, mostly SUVs, employ a version of the V6 Bluetec diesel engine. Back in the 1980s, diesel power was well represented throughout the range as well, and in 1986, Mercedes made a leap forward with the new OM603 inline six cylinder diesel engine. While they were more efficient and powerful, this engined suffered teething issues. The diesel particulate filters mounted at the cylinder heads would generate unnecessary heat, leading to cracked cylinder heads.
There were reports of Mercedes covering replacement engines outside of the warranty, but the writing was on the wall. The following year would be the last year for this engine. Engineers went back to the drawing board and came up with the larger displacement OM603, this time a 3.5 liter engine for the 350SD and SDL in 1990 and 1991. But yet again, this engine had its problems, such as head gasket erosion and oil leaking into cylinder #1. This could have been the price paid for a larger bore engine.
You rarely see any diesel Mercedes with low mileage, especially a W126. This 300SDL for sale in Philadelphia certain looks the part in black over gray leather, but could it be a potential ticking time bomb?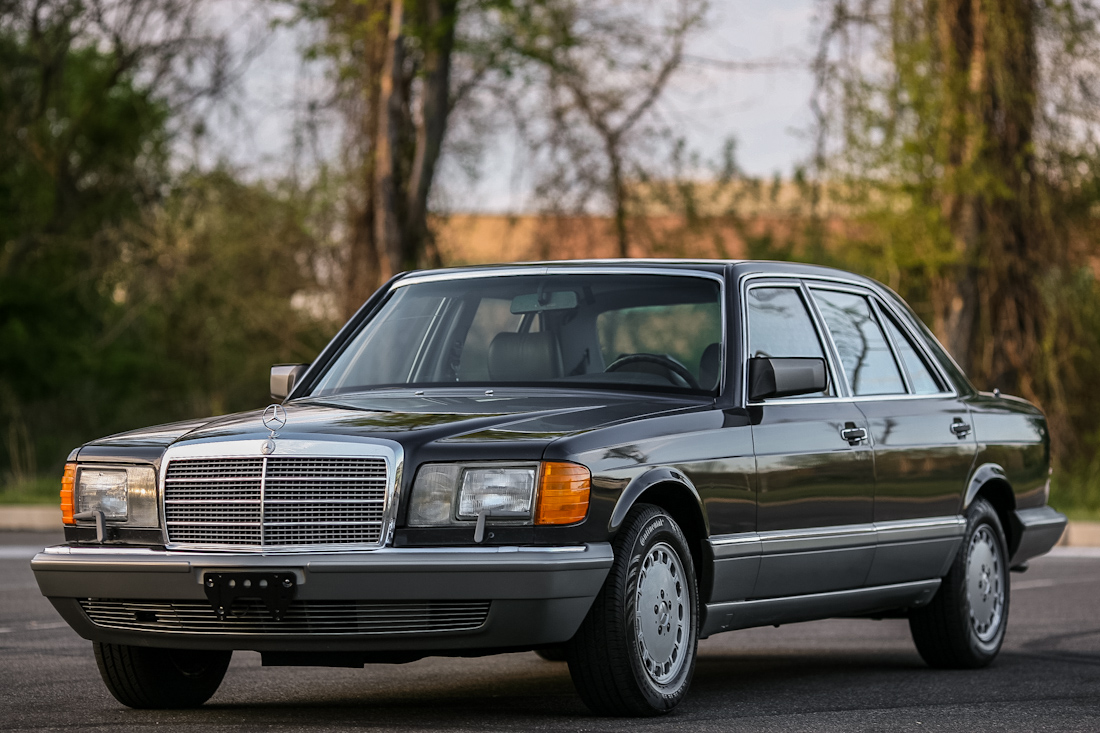 One of a kind serviced low mileage diesel Mercedes in showroom condition. Dealer Serviced. Super low miles, turbo diesel, leather interior. Great for vegetable oil conversion. You are looking at an exceptionally well kept, great looking true luxury automobile, one of the finest series that Mercedes-Benz makes. The vehicle has been made and assembled entirely in Germany, and consists only of Germany made parts. It's a great color for this model and you just can't go wrong with a classic dark gray Mercedes-Benz – it really stands out! There are no reported manufacturer's defects on this vehicle. A never-smoked-in before beauty that looks great and smells clean.

The engine is an exceptionally smooth Turbo Diesel 6 cylinder, a rare and one of the, if not the most coveted diesel out there. This is a rare combination of power, durability and economy. Diesel engines easily many times as much as a gas engines, these engines really last a lifetime, easily go 400k miles. Runs strong and smooth and provides the power you have come to expect from a luxury car such as this. The transmission has the Mercedes mark on it as well and shifts like on a new car, no skips or slips on shifts. The car runs very well!

As you can judge yourself from the pictures, the interior is spotless while the seats show almost no wear and are in excellent condition! This car has a climate control system and the AC blows ice-cold. Extra comfort comes from the excellent power front seats. The power locks, tilt wheel, power windows, power seats and sunroof (and all the other electrical features) all work and are in great condition. This vehicle is equipped with Airbags, for yours, and your passengers' maximum safety and protection. You and your loved ones will feel safe driving and being in this vehicle. This Mercedes is equipped with premium sound. As seen in the pictures the rims look great while the tires on this auto have been rotated, balanced and as you can see, still have plenty of tread wear left. There were very few of those diesel Mercedes were made for the US, this is your chance to own a truly unique diesel luxury sedan painted in classic MB dark gray.
This is another one of those impossibly mint condition classics that is advertised at a price way over what anyone could realistically expect. At the maximum, we're looking at a $15,000 car here, but even that is a bit high. In actuality, this car would probably bring somewhere between $11,000 and $14,000. Given the issues with the early OM603 engines, I would carefully inspect all aspects of the powertrain to make sure nothing was lurking beneath. Also, the wheels are looking a bit tired and could benefit from a refinish. In light of that, I still like this car. It's the best of both worlds. You can tool around town like a boss while getting decent fuel economy.
-Paul