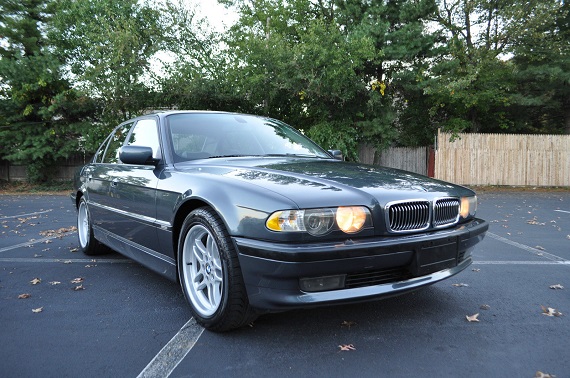 Earlier this week, our reader Craig altered us to a great condition, nice color and eye-catching 2001 740i M-Sport. Unfortunately, that example sold but I was able to source a replacement to remind us of why the E38 BMW is so great. Truth be told, in 2001 BMW faced some pretty stiff competition from Audi's new kid on the block, as the 360 horsepower all-wheel drive S8 finally was delivered to the U.S. market. Low, mean, luxurious, capable and quick, the S8 is a package which few large sedans are able to match in terms of desirability. In fact, in my mind there's only one potential match; the E38 BMW 7 series. A good looking sedan to start with, the rakish profile is accented by the fender bulges, but the thing I've always really loved is the headlight treatment. The continuation of the body lines past the intersection of the headlights leaves partially eclipsed beams reminiscent of the E28 European headlight treatment. Equipped with the M-Sport package, the E38 gets even more down to business with blacked out detail work and the awesome M-Parallel wheels really filling out the package: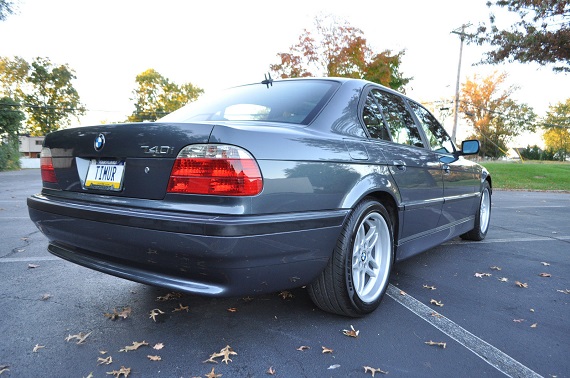 Year: 2001
Model: 740i M-Sport
Engine: 4.4 liter V8
Transmission: 5-speed automatic
Mileage: 93,948 mi
Price: No Reserve Auction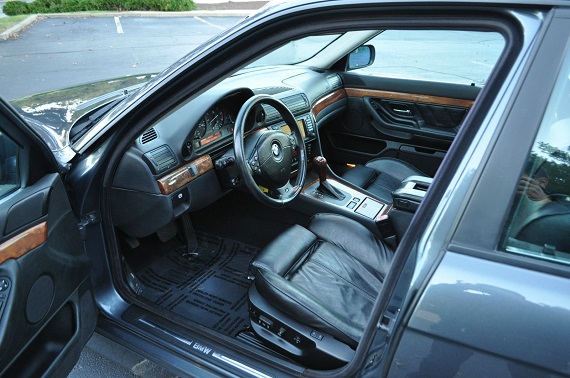 ATTENTION ALL BIDDERS, PLEASE, READ MY AUCTION RULES BEFORE BID ON THIS VEHICLE!

DUE TO RECENT EXPERIENCE ZERO OR LOW (LESS THEN 5) FEEDBACK BIDDERS AS WELL AS INTERNATIONAL BIDDERS MUST CONTACT ME AND LEAVE ME $200 DEPOSIT BEFORE PLACE A BID OR BID WILL BE REMOVED WITHOUT EXCEPTIONS!

BUYER FULLY RESPONSIBLE FOR SHIPPING/TRANSPORTATION COST!

ALL BIDDERS, PLEASE, MAKE SURE YOU DID VISUAL INSPECTION OR TEST DRIVE OF THE VEHICLE BEFORE END OF THE AUCTION ( IF YOU ARE NOT LOCAL THEIR IS A LOT OF INDEPENDENT INSPECTORS WHO CAN INSPECT THIS CAR FOR YOU FOR AROUND $80-100, YOU CAN FIND THEM ONLINE) IF YOU DECIDE TO PURCHASE THE VEHICLE WITHOUT PRE-SALE INSPECTION, PLEASE, REMEMBER THIS IS USED CAR AND SOLD AS_IS WITHOUT ANY WARRANTY AND NO DEPOSIT WILL BE REFUNDED AS WELL AS I AM NOT A WALMART WITH 30 DAYS RETURN POLICY! IN ANY CASEYOU CAN BID ON THIS CAR WITH CONFIDENCE, PLEASE, CHECK MY FEEDBACK'S!

Up for sale my 2001 BMW 740i rare real
M Sport package. The car is in a great shape, very clean and absolutely perfect mechanically! As you can see by my nick name I am a BMW lover and this is one of my collection vehicle. The car has upgraded DVD MK4 navigation unit. The reason for me to sale this particular car is that I have to many cars now.

MECHANICAL CONDITION:
I would say perfect or one the best on the market. Recently I replaced almost all front control arms, rear control arms with ball joints, valve cover gaskets, timing cover gaskets, spark plugs, all filters, two new rear tires, front and back new brake pads, performed 4 wheels alignment and rebuild transmission. All I can say its absolutely perfect, smooth and joy without any problems or any warning or service lights of any kind. PA inspection and emission stickers valid until October 2016. Two front tires has about 50-60% trad left. I pretty sure I forgot something.

COSMETIC CONDITION:

Exterior absolutely perfect it has been recently resprayed so its looks like brand new! No dents, scratches or rust. Center caps has been replaced after taken pictures.

INTERIOR CONDITION:

The black leather interior is in the very good clean condition for 14 years old car. It may need good detail clean up but I tried to keep it as clean as I can. No scratches or any major defects except usual small tear on the driver seat bolster and clear coat cracks on the wood trim panels from sun light. ( see picture bellow)

I am going to list this car without any reserve price but it doesn't mean I am trying to get rid of it, this car is in the very good condition with low mileage. If in last day of auction highest bid will be ridiculously low I will stop the auction. If you have more questions fill free to contact me any time ( TEXT PREFERRED ) at 267 693 8055 Tim. Bellow you will find list of all options along with CARFAX report and more then 100 high quality pictures. ( All imperfections has been pictured with finger pointing on it ).

Vehicle information

VIN long WBAGG834X1DN89363

Type code GG83

Type 740I (USA)

Dev. series E38

Line 7

Body type LIM

Steering LL

Door count 4

Engine M62/TU

Cubical capacity 4.40

Power 210

Transmision HECK

Gearbox AUT

Colour ANTHRAZIT METALLIC (397)

Upholstery STANDARDLEDER/SCHWARZ (N6SW)

Prod. date 2001-06-20

Order options

No. Description

202 STEPTRONIC

204 DRIVE VERSION EXPORT

337 M SPORT PACKAGE

339 SATIN CHROME

341 BUMPERS COMPLETELY IN BODY COLOUR

358 CLIMATE COMFORT WINDSCREEN

403 GLAS ROOF, ELECTRIC

457 CONTOUR SEATS, ELECTRIC. ADJUSTABLE

494 SEAT HEATING F DRIVER/FRONT PASSENGER

502 HEADLIGHT WASHER SYSTEM

521 RAIN SENSOR

522 XENON LIGHT

609 NAVIGATION SYSTEM PROFESSIONAL

640 CAR TELEPHONE PREPARATION

672 CD CHANGER BMW FOR 6 CDS

677 HIFI SYSTEM PROFESSIONAL

704 M SPORT SUSPENSION

710 M LEATHER STEERING WHEEL

780 M LT/ALY WHEELS PARALLEL SP.MIXEDTYRE

818 MAIN BATTERY SWITCH

925 SHIPPING PROTECTION PACKAGE

Series options

No. Description

210 DYNAMIC STABILITY CONTROL (DSC)

216 SERVOTRONIC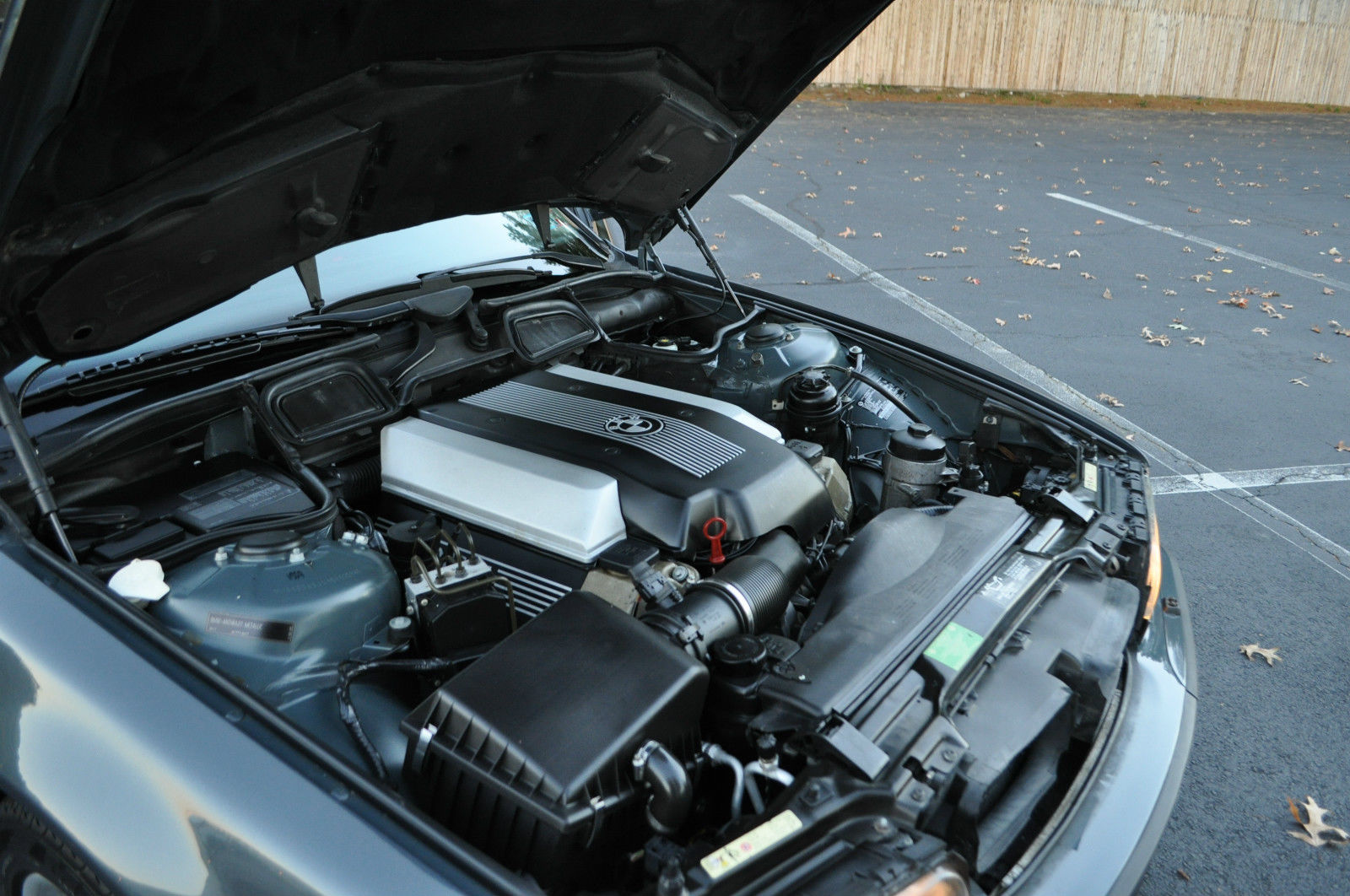 While it's true that the E38 wasn't quite the sporting match for the D2 S8, it certainly looks the part and is no slouch among big European sedans. This one comes to market it what appears to be above average condition with below average mileage, and in a pleasing color combination. While black interiors generally aren't my favorite, the splash of color that the warm wood accents provide help to break up the monotony and with the door open it certainly looks inviting. But what I find really attractive is the no reserve auction which unsurprisingly has gained the attention of many bidders. We'll see where this one lands in a few days, but I'd suspect it will crest in the high single digits. You don't have to break the bank – literally or figuratively – to feel like James Bond or the Transporter anymore.
-Carter