I've mentioned before that I consider the E38 to be the unequivocal pinnacle of the 7-series. While new F02s certainly catch my eye (and for some weird reason just make me wish they were made as a wagon…), the 7-series has never been as sporty, elegant and Bavarian as the E38. In fact, has any BMW ever looked this complete? From various angles, it evokes the E31 8-series, the E39 5-series, or the E30 3-series. That's essentially a litany of the most comprehensively excellent BMW designs ever made. As you might expect, the final production year of 2001 brought a swan song of styling and capability. Seriously, how many cars appreciate BEFORE they cease production? The E38 is in rare company here as people scrambled to buy it once they saw what was to come with the E65. Replete with options, the only thing this M-Sport is missing is the 6-speed manual. That's a personal preference though, as there is little else to fault on this red on black executive beast.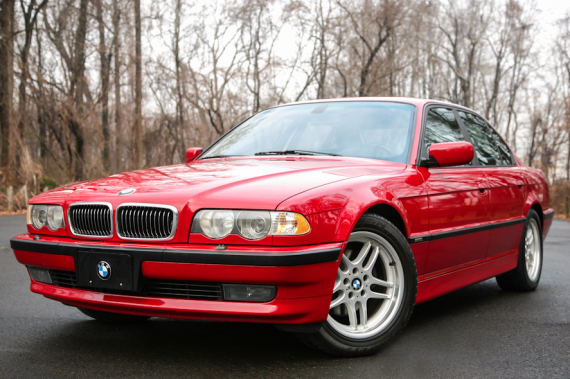 You are looking at an exceptionally well kept, great looking sport V8 luxury automobile, one of the finest series that BMW makes. This car says a lot about its owner, and has been renowned in the world as a symbol of prestige and class, as well as having great performance. The vehicle has been made and assembled entirely in Germany and consists only of Germany made parts! It's been very well kept and serviced; in fact it runs almost like a new car. It's a very unique Imola RED (bright red) exterior combined with the black leather interior adds lot of luxury appeal to it. Judging from the miles and the condition of the car, it has been mostly used on the highway and it has also been garage kept.

There are no reported manufacturer's defects on this vehicle. The engine is an exceptional V8(282hp, 315 lbs-ft) – one of the most powerful in the segment – runs strong and smooth provides the power you have come to expect from a BMW. The transmission has the BMW mark on it as well and shifts like on a new car, no skips or slips on shifts – actually it does it so smoothly that you can't feel it shifting. The car runs great! The engine compartment is clean, and free of any leaks. All the electrical options appear to be in working order. This BMW is equipped with a dual-zone climate control system and the AC blows ice-cold. The passengers in the back can also control and direct airflow.

As you can judge for yourself from the pictures – the interior is clean. The seats are 18 way adjustable including lumbar support for both driver and passenger seats as well as bending of the back of the seat – you can actually bent the back to suit your sitting posture. This luxury sedan also sports 5 memory settings so that different drivers can feel comfortably in the same car or for different sitting positions according to the driving environment you face – relaxed for highway cruising, or more hands on for a bit of sport driving… Extra comfort comes from extensive lumbar support for the drivers and passengers seat. As well as a steering wheel that slides into your defined position after you sit in the car. The steering wheel has control buttons for most everything so you don't have to take your eyes off the road. Also has the auto dimming rear view mirror to cope with those who get in behind you and flash you with headlight – for a more relaxed evening – night driving experience.

The power locks, windows, seats and moon roof (and all the other electrical features) all work and are in excellent condition, and it is also one of the first models that came with projector lights, that are still missing from most modern cars. A First Aid kit can be found behind the passenger seats. Even the original BMW set of tools is intact, 14 speaker sound system. A fine PREMIUM surround system makes your music come alive, with fully adjustable settings. Store up to 20 FM/AM presets for the radio.

Comes with all season tires – some of the best tires you can get – on this auto have been rotated, balanced and as you can see, still have plenty of tread left. Not many of those V8 BMWs were made for the US, this is your chance to own a truly unique sport luxurious sedan painted in a RARE IMPOLA RED that stands out. It's obviously been garage kept, and is in good condition.
This car truly reinvigorates my enthusiasm for the E38 7-series. One needs to only look at the horizontal lines on this car to see what makes it uniquely perfect. The fender lines smoothly integrate to the A-pillar and across the top of the car. The top horizontal crease runs cleanly from the headlights to the taillights with the door handles perfectly integrated. The black bump strip is amazingly consistent around the entire car. Every line on this car is complete, understandable, and deliberate. And thus, it's an executive saloon that looks perfect in Imola Red.
$17,950 seems a bit high, regardless of how fantastic this car looks inside and out. I think really good E38s are around $12k with the best of the best getting to $15k, and both of those are well above KBB. If this were a 6-speed, I'd go to $16k on it because it's just so right. For now, you make the choice, but think hard on what the best executive saloon ever is worth to you.
-NR