Here is an interesting situation. I posted this car on this blog almost exactly three years ago and now the car is back up for sale and the seller has copied the text of that post to use as description in the ad. Here is the original post.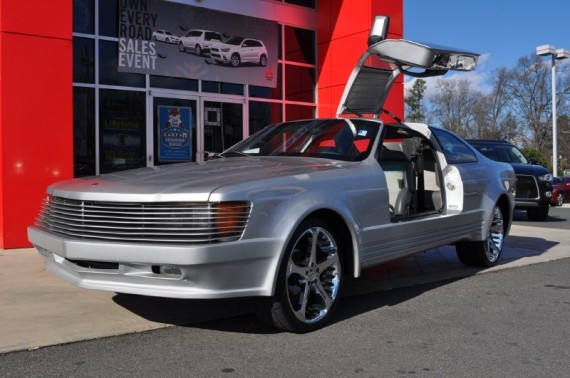 Year: 1979
Model: Sbarro Gullwing
Engine:Â 6.9 liter V8
Transmission: 3 speed automatic
Mileage: 9,100 miles T.M.U.
Price: Auction with a $21,995 Buy It Now
These are pretty unique cars and like many custom cars could be had in multiple flavors. What is surprising though is that Sbarro built the same car on different Benz chassis depending on the engine option that was chosen. This car having the awesome M100 6.9 liter V8 comes on the W116 chassis from the 450SEL.
While later twin turbo 5.0 liter Sbarro Gullwings could be had with a 5 speed manual, this car has the Mercedes 450SEL 6.9's 3 speed auto built to handle the gobs of low end torque the powerplant generates.
We didn't get mileage figures from that listing three years ago, but with the odometer showing just over 9,100 right now the car hasn't traveled far. Pictures show the odometer listing 8,894 so the car has traveled a bit with this seller. The seller is calling that figure true mileage unknown, which is refreshing to see a seller actually come right out and say that. Chances are that mileage is accurate.
Three years ago this car had an ask price of an unreasonable, despite the rarity, $90,000. Now the seller has a much more sane $21,995. It appears the current owner is the same owner who had the car three years ago, but now the car appears to be at a dealer being sold on consignment. The seller gives the history of the car as being ordered by a member of the Seattle Supersonics before being sold to a Washington state businessman. The current owner purchased the car in 2002 and spent five years restoring it with a claimed $85,000 invested.
The underlying mechanical being from the 450SEL 6.9 don't make finding parts quite on the level of unobtainium as you might expect with a custom coach built car. However it is worth noting that upon looking under the hood you can see the hydraulic reservoir that would indicate this car has maintained the 6.9s somewhat costly to fix hydro-pneumatic suspension rather than the far less complex, but ultimately not as cool or smooth, standard spring setup on the run of the mill W116 cars.
I had mentioned in the comments of my earlier post that I have documentation on previous sales of these cars. One of those sold in 2002 and I had thought it was a different car than this one, but with the seller of this one saying it changed hands in 2002 I could be wrong, how many Sbarro 6.9s changed hands in 2002. The photos don't quite look the same. If the car is in as good an operating shape as it looks the price seems fair, look at what some W126 AMG coupes we have listed have sold for, twice this price. I have one of these changing hands at $40,575 so perhaps not an invest back then, but at this price making a little $ down the road seems much more likely. The car is just a bit too much of an odd duck with polarizing styling to bring the kind of money that similar era AMG cars have brought.
As I said in my previous post I'd probably axe those wheels and replace them with something more in line with the 80sriffic look, not because the wheels are on it are bad, but a car with such crazy 80s look styling needs wheels that also come from that time. I hope this car finds a good home, it is special and true Benz historians will recognize what it is. With bidding currently sitting at just over $7,000, I'm tempted to throw a bid in on this; as a 450SEL 6.9 owner, I appreciate the engine and I'm not holding out for the other famous tuner Mercedes Gullwing, the Isdera.
~Evan