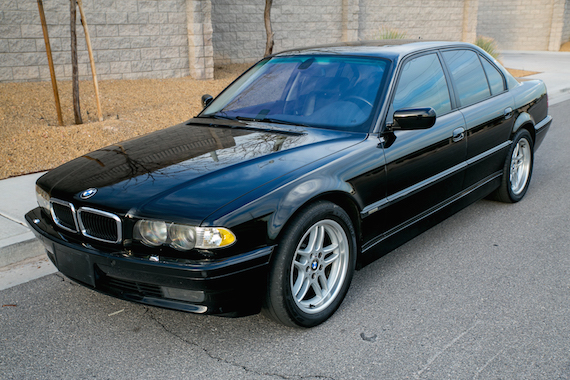 The E38 is one of my favorite sedans of all time. The E39 gets a lot of love as "best ever" thanks to its monumental M5, but the contemporary 7er is the perfect blend of the simple, sharp lines descending from the 80s classics with modern features and aggression. The Sport package, introduced in 1999, backed up its Shadowline trim and M-Parallels with a new transmission and suspension and is absolutely the way to go with E38s. Some came with 6-speed manuals, but this is one of the few instances where I find a 5-speed auto to be perfectly suitable. Today's example looks fantastic in black on black, but suffered a front end collision – apparently just requiring a front bumper and headlight – that caused the insurance company to total it. It's all repaired now and looks great, but title issues are always a little sketchy. Clearly the seller was not worried about resale value, and if you don't care either this no-reserve auction could be an amazing deal for one of the best full-sized sports sedans ever.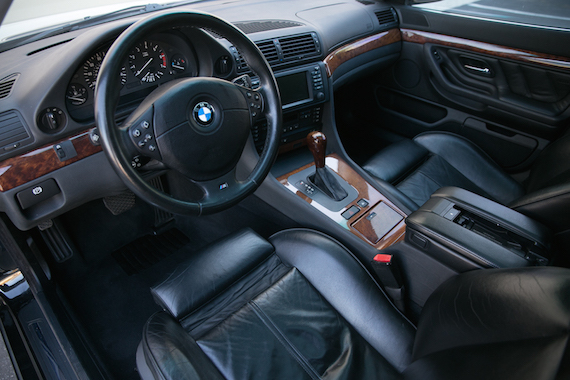 Year: 2001
Model: 740i Sport
Engine: 4.4 liter V8
Transmission: 5-speed automatic
Mileage: 116,500 mi
Price: No reserve auction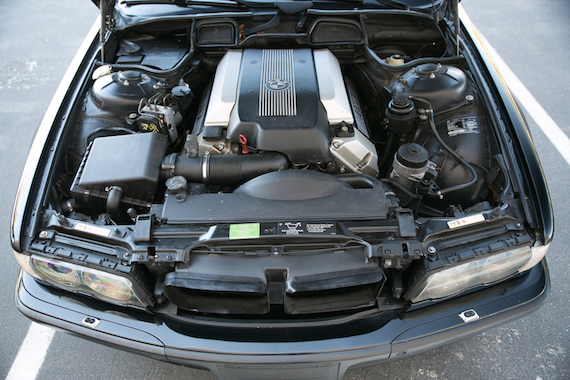 NO RESERVE AUCTION!!! Buy it now available to the right offer. 2001 BMW 740i M Sport, loaded, sport, premium, cold weather, shades, park distance. This 2001 740i is possibly one of the best one around, it was under warranty till late 2012, Carfax shows complete service history (See below pictures). I purchased this vehicle primarily for personal use as I love the 740i Msport, truly one of the best all around cars built by BMW. I bought it with 106k miles on it, fixed the damage, – new headlight, and bumper had to be installed, there was no damage to anything else (see pictures below Carfax report).

I put 10k miles on the car since and done most services on it; including front discs and pads, rear pads, 3 oil changes (next due at 119k), transmission service, new plugs, coolant flush. Runs and drives flawlessly. Everything works, nothing needs mentioned, the NAV screen is perfect no dead pixels in it. I believe I can honestly state that this car regardless of the title is better than most you can find. Tires have 60% rear 75% front thread remaining. Dealer sale however, since it has been purchased with my company. Reason for sale? – New project on the way. I would drive this car cross country anytime, the 10k miles I have put on the vehicle come mostly from going to auctions in California.

Exterior: Excellent overall condition, please see pictures, other than a couple of minor scuffs the paint is superb, the wheels are rash free repair free.

Interior: Super clean, every feature works as designed.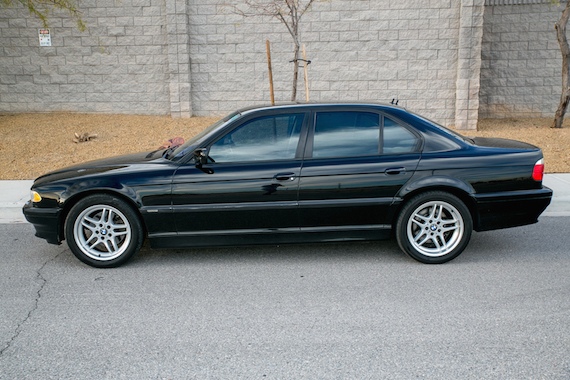 I'm into this car. The seller has spent time making it look right and enough miles to know that it's running right. For those on adventurous side and are looking for a less-expensive way to enjoy the myriad qualities of E38 ownership, jumping in on this auction could be a fun game. Because of the title, you will inherently run the risk of struggling to sell it, let alone at a good price. But the flip side of that risk is having an awesome time in a luxury car that you got for less than 10% of its original MSRP. If you're unpretentious and want to drive the hell out of a 740i Sport, you can try your luck against the other awesome enthusiasts aggressively bidding.
-NR