The BMW S54 engine is right up there in a long line of wonderful inline sixes from BMW, marking a large step forward from its predecessor, the S52. While the S52 provided great sound and smoothness, it lacked the brute force that other great BMW engines have shared. The S54 brought an extra 75 (!!!) horsepower to table, an increase of over 30%, for the last two years of the E36/7 and E36/8's lives. This one comes claims to come with an extra 30, matching the power of the E46 M3 – not bad when you're carrying several hundred fewer pounds. The clownshoe may be the funkier of the pair, but the M Coupe keeps all the drop-top fun of the Z3 while losing most of the hit to the self-esteem via some swollen fenders, quad pipes, and serious power. Like an 18 year-old jumping the border to drink, you can hop to Canada for some cheap thrills with this classic silver example, coming with fewer miles and priced a good $5k less than the nicest US examples. And according to the ad, it's the ONLY example sold in Canada with headlight washers! That's gotta do something for the rarity-resale value down the road, right?!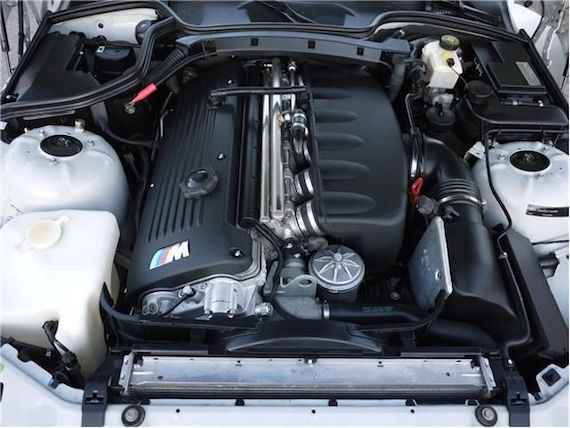 Year: 2001
Model: M Roadster
Engine: 3.2 liter inline-6
Transmission: 5-speed manual
Mileage: 50,500 km (31,379 mi)
Price: CND $26,388 (USD $20,779)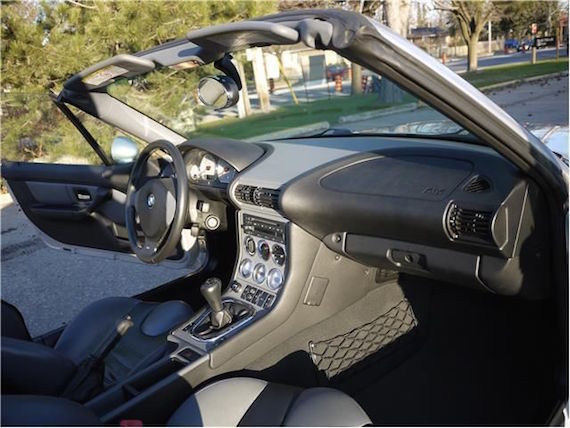 SUMMER SALE: Need the space, price dropped, drive away this beauty now!

One from the GM's personal collection — extremely rare (1 of 1547 in North America) and unmolested example of the original M Roadster with the same legendary 333hp, 3.2L inline-six S54 engine also found in the E46 M3 and Z4 M Roadster / Coupe but in a much lighter chassis and in a very desirable colour combination:
1 of 80 Canadian examples,
1 of 27 in Titanium Silver,
1 of 2 with Gray / Black 2-tone Nappa Leather interior,
1 of 1 with headlight washers.

100% clean Canadian title, no accidents, no stories, all original body panels and paint. The car spent most of its life indoors and is a very reliable BMW that has needed very little extra attention beyond regular oil changes (premium Lubro-Moly 10W60 synthetic), a brake service, ignition coils, new tires and battery recently.

Comes with tasteful modifications:
Jailbreak Tuning engine software (+30hp +23lb/ft at the wheels) — can revert to stock if desired
Paint Protection Film on frontend and mirrors
CompuStar Pro 2-way alarm system
OEM windscreen

The M Roadster boasts an awesome power-to-weight ratio and is easily one of the fastest production BMWs, right up there with the even rarer 1M Coupe. 0-60 advertised at 4.4s but tested to be closer to 4s.

As you can see in the photos, the car has been babied with very few minor imperfections. Currently stored indoors off-site so viewings are available by appointment only. Please e-mail or call and ask for our Sales Manager to schedule.

No test pilots or tire kickers please! In the interests of the next lucky owner, no test drives without a deposit — if you've made it this far you probably already know what this car is about. There will be no surprises with its condition.

Thanks for looking!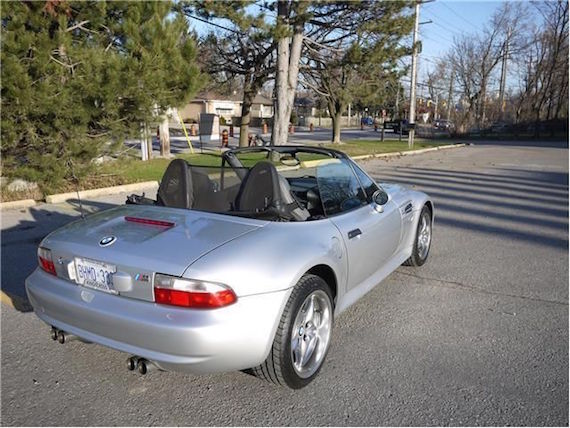 While not as stunning as the available Estoril Blue, silver is the color that comes to mind when I think M Roadster. About as close to stock, clean, and new as they come, this is as nice an E36/7 as you'll find, especially with the Canadian discount. Almost 15 years old, this car will still do 0-60 in the low 4s while whipping your newest date's hair around, which is pretty rad. The Z8 made me appreciate convertibles, and this is 90% of the Z8 at 1/8th the price. It may not be the best BMW, but it might just be the most fun for your money right now.
Big thanks to reader Toshihiko for bringing it to our attention!
-NR