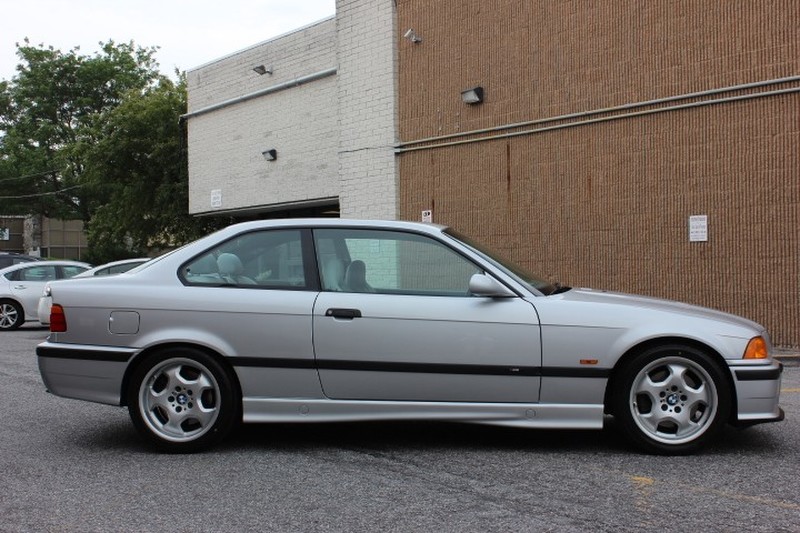 From a string of well priced, overall nice examples of M3s, I'm returning back to a lower mile example – perhaps one of the best condition E36s on the market today. It's a rare one, too – produced in January 1999, it's one of the last BG93 E36 M3 coupes produced. Considering I spent some time talking about how the Lime Rock Park Edition E92 is coveted as the end of the run for the M3 Coupe (and E9X), it's interesting how there seems to be less attention paid to the last of the E36 run. This car popped out at me for a few reasons; I was pondering a low-mile E46 v. E92 post as asking prices on both are nearly identical, but here was a low mile E36 languishing at under $20,000 bidding – less than half the asking price of the super-low mile later models. Unlike the other 26,000 mile Dakar Yellow coupe I looked at, where my big complaint was that I felt the car was overpriced considering the lack of originality, this car has even lower miles and appears completely stock and unmolested. Is this as good as E36s get?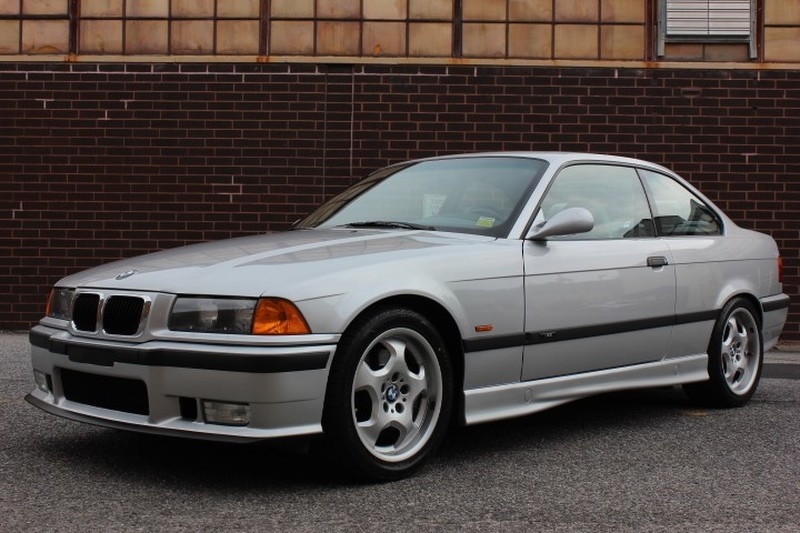 Year: 1999
Model: M3
Engine: 3.2 liter inline-6
Transmission: 5-speed manual
Mileage: 21,853 mi
Price: Reserve Auction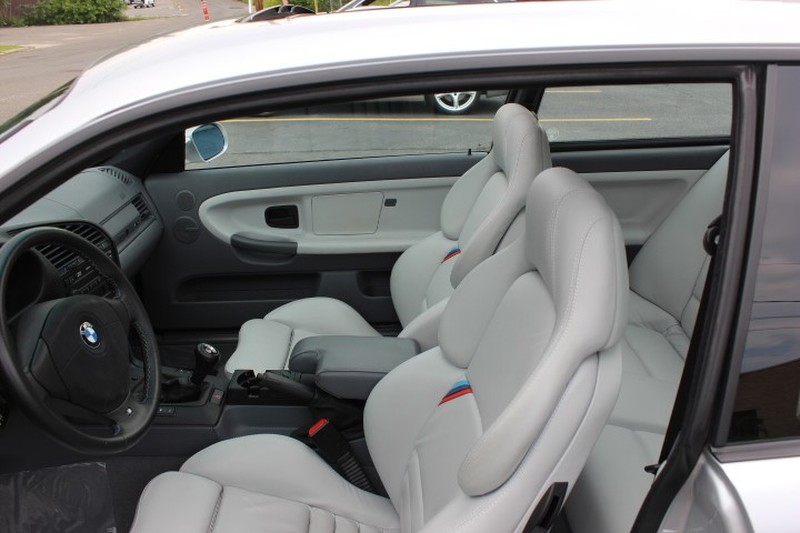 1999 BMW 3 Series M3

HERE IS A STUNNING 1999 BMW M3. FINISHED WITH A TITANIUM SILVER METALLIC EXTERIOR AND GREY LEATHER INTERIOR. DRIVEN JUST 21,853 CAREFUL MILES SINCE NEW. OPTIONS ON THIS M3 INCLUDE A 5-SPEED MANUAL TRANSMISSION, SPORT PACKAGE, ON BOARD COMPUTER, POWER SUNROOF, HARMAN KARDON SOUND PACKAGE, 17 INCH CONTOUR WHEELS AND MUCH MORE.

THIS M3 JUST UNDERWENT A COMPLETE OIL AND FLUID SERVICE WITHIN THE LAST 20 MILES AND IT DRIVES LIKE A NEW CAR. THE 6 CYLINDER ENGINE IS STRONG AND POWERFUL AND THE 5-SPEED MANUAL TRANSMISSION SHIFTS EFFORTLESSLY THROUGH ALL OF THE GEARS. THE STEERING IS TIGHT AND PRECISE AND THE BRAKES FEEL JUST GREAT. ALL OF THE ELECTRICALS WORK PERFECTLY AND THE AIR CONDITIONING IS ICE COLD. THIS REALLY IS A FANTASTIC M3 TO DRIVE.

THE INTERIOR IS STUNNING. THE GREY LEATHER SEATS ARE IN REMARKABLE CONDITION (SEE PICTURES) SHOWING NO WEAR AT ALL TO ANY OF THE SEATS. THE DASHBOARD IS LIKE NEW (THE ON BOARD COMPUTER HAS PERFECT PIXELS) AND EVEN THE CARPETS DON'T LOOK OR FEEL LIKE THEY HAVE BEEN STEPPED ON THANKS TO THE FACTORY BMW FLOOR MATS THAT HAVE BEEN PROTECTING THEM.

THE EXTERIOR IS WHAT REALLY SETS THIS PARTICULAR 1999 M3 APART FROM THE REST. THE TITANIUM SILVER METALLIC PAINT IS IN FANTASTIC CONDITION (SEE PICTURES) WITH NO SCRATCHES OR DINGS ANYWHERE AT ALL. THE PAINT IS STILL BRIGHT AND SHINY JUST LIKE IT WAS IN IN 1999 WHEN THIS M3 WAS ON THE SHOWROOM FLOOR AT THE BMW DEALERSHIP. ADD THE OPTIONAL 17 CONTOUR WHEELS MOUNTED ON GREAT TIRES AND THIS M3 REALLY DOES LOOK SPECIAL.

THE 1999 BMW M3 REALLY IS THE ULTIMATE EXOTIC CAR. IT HAS FANTASTIC LOOKS AND PERFORMANCE, TONS OF SPACE AND ALL OF BMW'S LEGENDARY SAFETY, LUXURY AND RELIABILITY. I HAVE OWNED A LOT OF M3'S, BUT THIS ONE IS AS NEW AS THEY COME. THIS ULTRA LOW MILEAGE M3 IS NOT ONLY A FANTASTIC EXAMPLE, BUT IT HAS GREAT INVESTMENT POTENTIAL AS WELL. PLEASE FEEL FREE TO CALL ME (MATT 516-658-4048) WITH ANY ADDITIONAL QUESTIONS YOU MAY HAVE. THE PICTURES DON'T DO THIS M3 JUSTICE, IT REALLY IS THAT NICE!!! DON'T MISS THIS ONE!!! GOOD LUCK!!!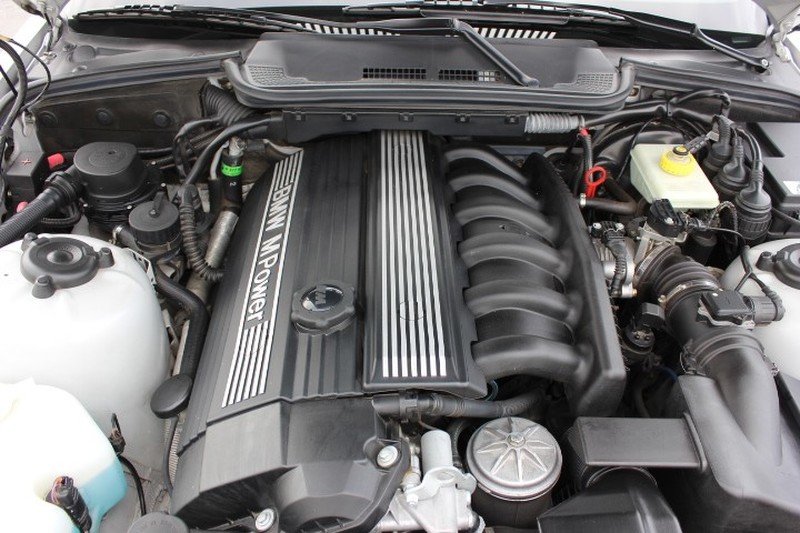 Titanium Silver was a color which is normally associated with the later E46 model; it replaced Artic Silver in 1998. Also changed from earlier examples we've looked at was the newer 3-spoke steering wheel, and the M-Contour wheels were a no-cost option that this car was originally equipped with. Externally, one way outside of the wheels to differentiate the later M3 coupes from the early ones is the black mesh insert on the front bumper; on earlier models it's body color – which sometimes gives the effect as if it went through a cheap respray. Other options this car has are the Harman Kardon stereo, power seats and sunroof, rear headrests and automatic climate control. Condition wise, it's hard to fault this car; nose to tail, it really appears to be nearly new. I'd guess that the reserve on this car must be set at or over $25,000; bidding is already at nearly $19,000, which is certainly strong money for a non-Lightweight E36, but this car certainly appears to be worth the investment. It will be interesting to see, long term, if these E36s continue to appreciate or if they're consigned to the mediocre history books. I think that the dearth of really good, low mileage stock examples will ultimately result in just this type of car being worth the premium.
-Carter