The first Mercedes-Benz SLK I drove was a 1999 SLK230 with the AMG package, similar to the roadster we see here for sale outside of Philadelphia. The car really surprised me, but it didn't have anything to do with the speed or handling dynamics. I was baffled how Mercedes could build a sporty looking two seat convertible that felt and handled almost exactly like the 1998 C230 sedan I owned at the time. I shrugged it off at the time and reminded myself that I wasn't in a BMW and instead focused on the positive, such as the car's relatively rattle free ride, decent low end torque from the supercharged 2.3 liter four cylinder engine and electrically folding steel roof. Fifteen years has passed since these small cruisers first went on sale in the US, meaning they have turned into quite the bargain for people who want a bit of style at a discounted rate.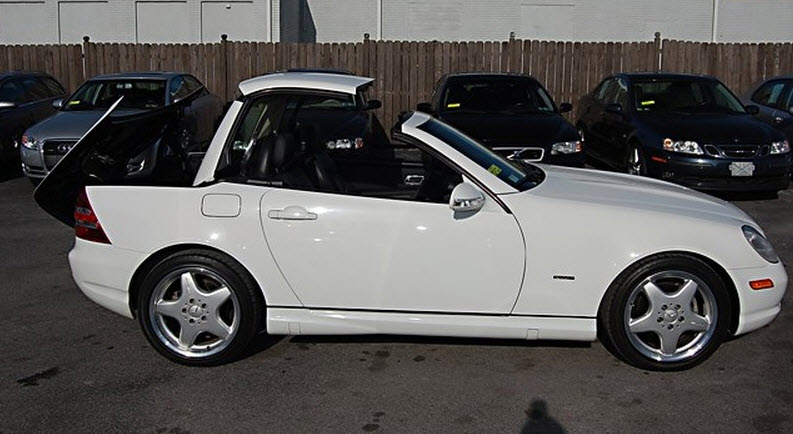 SUPER CLEAN 2001 SLK230. Clean Carfax, low mileage. This vehicle has been very well maintained. Completely detailed inside and out. Vehicle runs and handles great. Comes equipped with: 17″ alloy wheels, fully automatic power hard top, auto-dimming rear view mirror, home-link universal garage door opener remote keyless entry, and more.
The asking price of $15,995 is a bit much, even considering the mileage is on the low side and the car has the AMG package. Realistically, this is a $12,000 to $13,000 car all day long. Also, a manual transmission Mercedes appeals to fewer people in the US than Europe, even if it's a sportier model. One more big obstacle for this SLK is that you could easily procure a late model R129 SL500 for similar money. I think we all know which drop top Benz most of us would rather have.
-Paul