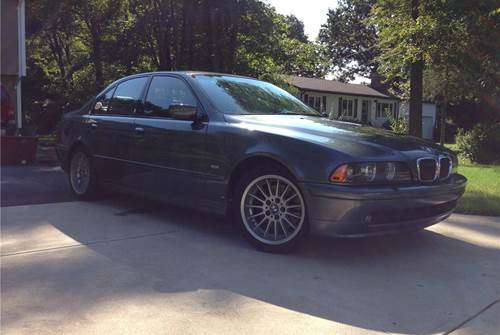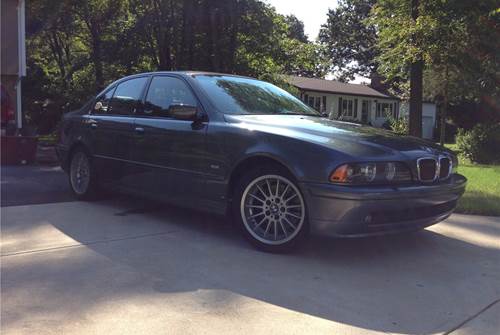 I first came across the listing for this 2002 BMW 540i M-Sport nearly 6 months ago, and frankly I'm shocked to see it still for sale. It was a garage queen during the first owner's stewardship and the current owner says he didn't use it for daily commuting. The seller has done a great job photographing the usual problem areas associated with vehicles living in coastal areas, and included lots of important information. Additionally, there are numerous recent articles floating around the internet that heap praise upon this sleeper Bimmer, and we've done a fair amount of worshiping at the temple of the E39 ourselves. Still, the 540i M-Sport remains a cult classic, unlike its sibling, and mainstream media darling, the E39 M5.
When I was in the market for a new car, I often had moments where I'd be looking at a performance variant of a model, and wonder if spending the extra money was indeed worth it. There are many factors that effect the answer to that question, the majority of them vary person to person, but on thing remains true across the board. Nobody needs an M5, but everybody covets that badge. Nobody needs an 540i either, but between the two, it's the more rational choice. The thing is, we're irrational beings, even when we think we've got a solid handle on things, we let our emotions get the best of us. More and more we're a society that deals in extremes, and the 540i M-Sport is hardly extreme. Is it reaching to say this car hasn't sold because people are so obsessed with the prestige that comes with driving an M5? Maybe, but if it's a stretch, it's an easy one. The market for V8 powered Euro sedans with 3 pedals is shrinking given that the mainstream mindset is TURBO EVERYTHING! Growing general awareness of the quality of these cars, and an appreciation for them in the enthusiast community is great. However, I'd be willing to stake my internet reputation on the following statement. If given the choice between an E39 M5 and an E39 540i/6 M-Sport, people will choose the M5 9 times out of 10. That one person is most likely a GCFSB reader and they most likely already have one of these cars. To them I'd like to say, Congratulations! You have far more restraint than the rest of us.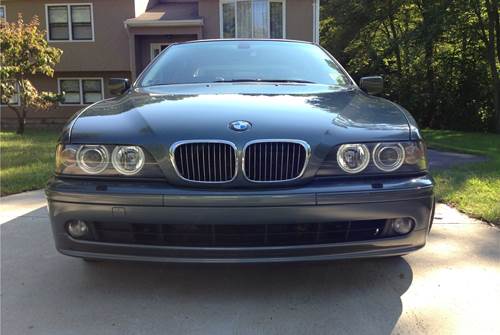 Year: 2002
Model: 540i
Engine: 4.4 liter V8
Transmission: 6-speed manual
Mileage: 80,000 mi
Price: $10,000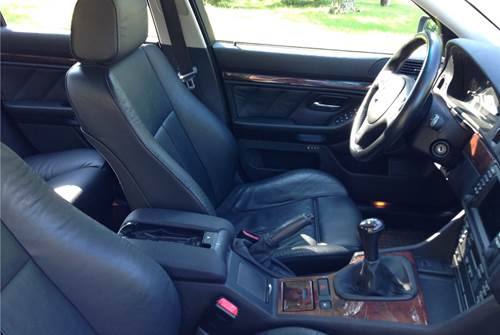 The time has finally come to sell my 2002 540i 6-speed manual. I am the second owner of the car – the first owner ordered it from BMW of Smithtown on Long Island exactly as he wanted it, with the Titanium Gray exterior and black leather interior. He placed the first 43,400 miles on the car, and absolutely babied it. It was not his primary vehicle; it was actually a garage queen sedan, somewhat rare. I bought it from him in August 2009 and have driven it the remaining miles up to nearly 80,000. It is an absolute pleasure to drive, given the flat torque curve and smooth 6-speed manual. If you are familiar with this model and generation, you know that the V8 and 6-speed manual combination is not that easy to find in the States, especially with this few miles on it. This was never really a daily commuter car, so you can be assured it was kept well by both owners (both car fanatics). As noted in the description above, the car was ordered essentially loaded with the factory GPS navigation system, 6-disc CD changer, premium sound, sunroof – everything except the OEM mobile phone (though it is wired for it). Please carefully read the condition notes on this page – the car is 13 years old now so it is by no means perfect. There are a couple of small scuffs on the bumpers (mainly the rear), which I never buffed. The windshield/windscreen has one dime-sized pit on the passenger's side, and a minor scratch on the driver's side. The sunroof currently is not opening or tilting, likely because it needs to be reset after I replaced the battery with an OEM BMW unit last year. The original BMW Style 32 wheels are a bit faded and could use either a deep cleaning or refinishing. A hose running from the power steering pump has a very, very slow leak that is not a serious concern for urgent replacement. If you have any questions specifically about the car or require pictures of a specific part, please let me know. Maintenance has been performed by a BMW master tech (a close friend of mine), and materials used have always been BMW preferred. The battery was replaced with an original BMW unit early last year. Summer tires were replaced late last year (about 2,000 miles ago) with Michelin Pilot Super Sport rubber (super sticky). Wiper blades were replaced with Bosch last week. I am including the set of 4 Mille Miglia rims with Bridgestone Blizzak snow tires mounted on them. I bought the set second hand and have had them on the car but never ended up driving the car in the snow. I will warn you that they do give the car a bit of a shake, leading me to believe that one of the rims is bent. However, should you choose to use the car in winter weather conditions, they will get you where you need to go (Blizzak tires are superb in snow and ice). I'm moving out of the country, which is why the car is being sold. It pains me to sell her, but it also makes no practical sense to keep it and have it sit dormant. Please have a close read through this description and let me know what questions you have.

Condition notes: Both front and rear bumpers have a few small (quarter-sized) scratches/scuffs.Sunroof stopped opening or tilting a few months ago, which likely just needs to be reset after the battery was replaced. Windshield has a pit on the passenger side (size of a dime). It does not need replacement, as it survived a New England winter in this condition. My close friend is a BMW master tech who works on the car. He noted a very very slow leak in the power steering pump due to an old hose a year ago. It is not an urgent need, and can be left as-is unless there is further wear detected. Leather is showing normal wear (wrinkles) but is not torn in any way. Rear seats are especially mint. The onboard computer readout in the dash does fade over time while the car is running. This is a very common issue with the E39 5-series. It never bothered me enough to replace it but you certainly can find options for replacement.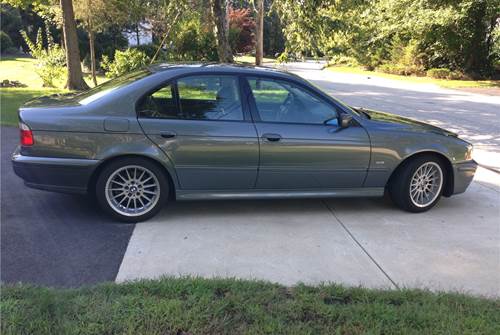 If you skipped down here to the bottom, I suggest you go back and read the seller's description in full. He's gone the extra mile to make sure would be buyers understand the condition of the vehicle, and know that there are a few minor issues with the vehicle. I'm always pleased to find listings that go into great detail, especially with vehicles of this generation. There are so many sellers who beat around the bush and don't acknowledge little problems in hopes of squeezing a few extra dollars out of a buyer.
Not the case there, this 540i has lived a pampered life, but it's 13 years old, and it's not perfect. If I were in the market for one of these, I wouldn't hesitate to start negotiating a deal for this example. The seller having a friend who is a BMW master tech, using OEM parts when possible, and his candor are all indicative of a good buying experience. Titanium Grey is my favorite E39 color option and it pairs nicely with the Black/Burlwood interior. The seller mentions that the Style 32 wheel are a little faded, but they're worth refinishing and bringing back to life, they're Style 32s after all!
Behind the archaic navigation screen you'll find a cassette deck, in the trunk you'll find a label showing you how to properly stow 3 golf bags, and in the center console you'll find the dumbest cupholders ever designed. This car is a lot of things, a family sedan, a road trip companion, a rolling meditation chamber. It is not a hot rod, it is not a candidate for #stancelife, it is not an M5. I know there has to be a buyer out there looking for a daily driver with a little something extra. That is what the 540i M-Sport is. Nothing more, nothing less. I hope this one finds a good home with a GCFSB reader, because I'd love to see the next chapter of its story unfold.
-Andrew