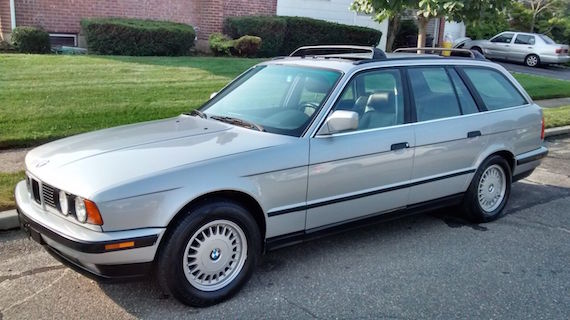 If ever there was a company car for The Hamptons, it would be the luxury estate vehicle. No surprise, then, that this 1992 BMW 525i Touring finds itself not far from those beaches in Syosset, New York. The E34 Touring was BMW's second attempt at an in-house estate car, following on the five-door version of the popular E30 3 series that was never sold new to US customers. With the dawn of a new decade, BMW decided to gift the US the 5 series Touring, which would become a hit for families looking for something a bit more dynamic for the school run. Sadly, one of the company's tastiest offerings, the M5 Touring, would still be out of our reach. Nevertheless, BMW would continue to offer the 5 series Touring for two more generations of 5 series, but sadly, we are now stuck with the awkwardly proportioned 5 series Gran Turismo. This 525i Touring has under 60,000 miles on the odometer, a rarity these days as many of these long roof E34s have been run hard and put up wet.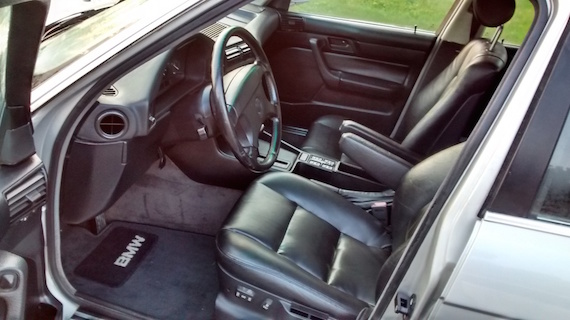 Year: 1992
Model: 525i Touring
Engine: 2.5 liter inline-6
Transmission: 4-speed automatic
Mileage: 59,460 mi
Price: $14,999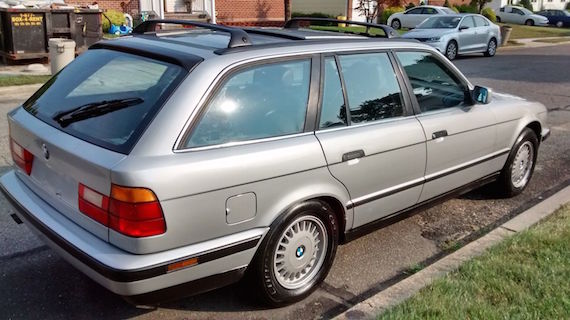 WELCOME!! You are viewing a GORGEOUS 1992 BMW 525i Touring Wagon. As you can clearly see with the enlarged detailed pictures. Its an Automatic transmission, with Rear Wheel Drive and 6 Cylinder Engine. These are SUPER RARE to find in such nice condition with such SUPER LOW MILEAGE of only 59,000 Miles!!!! All original as you can clearly see the pictures. The body/paint are in excellent condition as well as the gorgeous black leather interior. No one will ever believe that its a 1992. This is a very rare classic care that will turn heads as you drive by with it. its a major fashion statement, declaring that the older BMWs are much longer lasting and durable than the newer model Bmws, that love to have Check engine problems. NOT THIS BMW. Ive owned for a few years and just babied it while it sat in the garage and only driven on the weekends. Also this Touring Wagon has the Dual Panel Sunroof, which works great. You can see the pictures I showed with it open and closed. Would make a great fun car to drive around with the sunroof open. Almost feels like a convertible=). Its a great addition to add to your family or a great collector car, if you want to only use on the weekends. These pass inspections very easily in all states being a 1992, without having to deal with newer OBDII type inspections, where they plug into your car. These are very simple, as long as you change the oil and put gas in it, drives like a dream. The oil was recently changed with barely any mileage driven, as well as the Hydraulic suspension also had a nice fluid flush, with proper BMW fluid only used. Since this Wagon has the Hydraulic suspension, you can easily feel the smooth comfortable ride. Does NOT Feel like a 1992, I promise that. As well as 4 new Cooper CS4 Tires changed the past year or so, but again, with barely 5k miles on them. Very simple car, but these are SUPER rare again, and is meant for someone who will appreciate it, and be willing to pay the modest price of $14,999 for it. This car is a total baby with only 59k on it. And these Ive seen go for 300K miles with no major service work required. The reason the mileage was so low, was the previous owner kept it in the garage for the 15 years or so, and barely drove it, after he purchased it in 1992, since he was the ORIGINAL OWNER with very low mileage on it. The car and photos really speak for themselves honestly. PRICE IS FIRM $14,999.Ive seen these sell on ebay for about 10k to 15k with much more mileage than mine and Ive never seen a beautiful Silver one with such low mileage and the Dual Sunroof for sale AND NO ACCIDENTS EVER!!!!! CLEAN CLEAR CARFAX/AUTOCHECK HISTORY!! I WILL GLADLY assist with Low cost NATIONWIDE DELIVERY, since Ive listed cars on ebay for fun before, and had no issues shipping them across the country. Im just an avid collector of older German cars with low mileage. IM NOT INTERESTED IN ANY TRADES AT THIS TIME. Since I have to sell this toy to use it for a down payment on a second home Im purchasing. FIRST PERSON TO CALL AND ARRANGE PAYMENT WILL TAKE IT. CALL 516-996-5252, 7 DAYS A WEEK, 5 AM(Im up very early)to about 9 PM EASTERN TIME ONLY PLEASE!!!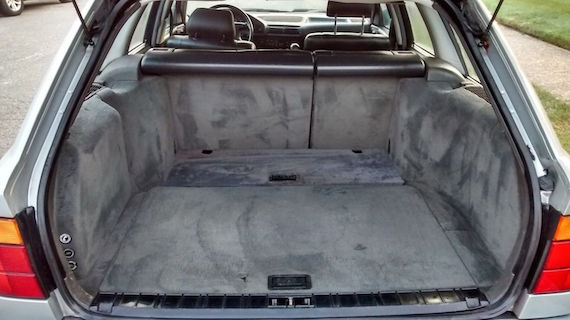 At the current ask, this is the low end of what you can expect to pay for a good E34 M5, so you'd really have to be after the best Touring money can buy to pull the trigger on this one. Back in 2013, we saw a V8 engined 530i Touring with a little over 80,000 miles sell for $10,000. We typically try and find the best, low-mileage examples of our favorite, hard to find cars here on GCFSB and typically they are priced optimistically. If this one changes hands for near the ask, it might be a sign of things to come with the E34, following in the footsteps of its predecessor, the E28.
-Paul