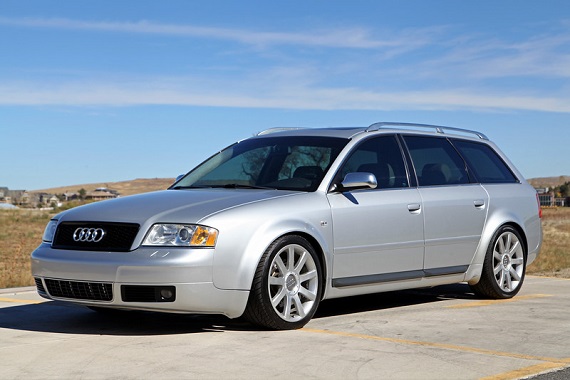 The C5 platform S6 Avant offered a considerable amount more power and performance than the A6 on which it was based. Packing a 4.2 liter, 40v all-aluminum V8 that developed a meaty 335 hp and a hefty 310 ft-lb of torque, the S6 was capable of sprinting to 60 in around 6 seconds. Those numbers might not seem as impressive as they once did, but back in the late 90s/early 00s that was no mean feat for a healthily sized family hauler that tipped the scales at just over 2 tons. To keep the tires firmly planted on the road, the S6 utilized a Torsen-based Quattro system that split power evenly between the front and rear wheels. Unlike the Allroad, these steel-suspended Avants ran the 1BE sport suspension, while aluminum body bits helped (marginally) to keep weight in check. Exterior styling cues separating the car from its more humble siblings were kept rather subtle, limited to slightly wider fender flares, chunky S6 specific Avus alloys, door blades, a slightly redesigned bumper and aluminum caps on the wing mirrors. This was a car that might go unnoticed in the school parking lot, but could hit (a limited) 155 MPH on the highway on the way home.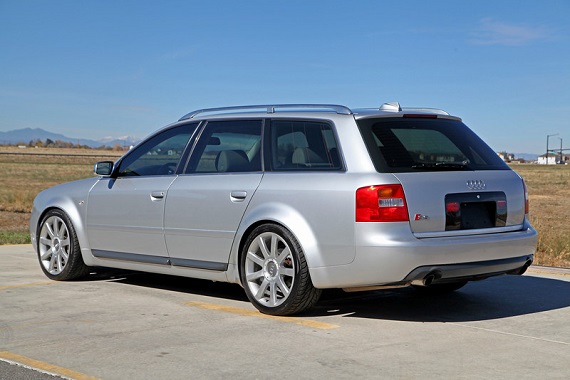 Year: 2003
Model: S6 Avant
Engine: 4.2 liter V8
Transmission: 5-speed Tiptronic automatic
Mileage: 126,000 mi
Price: $13,800 or Best Offer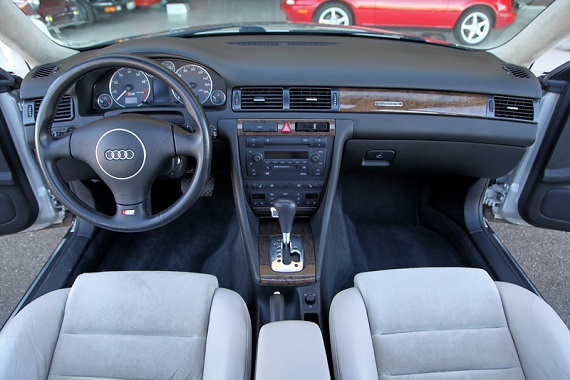 2003 Audi (C5) S6 Avant Quattro
Light Silver Metallic Exterior (5B5B)
Silver Pearl Napa Leather / Alcantara Interior
1 of only 6 2003 C5 S6's in this Color Combo
125,600 Miles
4.2-Liter 40 Valve V8 ANK Engine
5-Speed Tiptronic Automatic Transmission with Dynamic Shift Program (DSP)
Warm Weather Package (PWX)
Solar Sunroof
Manual Rear Side Window Shades
Rear Side Airbags
Heated Rear Seats
Alcantara Seat Inserts
Silver Alcantara Headliner
H&R Sport Springs
Bilstein Sport Shocks
Audi Carpeted Floor Mats
2-Owner Texas / Colorado Car
Clean Carfax, No Accidents
Extensive Routine and Preventative C5 Maintenance
(Scroll down for pictures)

Background

If you want a high performance Audi Avant, you want a C5 S6. Released to the U.S. market for only two model years, with just 133 being sold in 2003, the C5 generation S6 was a standout performance machine in the early 2000's. Only available as an Avant in the U.S. and Europe, it was a formidable wagon–it could haul you, your family, gear, and the dog while hauling ass! The C5 was a big change from the turbocharged, 5-cylinder C4 URS6. Some might say it was a more "adult" version of the angry C4, offering more refinement and luxury without compromising the driving experience. The C6 generation that followed was larger, heavier, and had a timing chain driven engine. The timing chains proved problematic in comparison to the C5's timing belts, and resulted in costly repairs that every modern timing chain equipped Audi eventually needs. All of these things make the C5 S6 the perfect compromise in performance, driving experience, reliability, and refinement in the Audi S6 timeline.

Summary

We love C5's at Glen Shelly Auto Brokers, if you area a fan, scroll down in our sold listings and read the impressions section of the C5 RS6 we sold earlier this year. When we saw this S6 we could not pass it up. It ticked all the right boxes: Rare, Avant, Light Silver Metallic exterior, a baller silver leather / Alcantara interior (the headliner is beautiful), and tasteful OEM+ modifications to top it all off. It is a 2-owner Texas/Colorado car that the second owner had it for two-thirds of its life. It has a clean Carfax and has never been in an accident. Sitting on OEM Audi RS6 wheels and H&R springs with Bilstein shocks, it has a mean, low-slung stance that complements its iconic wagon shape. This is not your Soccer Mom's wagon! Besides, they all drive cross-overs now anyway–yuck! Along with the wheels, springs, and shocks, this vehicle has the Grüven parts intake manifold linkage arm fix, solving the common issue of the stock plastic arm breaking. We went through it thoroughly, replacing the brake rotors, pads, front brake lines, as well as the steering pump and servotronic unit. We finished it off with new tires. The OEM springs are included, as well as all owners manuals and two key FOB's.

Exterior

Overall the Light Silver Metallic paint presents very well, with no major defects. There are a few superficial scratches, but nothing that really catches the eye with the silver metallic paint. The leading edges of the hood, front bumper cover, and fender-flares have light chipping, typical of Colorado cars. All but the smallest chips on the hood and front bumper cover appear to have been professionally touched up. The lower rear side-skirts have definitely seen the brunt of Colorado highways, but I would leave these as they are because it is a wear-prone area. All body panels are original and all panel gaps are correct. The only imperfections are a notable door dent on the passenger rear door, a small dent on the driver's rear arch, and a small dent on the roof above the driver's front door. The front bumper has the typical Audi broken clips at the lower outside corners, a common issue. We replaced the windshield; it is unpitted and crack-free. The side and rear glass is in excellent condition. The headlight and marker lenses are clear and crack free. Rear fog lights are a Euro option that represents the C5 S6's Autobahn roots. The RS 6 wheels are straight and true with no curb rash. They are wearing General G-Max AS O3 Tires, two of which we replaced. Overall, this S6 is in excellent condition, presenting like a much younger, lower mileage car.

Interior

The interior is where this S6 really shines. Silver Pearl Nappa Leather with Alcantara inserts under a silver Alcantara headliner are a striking color and material combination. This is one of only six 2003 S6s with this color combo, and the most defining feature of the car. This S6 is proof that Audi has always had the edge over BMW and Mercedes–that said from a BMW guy! There are no odors and it has never been smoked in. It has the same fine leather scent that all of the early-2000's Audi's share. The carpets are clean; factory floor mats have protected them. The seats have little to no wear, even on the Alcantara centers of the driver's seat. There are no rips, stains, or failed stitching. There are no scratches or stains in the headliner, and it looks almost as good as it did the day it rolled out of the factory. The wood trim is in fine shape, with only a few small hairline cracks on the shifter-surround. It has none of the Audi peeling plastic (a common issue) except for trim piece surrounding the headlight switch. It's totally livable, and also an easy fix if so desired. The instrument cluster has no failed pixels and the check control is "Ok." All interior functions and power options work, aside from the driver's lumbar support. The heat blows warm the air condition blows cold and the front and rear seat heaters are hot. The blower motor occasionally chirps on intermediate settings. The upper cup holder faceplate is missing in the photos, but has since been replaced. Two extra (non-remote) keys are included in addition to the main remote key.

Mechanical

When you buy a used Audi, the previous owner's care is extremely important. When we first inspected this S6, its previous owner's stewardship clearly showed. The Carfax backs this up, showing regular and major maintenance being accomplished at high-end Audi specialists Prestige Imports and Avalon Motorsports. We had the timing belt inspected by Autosport Werks; they concluded that it had been replaced, likely near the 75K mile service interval. Major items shown as being recently done are:

Brake Fluid Flush
Power Steering Flush
Differential Fluid Flush
Fuel Filter
Air Filter
Cabin Air Filter
Spark Plugs
Frontend Alignment
Front Axles
Gas Tank

We picked up from there replacing:

Front Brake Rotors
Rear Brake Rotors
Akebono Pads Front and Rear
Stainless Steel Front Brake Lines
Power Steering Pump
Power Steering Servotronic Unit
Power Steering Lines
Upper Front Control Arms
Rear Shocks
Passenger Side Catalytic Convertor

And we finished it with a fresh oil and filter change.

The result of our efforts is a turn-key S6 Avant ready to be enjoyed by its new owner. The 4.2-liter V8 ANK fires on command and pulls strong to redline. The great thing about a C5 S6 is that it has a timing belt, not a timing chain–and all of the timing chain issues that successive models had. The transmission shifts smoothly in normal, sport, and manual modes. The Quattro all-wheel drive will shred snow and ripple asphalt. The H&R Sport Springs and Bilstein dampeners are firm, yet compliant. They allow flat cornering without compromising ride quality. The brakes are firm and positive. There are no driveline or wheel bearing vibrations. Make no mistake, like every big Audi this S6 will certainly need continued care and maintenance, but it has benefitted from excellent stewardship and has lots of major maintenance items addressed. We would like to find a buyer who will enjoy and care for it for years to come.

VIN Decode

Technical:

-4.2 liter, 340 hp, DOHC V8, 5 valves per cylinder
-5-speed Tiptronic Automatic Transmission
-ABS (Anti-lock Brake System)
-Brake Assist
-Alloy Wheels, 255/35 high performance all-season tires
-Quattro permanent all-wheel drive system
-Four link front suspension
-Double A-arm rear suspension
-ESP (Electronic Stabilization Program_

Comfort/Convenience

-Automatic dual zone climate control with pollen filter
-Adjustable steering column
-12-way power front seats
-Front and rear heated seats
-Wood inlays for dash, console, and doors
-Electronic cruise control
-Remote keyless locking with controls in folding key
-Driver information display with auto-check system
-60/40 split folding rear seat
-Symphony radio w/cassette and in-dash 6-disc CD changer

Safety and Security

– Driver and front passenger next generation airbag supplemental restraint system
– Driver and front passenger seat mounted side airbag supplemental restraints
– SIDEGUARD inflatable curtain airbags
– Electronically adjustable heated outside rear view mirrors
– Lower Anchors and Tethers for Children (LATCH)
– Front and rear 3-point seat belts with automatic pretensioning, front belts with force limiters
– Side impact protection, body crumple zones
-Anti-Theft Vehicle Alarm System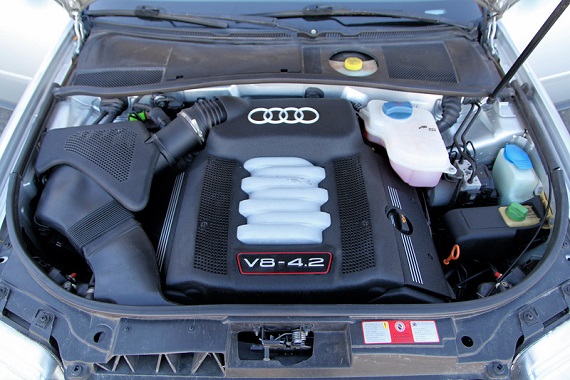 This particular car presents very handsomely in Light Silver Metallic (5B5B) over a very attractive Silver Pearl Napa leather and Alcantara interior. The exterior appears to be in very nice condition and the car photographs very well. There are some relatively minor cosmetic blemishes detailed by the seller in the ad – some chips and scratches – that sound as though they are the result of the car having been driven rather than merely admired. The standard Avus alloys have been swapped out for RS6 rims with thinner spokes – a welcome upgrade, in my opinion. The interior looks extremely clean.
The car has benefited from some recent, basic maintenance, though even the seller warns that this is the kind of car that will require continual care on the part of the new owner (transmissions are a known weak spot on these). The seller is a dealer who usefully includes a copy of the CarFax report on their website: it is clean (click here).
The $13,800 asking price is a little steep but not unreasonable for a well cared for car, as this appears to be.
– Craig