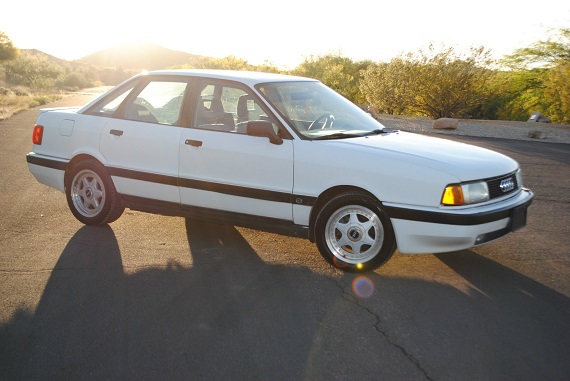 Just a few weeks ago, I spent a fair amount of time documenting the substantial changes to Audi's small chassis lineup which accompanied the launch of new nomenclature in the B3 80/90 twins. But while early models like the 1988 90 quattro I wrote up for that article were mechanically identical to the "entry level" 80, changes were on the horizon. In 1990, the 7A-motored, dual-overhead cam 90 quattro 20V and Coupe Quattro replaced the 10V NG powered 90s, which were no longer available in the U.S. market. To accompany their upgraded 165 horsepower mill, the 90s featured an optional sport package which included 15″ Speedline wheels and upgraded brakes (standard, albeit in slightly different offset, on the Coupe).
Soldiering on with the 130 horsepower NG and slightly less flair was the 80. In fact, the 80 outlived the 20V motor in the U.S. into 1992, and was ultimately the last small chassis offering the 5-cylinder until the recent reintroduction in transverse layout in the MQB platform. While power and running gear was unchanged, the 80 received some of the 90's signature bits from earlier on, including the BBS alloys and painted bumper covers. Like all B3 quattros, they're exceedingly rare to come across; in the case of the 1992 80 quattro like the one here, a scant 640 made their way to our market.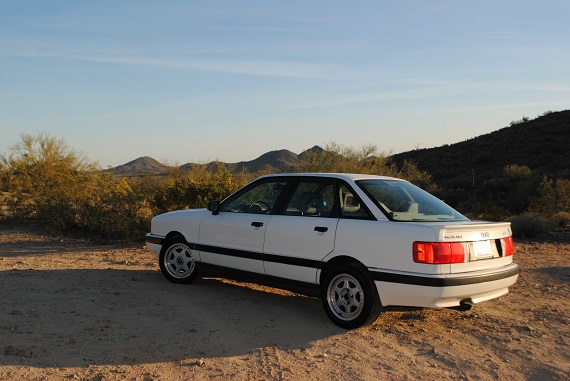 Year: 1992
Model: 80 quattro
Engine: 2.3 liter inline-5
Transmission: 5-speed manual
Mileage: 196,000 mi
Price: $2,300 Buy It Now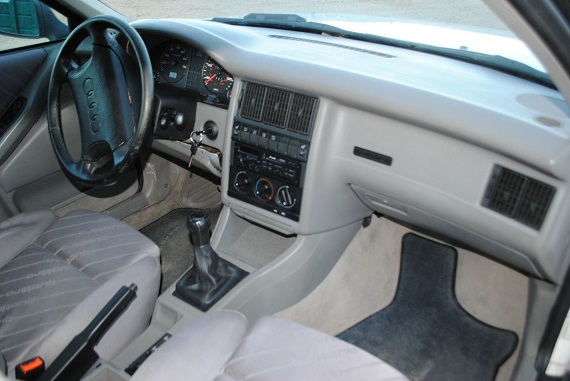 1992 Audi 80 Quattro with 5 spd manual transmission and 5 cyl 2.3L engine. All wheel drive Quattro system. Engine runs strong and has full compression in all cylinders. Transmission and clutch work perfectly.

All options work including cold AC with original R12 refrigerant which I serviced with a full charge two summers ago and it is still fully charged and cold. I live in Phoenix and drive it all through the summer.

Power Windows
Power Door Locks
Power Sunroof (two stage slide or tilt)
Cruise Control
Front Foglights (lenses cracked but lights still work)
Rear Foglights
Heated Seats
Rear Window Defroster

Spent most of life in Pacific Northwest and now Arizona, no rust issues. Quite amazing "corrosion-free" condition for it's age.

Runs and drives extremely reliably. I would not hesitate to drive this anywhere and have done so for some time.

Has Audi Coupe 15″ wheels which are a rare find if you are familiar with these (missing one center cap), tires still have plenty of tread. Also have original 14″ alloy multi-spoke wheels that come with the car if you want them.

Car is in original condition, even has original stereo that still works. I have done several maintenance items in the last two years including new shift bushing and shift boot, new front struts, new blower motor, brakes and regular oil changes.

Some of the issues are a minor oil leak which loses about 1 quart of oil between oil changes, the driver's side door panel is worn through at the armrest, the knee panel on the driver's side dash is delaminating, missing rear passenger ash tray. The front bumper black trim has a crack. There is normal wear and tear for a 25 year old car.

Let me know if you have any specific questions. Thanks

UPDATE: I have added photos of the differential lock which works. One other thing I forgot to mention is the airbag light comes on at each startup for about 2 minutes and then always goes off and stays off.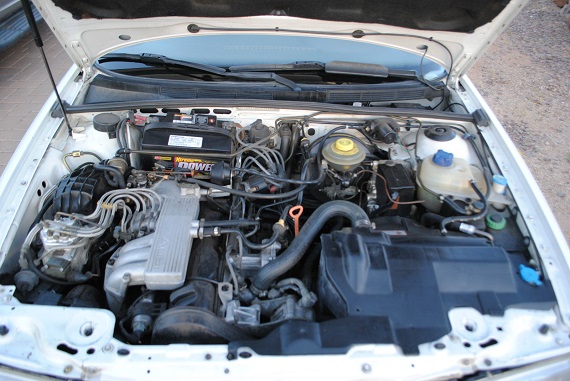 As usual, these 80s have never really been considered collector items and consequently there's a pretty standard 200,000 miles covered. But the general condition of the car appears to be above normal. Looks are helped by the great looking 15″ Speedline alloys, which are ET37 Coupe specification rather than the very rare ET45 90 20V spec for a slightly more aggressive look. Also unusual (and awesome!) to see is the Jacquard quattro-script sport seats, a rare option on the already rare 80s. Outside of that, this car carries the normal well-loaded compliment of options.
At the end of the day, most will consider this a slow, not particularly memorable blip on Audi's radar, but these are good looking, well built cars that easily accept more power from turbocharged 20V swaps. Though finding parts is increasingly difficult, there's also a very active community that loves them and is very helpful. But the real winner is the price; at $2,300, this thing is a steal.
-Carter