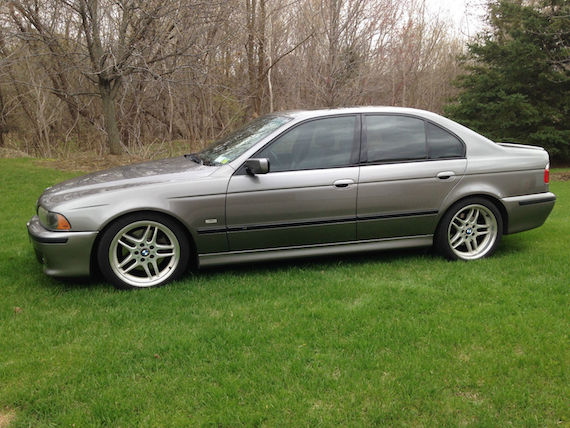 On its own, the BMW E39 540i M-Sport is an outstanding car in its own right. A sonorous V8, available 6-speed manual and M-Technic suspension added to what was already a quite capable mid-sized executive sedan. However, hovering over the entire E39 lineup was the M5, what is considered by most to be one of the most legendary super saloons to grace God's green earth. This 400 horsepower beast still dominates the enthusiast scene, taking its place right alongside the Mercedes-Benz 500Es and succession of Audi S4/S6/S8s on the who's who list of fast four-doors. One could consider the 540i M-Sport an almost M5-light. After speaking with a former colleague yesterday evening who happens to own a 2003 540i M-Sport with a 6-speed manual, the allure of this car is clear. This example for sale in New York happens to be one equipped with the automatic gearbox, perfect for those who might do a little bit more around town driving than the long-haul jaunts.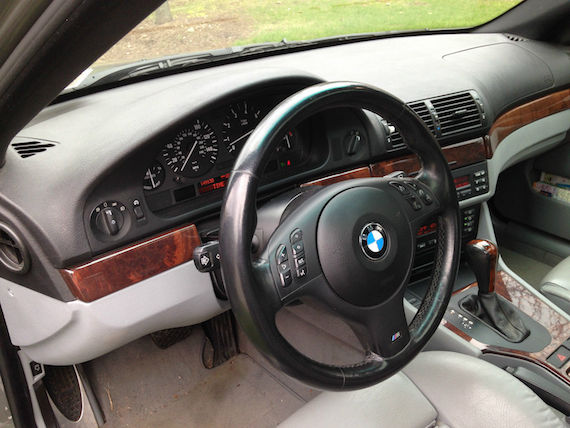 Year: 2003
Model: 540i
Engine: 4.4 liter V8
Transmission: 5-speed automatic
Mileage: 151,000 mi
Price: $13,000 Buy It Now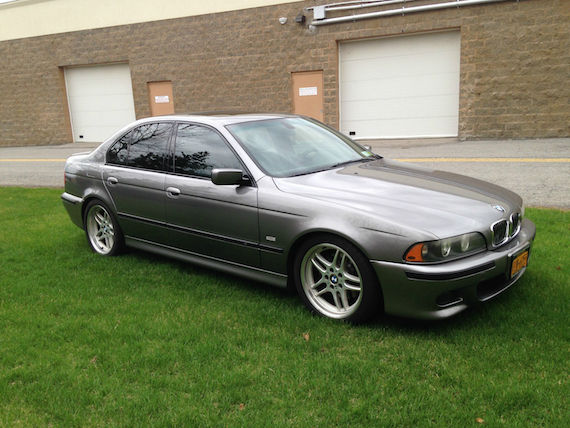 2003 540iA M-Sport VIN WBADN63483GS56111.

For those who follow bimmerforum and roadfly forums this is ExAlfa's car. Currently at 151,xxx miles. Car is my summer most-day driver – maybe four days a week. Exceptionally well maintained in top running and functioning condition.

The E39 is still regarded by many car reviewers as the best sport sedan ever made. I'm going to raise my hand and say "yup". The car I had prior to this was a '98 E39 540iA with Schnitzer wheels, and Dinan suspension, intake, exhaust, and chips for engine and transmission. I drove that car to 266,000 miles and sold it for ~$7k. I liked it so much more than all the candidates to replace it that I decided to go for another – an M-Sport in Sterling Grey. It took a few months of looking to find this car. I bought it from the dealer that sold it to the previous owner and then serviced it for the time of his ownership, so a car with good history.

My car friend calls this car The Angry Bear. Quiet and somewhat subtle, the delivery of power is more than plenty for most. 290 HP, 324 lb. ft. of torque, 80% of power available at 1800 rpm, peak torque at a stout 2200 rpm so the car pulls readily without shifting too much. For 2003 BMW retired the E39 chassis with a bang, offering the Sport version with some extras – the M-Sport that this car is. Worldwide production was 3,300 cars, 980 in Sterling Grey, 550 Sterling Grey cars coming to the US.

M-Sport adders (and difference from standard Sport)
M5 front bumper cap with crossbar to differentiate (vs standard bumper cap)
o I removed the cross bar and added the M5 lower grille when I had the front cap resprayed. The M-Sport grille has a solid center behind the crossbar so I fit an M5 grille, drilling out the solid ends so cooling air would enter the brake cooling ducts properly. Original crossbar and grille are included. New fog lamps were fit at the same time.
M5 rear bumper cap with single larger exhaust exit in place of M5 dual exhaust (vs standard cap)
M5 rear spoiler added by me – not normally part of the M-Sport package.
M-Sport exhaust with huge 75mm (3") exit (vs standard downturned exhaust)
M5 larger rear sway bar (vs Sport rear sway bar)
M-Technic II aluminum cased shocks and struts (vs steel sport shocks/struts)
M-Technic II springs, 20mm shorter
o I replaced the front springs with H&R Sport Lowering Springs 345 to make the front and rear air gaps around the tires equal. The front seemed too tall for my taste. I have the OEM springs as well as the H&R rear springs. I did not fit the H&R rear springs because they cause increased rear camber and premature rear tire wear at the inside shoulders. I know because my previous E39 Sport with Dinan suspension chewed through rear tires in 8k miles. Looked cool, rode well, but ate tires. The current setup wears the rear tires evenly.
M-Sport Style 37 forged wheels, 18×8 front and 18×9 rear – light and strong.
o Shod with Michelin Pilot Super Sport tires. 245/40's up front and 275/35's in back. When looked at from behind the car looks like it means business with the wide rear tires. I had the wheels refinished a few years ago to correct some minor curb rash but the clear coat is peeling in a few small places. I had the clear reapplied twice but the wheel guy doesn't seem to know how to properly prep. The wheels look perfect up to 2 feet away. Having the rim stripped and resprayed with proper surface prep would be the thing to do.
Manually shiftable automatic transmission with sport mode
Hi-stall torque converter
3.15 rear gearing – much quicker off the line than my previous 2.81 geared E39 540.
M leather covered steering wheel (vs huge standard plastic wheel) – thick, small diameter, excellent feel in hand
Sport seats, Montana leather, 12-way electrically adjustable, memory for 3 settings
M Mirror Black window trim (vs matte black Sport trim)
M door rub strips, dead pedal and door sill plates – purely cosmetic from the BMW parts bin
Black headliner (vs grey) – cosmetic, looks great
– This car has a Premium DSP Sound Package. I added a GROM Audio Bluetooth adapter in the trunk so my phone can source music and travel directions. MID and steering wheel controls control the iPod (volume, skip, etc.)
– Xenon headlamps
The not-perfect items;
The sunroof tilt vent mechanism doesn't function (again). There are two little plastic pieces that pivot and drive up the levers that lift the glass. They are a weak design and break every two years or so. They take about 4 hours to replace. I've published on the forums a detailed photo instruction on how to replace them. The biggest hassle is buying the entire lever mechanism for $100 each side only to scavange the $1 plastic part needed. I've heard of recent success with an aftermarket part for $15 made of a stronger plastic, but I haven't tried them. When I want air I want it all, so the windows go down and the roof goes back. The slide open function works properly.
There is a small ding at the bottom leading edge of the passenger rear fender where the door edge is. It is about 3" above the bottom edge of the fender-to-sill gap, and I really never notice it. So I leave it because to properly correct it would require painting onto the rear door and clear coating the rear door and the rear fender, which becomes the C pillar and the A pillar. A boatload of work for a dinky ding on the side of the car I never see. So there it stays.
There is a small scratch across the top of the trunk deck where I suspect something flying across the garage touched down, or the previous owner may have mis-mounted a bike rack.
The wood trim bezel for the center console where the shifter is has a crack in the clearcoat.
The surprisingly perfect items;
Knocking on wood right now – every pixel in both displays functions. Every one of them. Must be 2,000 little orange dots that make up the characters in the MFD and MID and they all light up. Same goes for the climate control – all indicators function. These are known to fail, and my MID looked horrible so I replaced the MID with a refurbished one and sent them the core. Best $200 spent on the car!
The engine and transmission, suspension (I'm nuts about keeping the bushings perfect. A bit of wobble and into the shop she goes). I have an overall average economy of 22.4 mpg on a mix of hilly New York State Thruway and twisty Finger Lakes back roads. On a highway trip I manage 24.7 mpg. From a V8. A really powerful V8.
All functions are intact – windows, climate control front and rear, cruise control, steering wheel buttons for audio
The paint is incredible, particularly after having the nose chips eradicated.
Averaging 1500 miles per month I have a maintenance cost of $0.09/mile.
Recent maintenance;
Rear Michelin Pilot Super Sports, 145,000
Transmission fluid and filter, power steering reservoir and hoses, 142,000
Alternator, 138,000
Radiator and expansion tank, 135,000
Brake fluid, 134,000
Front rotors and pads, left rear control arm, four Pilot Super Sports, 130,000
Right front lower control arm, 125,000
Starter motor, 115,000
Steering center link, 109,000
Recent corrections;
Respray front bumper cover to eliminate chips, delete M-Sport cross bar, 141,000
Respray hood to eliminate chips, 130,000
Refinish wheel rims to correct minor curb rash, 113,000
Replace front springs with H&R 540 Sport lowering springs, 108,000
Feel free to ask questions. I'm nuts about this car, might consider an M5, but have had my head stuck on a convertible for a while so an S5 may be the replacement. Or maybe it's time to get back into Alfa Romeos.
Cheers,
Brian (ExAlfa)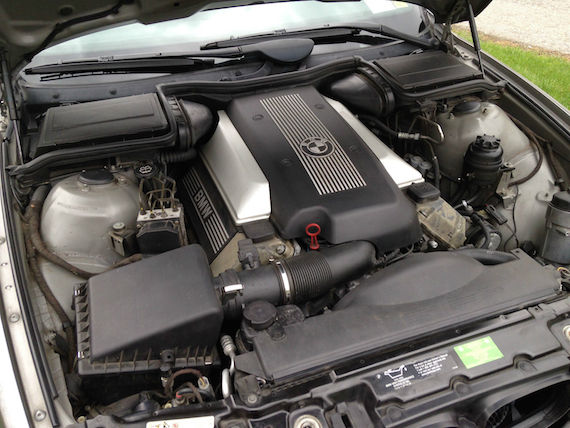 We were fortunate enough to have a Feature Listing at the end of last year for a 2003 540i M-Sport with the automatic gearbox. That car had 80,000 miles and sold for $14,100. This particular car has a lot more miles and some issues, so the asking price might be a tad reaching, but not that far off the mark, given the maintenance and ownership history. With M5 prices on the rise, this particular sporting E39 is a good choice for those who might not want to row their own gears and are looking for something a little bit more tame for daily service.
-Paul