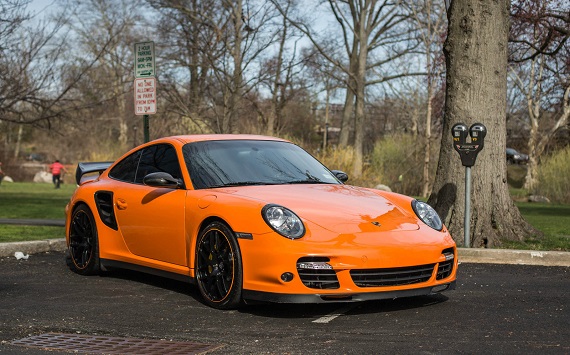 We frequently speak about the value to be found in the 996 range, and the 996TT specifically, but sometimes lost within the low prices of the 996TT and the seemingly ever-escalating prices of any air-cooled Turbo sits the 997. With a few of the 996's design flaws remedied, which had turned off many long-time 911 fans, the 997 provides extremely capable performance in a more elegant and refined package. Sure, prices aren't at 996 levels – the asking price here is nearly double that of a decent 996TT – but they aren't astronomical either and surely represent excellent value given their performance capabilities. We are talking about 480 hp directed to all four wheels, sub-4 second runs to 60 mph, and a top speed that isn't too far shy of 200 mph. They are fast and for the extra money over a 996TT you are getting a better looking 911 and 65 additional horses to propel you as far past legal speeds as you dare go. The example we see here also happens to be Orange: a paint-to-sample 2007 Porsche 911 Turbo Coupe, located in New York, with 43,500 miles on it.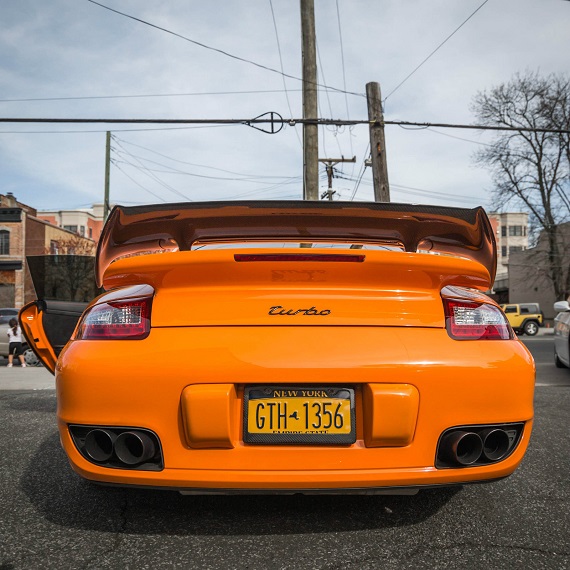 Year: 2007
Model: 911 Turbo
Engine: 3.6 liter twin-turbocharged flat-6
Transmission: 6-speed manual
Mileage: 43,500 mi
Price: Reserve Auction ($79,000 Buy It Now)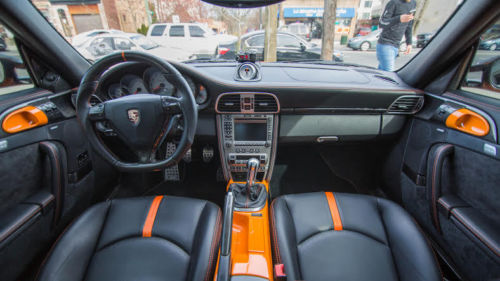 Hello Ebay –
I'm selling my very rare paint to sample pure orange 911 turbo.. This car is flawless inside and out and super rare there are only 3 911 turbos in 2007 painted pure orange from factory. This car comes equipped with a ton of options from factory but I went the extra mile and did some tasteful modification to enhance performance as well as the interior. Below I will attach all the modifications done to the car if you would like to discuss the car further more please done hesitate to contact me at (914)-774-3169 or you can contact me via ebay message.

Paint to sample pure orange(GT3 orange) 1 of 3
6 speed manual transmission
Carbon ceramic breaks
Rottec carbon fiber mirrors
Rottec carbon fiber headlight surround
Rottec carbon fiber roof spoiler
Rottec led taillight conversion
M.A carbon fiber wing
M.A carbon fuse box cover
Carbon fiber air vents behind driver and passenger door
Inner door sills carbon fiber
Carbon fiber door spears
Carbon fiber air vents on dash and pod.
Carbon fiber map light
V- LEDs interior lights
Led license plate bulbs
Led side markers
Fabspeed sport exhaust
Fabspeed exhaust tips ceramic coated black
Fabspeed headers
Agency power carbon fiber air intake
Fully custom interior with orange stitching
Orange seats belts
Sport seats and center console painted
Porsche crest in headrest custom
Door panel custom alcantara to match headliner
Interior carbon fiber package
Sports chrono package plus
Porsche aluminum shift knob
Illuminated carbon door entry guard
Carbon fiber multiple fuction steering wheel
Nav tv Bluetooth module
Denison satellite radio module
Hardwired valentine 1 radar
Ruger mesh wheels 19 inch
Epl custom Dyno tune
72lb Bosch injectors
Oem short throw shift kit
Stock suspension with tech-art springs
Opti coat pro on car and wheels
Entire front nose and mirrors have expel wrap to protect paint and more …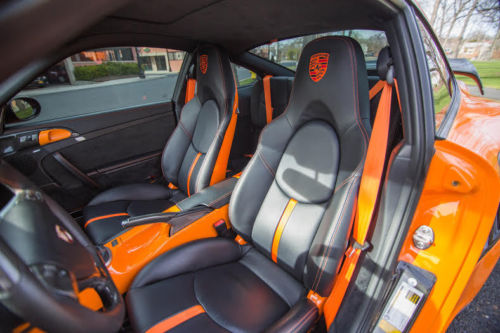 I love an Orange car and recognize not every one has similar affection for such an ostentatious color, but for those that do enjoy these sorts of bright colors there are few better possibilities for such brashness than on a 911 Turbo. It is a shouty car in every way. The owner has modified it in a variety of ways, both enhancing the appearance and also the performance. None of the modifications appear overly garish to me – at least not within the context of an Orange 911 Turbo – but there certainly would be a lot to concern a buyer seeking originality. I'm ok with most of that since this car is a long way from achieving collector status even with the paint-to-sample exterior, but all of these are matters that must be factored into the asking price. With nearly an $80K BIN I don't think this one will sell anytime soon, but we'll have to keep any eye on where the reserve auction heads. Bidding currently sits at $50,100, which is far from the BIN price, but begins to show the sort of value a 911 Turbo like this can have. Like the 996TT this is supercar performance without the supercar price tag.
-Rob