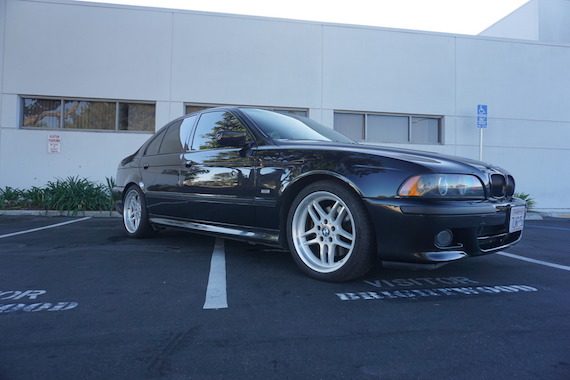 Yesterday Paul wrote up a 530i Sport noting that for many, the styling of the E39 5-series is vastly preferable to the E60 that came afterward, burdened as it is with awkward creases and controversial styling courtesy of BMW design guru Chris Bangle. I tend to agree, although I also think the E60, especially in sport specification, will probably become better appreciated as it ages. While yesterday's 530i with an autobox represents, as Paul put it, the "bread and butter" of the range, this particular car is a bit more special. The standard 540i, powered by a torquey 4.4 liter V8 making nearly 300 hp, is already a very capable sport sedan in its own right. The M-sport package however, which adds M-sport exterior styling, suspension and wheels, brings the car within firing range of the M5.
Year: 2003
Model: 540i
Engine: 4.4 liter V8
Transmission: 6-speed manual
Mileage: 103,000 mi
Price: $13,000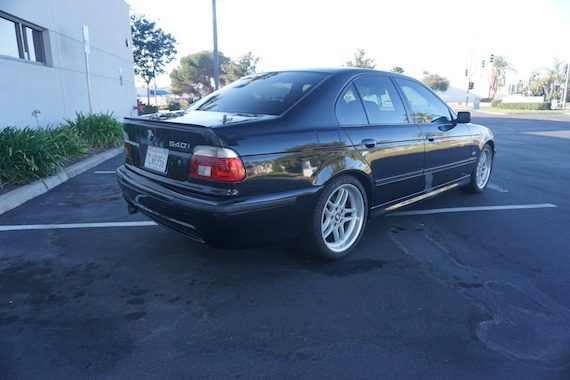 2003 BMW 540i, M-Sport, 6-Speed
Black Sapphire Metallic / Black Leather Interior
Mileage – 103,xxx
This is number 1124 of 1190 6-speed M-Sports.
Located in San Diego, California.

Many more pictures available here
http://smg.photobucket.com/user/TechnoDuck/library/2003%20BMW%20E39%20540i/Sale%20Pics

Mechanically in excellent condition.
Exterior shows very well but does have some imperfections consistent with the mileage. Mainly minor door dings.
Interior is in excellent condition.

Why am i selling? I absolutely love this car but unfortunately need something smaller due to loss of one of my garage spots.

The pictures and maintenance records speak for themselves but i am available to answer further questions

Please note that this car comes with a NEW YORK STATE title that is free and clear in my name. I moved 2 years ago and opted not to have a new title issued. The car is currently registered and insured in California. I will have a smog inspection done for any California based buyer.

I purchased this car in 2013 and prepped it for a cross-country drive from NY to San Diego, CA, It has been my daily driver since. I am very meticulous about my cars and keep them to a extremely high standard. The engine performs great, does not leak and does not burn any oil in-between 5k mile Mobil1 0w40 oil change intervals. Surprisingly quick for a 4-door sedan also. The 6-speed transmission shifts without drama and the clutch feels great.

The interior is in excellent condition. Has factory sunshades for the rear. No issues with sagging headliner. The original DSP stereo was replaced with a Dynavin N6 which works great. Adds Bluetooth and navigation into what appears to be the OE style navigation unit.

Nearly all stock with some very minor modifications. I have all of the original parts still.

-Dynavin N6 navigation (as noted above)
-ZHP shift knob
-M5 shift rod (slightly shorter throw)
-M5 rear sway bar
-M5 rear subframe braces
-Piano black kidney grills

Mechanically this car is probably as perfect as it gets. I addressed every single common issue that the E39?s have. I keep very detailed maintenance records and have all of the receipts from myself and the previous owner. A great highway cruiser; Rock solid road feel, returns 25+ mpg and effortless passing power.

Most work was done at about 88k miles in 2014. Just going off what i can remember…
-Entire cooling system overhauled. Radiator, every hose, fan clutch, fan blade assembly, expansion tank, valley pan, coolant tubes under intake, water pump
-Intake removed. Replaced PCV and evap tube. Replaced intake manifold gaskets.
-Valve cover gaskets and upper timing cover gaskets replaced. Valve covers stripped and powder coated black.
-Transmission mounted replaced
-Fuel filter replaced
-Timing chain tensioner replaced
-All rollers for the serpentine belt drive and a/c belt replaced
-New smog pump and new evap solenoid. Replaced seals on smog pump tube between the cylinder heads.
-Replaced power steering lines
-Replaced both front control arms… lower thrust arm and the upper on both sides
-New sway bar drop links front and rear
-Shift linkage rebuilt with all new bushings.
-New display screens for dash cluster and radio (fixed dead pixels)
-Replaced all four O2 sensors
-New battery
-Transmission oil changed, rear differential fluid changed
-Replaced broken headlight adjusters
-Continental ExtremeContact tires
-Almost all stock with minor changes. Black kidney grills (still have originals), M5 shift lever (slightly shorter throw), ZHP shift knob, Dynavin N6 nav unit, M5 rear sway bar and M5 rear differential braces. I still have all of the original parts also.
-Fuel pump @ 100k miles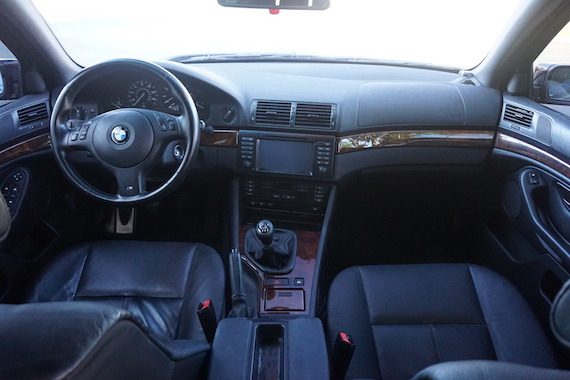 In black over black leather with the M-aerodynamic kit, M-parallel wheels and black kidneys up front, this car looks the business. Most importantly of all, and unlike a number of the M-sports I've seen online recently, this one has the coveted 6-speed manual gearbox sitting between the driver and front passenger. That third pedal makes all the difference. Condition looks to be excellent inside and out, the product, it seems, of a fastidious owner who has kept on top of maintenance (all the work noted is par for the course on these) and who has also added a few gentle and tasteful modifications (M5 sway bar, ZHP short shift knob etc.).
I bet this would make for a fun and rewarding canyon carver, one with plenty of space to bring some friends along for the ride. I'm not sure about the significance of the title issue (the car is in CA but still has a NY title); someone better acquainted with the law will be able to comment on that. Mileage is reasonable (103k), and the $13k asking price seems fair to me given the condition on show. Sure, you might be able to pick up an M5 for similar money, but the question is would you want to? Similarly clean M5s tend to be priced around the $20k mark, whereas the cheaper ones have often lived rough lives.
– Craig