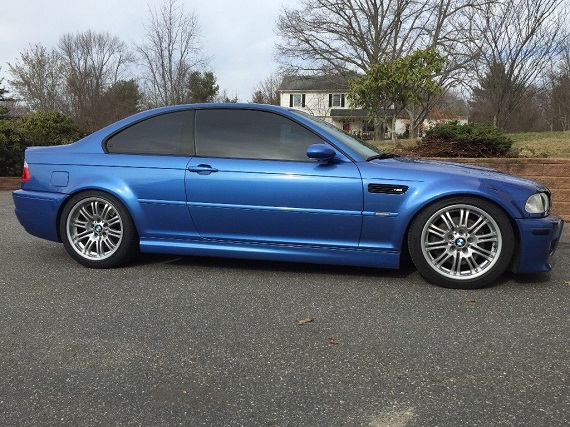 In my search for an E46 M3, one thing became quite clear – finding uncommon colors in good shape was very difficult. When you start to look at the color breakdown of the 2001-2006 M3s imported, it soon becomes clear why. According to the M3 Portal, some 5,853 coupes were ordered in Titan Silver Metallic – basically, one out of every 5 coupes in the U.S. is this color. A further 4,700 are Carbon Black, about 3,400 are Black and and nearly 3,000 are Silver Gray. See where we're going? A full 60% of E46s were either silver-gray or black, and a further 10% were eaten up by Alpine White or Steel Gray. So only 30% – about 7,500 in total, broken up between the eight stock colors, with a minority – only 321, or just over 1% – being special ordered through BMW Individual. Some of the Individual colors are just about that, with about 30 different shades being selected. For example, there is one Malachite Green Metallic E46 M3 kicking around the U.S. somewhere. But today's color was a much more popular selection, though it bookends E46 production. Available on the E36 and back by popular demand on the new 3-series, Estoril Blue Metallic certainly looks great on the lines of the E46, and this is one of a reported 58 imported in this color: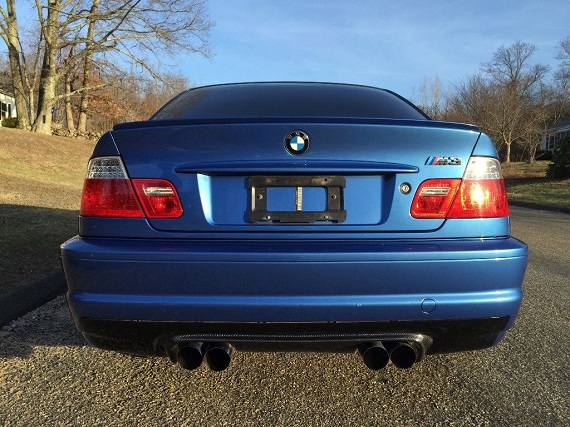 Year: 2003
Model: M3
Engine: 3.2 liter inline-6
Transmission: 6-speed manual
Mileage: 82,100 mi
Price: $21,500 Buy It Now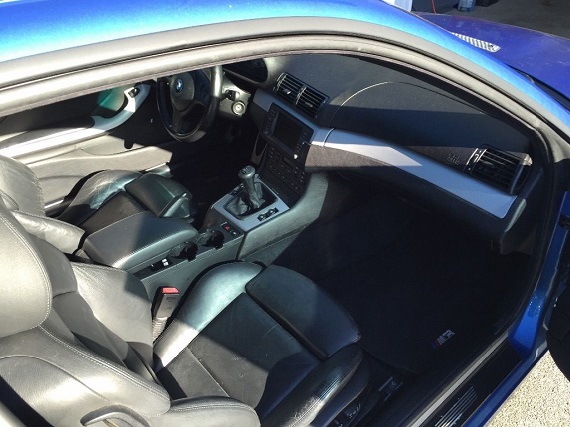 Up for sale is my beautiful 2003 BMW M3 Clean CT title. Car has been very well taken care of and has only been used as a weekend driver in the summer, it's also tastefully modded.

82k miles
6 speed manual transmission
Cold weather package
Black leather interior
Harman kardon sound system
Bi-xenon headlamps
DVD & navigation system
Power everything
Estorilblau metallic blue
Tinted windows
Bilstein adjustable coilovers
Turner motorsports rear camber arms
Turner motorsports front camber/caster plates
Agency catless mid pipe
Agency titanium tip exhaust
K&N typhoon intake system
Performance tune for exhaust/intake
Carbon fiber diffuser, grill, side vents
OEM wheels wrapped in Dunlop tires 80% tread left.

Exterior 9/10 small scratches and 2 small dents.
Interior 9.5/10

Exhaust system has no catalytic converters but has no check engine light. I will not be responsible for emissions due to exhaust being catless, just needs visual inspection to pass. I do not have any of the stock parts. Previous owner had tire pressure monitoring system removed because of small leak. Tpms light is on.

Car runs and drives like new, turns heads everywhere it is driven. Bid with confidence, this m3 is as perfect as it looks in pictures.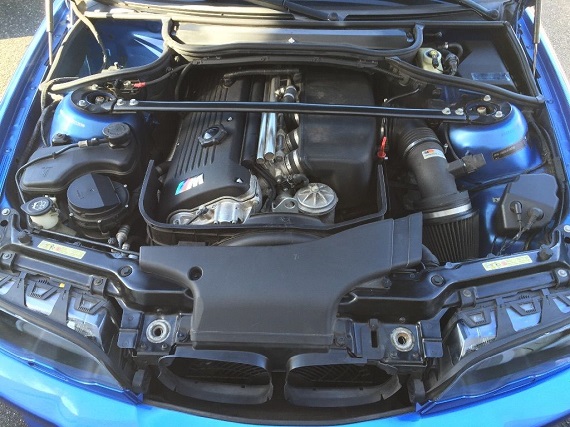 Overall the gleaming exterior looks fantastic to me. E46s where shouty colors particularly well, and Estoril is a neat departure from the more typical Laguna Seca, Topaz or Mystic Blues. Miles are pretty low and this is an updated 2003.5 model with a 6-speed manual, making it quite desirable. Unfortunately, there are some things that detract from the overall appeal of the car; in my mind, the black-out items don't mesh well with the blue, and I think the original chrome kidneys, side vents and painted fill panel between the exhaust would look better. The wheels have been refinished in bright silver which doesn't look horrible but would be better matched with the original chrome bits. But then there are more serious modifications, like the cat-less exhaust. Integrated cat downpipes for the E46 are quite expensive – around $3,000 from the dealer, and up to $1,000 used. There are aftermarket parts, but they're not much cheaper, either. Smogging this car in most states will likely be very difficult. Under the hood is an aftermarket intake, but what drew my eyes were the sloppily placed wires running over the hood seal on the passenger side. A quick look at my car shows them neatly arranged in a factory grommet that goes under the seal – odd. The seller also displays a slight lack of knowledge regarding the TPMS, since the E46 utilizes differential rotation of the wheels to throw the code. The seller of my car tried to tell me that mine was flakey and sometimes came on, too – and it did, until I fixed the leaking old tires with tires that don't leak, solving the problem :-). If the TPMS system light is on, there's something wrong with it or the tires are going down – you can't "take it off". Then there are two previous accidents reported on the car but not disclosed in the listing. The exhaust modifications and admittedly top-dollar suspension upgrades, along with some of the other add-ons, generally point towards a history of the car being driven hard. Lump these items together and the asking price of $21,500 is pretty high in my opinion. The unique color and 6-speed configuration check the right boxes, but I bought my E46 with less than half the miles, no accident history and in better original condition for around the same amount as the ask here. A careful PPI needs to address any outstanding accident damage and what else is wrong with the car before a price which is more likely at most in the mid-to-high teens will be seen, in my opinion.
-Carter