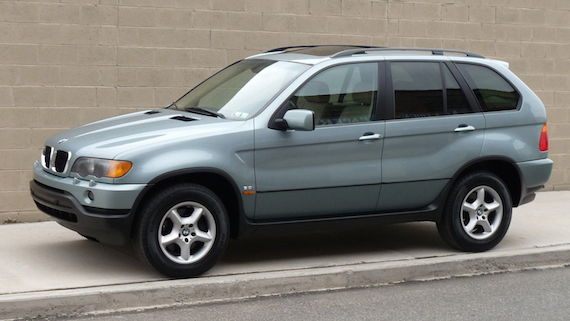 I like things that are different, especially when it comes to cars. I think that's why I've always been attracted to fast wagons. They're an unusual choice in the States and I like feeling like I belong to a special club. Back in the early 2000s, the Germans were just starting to test the waters with SUVs. Little did they know that within a matter of years they would become their bread and butter. Wagons were slowly pushed out of the American market and those that stayed sold in very limited numbers until they were lifted and given body cladding. As a lover of long roofs I shouldn't be a fan of vehicles like the X5 but of all the German SUVs, it has always been the one I had a soft spot for, even though BMW tried to coin the term "Sports Activity Vehicle" when it debuted. Perhaps it's the fact that they offered it in oddball colors like this Grey-Green Metallic which screams Euro country cruiser or maybe it's that they offered it with a 5-speed manual. The idea of a German SUV with a 3 pedals being sold in this country is laughable these days but from 2001 to 2006, it was no joke.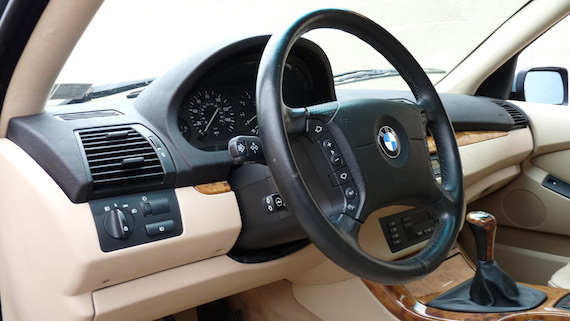 Year: 2003
Model: X5 3.0i
Engine: 3.0 liter inline-6
Transmission: 5-speed manual
Mileage: 134,593 mi
Price: No reserve auction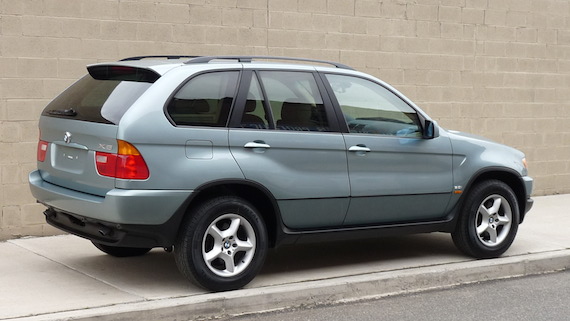 This is a very clean 2003 BMW 3.0L X5 with the factory 5-Speed Transmission and All-Wheel-Drive. It is also equipped with the Premium Package, Cold Weather Package, Rear Climate Package, Park Distance Control, and the Xenon Headlights. We have both sets of Keys/Remotes, all of the Glovebox Manuals, and even the original Window Sticker of $46,645.

This X5 runs and drives beautifully. The 3.0L engine runs very strong and smoothly. The transmission shifts crisply, and the clutch engages smoothly with lots of grab. The suspension and steering feels nice and tight. The owner installed a complete set of premium Continental tires very recently, which are still nearly new and the brake pads are in excellent condition as well. There aren't any service or warning lights on, and this X5 is ready for immediate use.

The exterior color of this BMW is in excellent condition. The Gray-Green Metallic paint is super glossy over the entire body. The body looks terrific and the only imperfections are some stone nicks and bumper rub marks, there aren't any dents, and there isn't any body rust at all. The undercarriage is also clean in excellent condition. The alloy wheels are in great condition without any damage.

The interior has been well maintained. The carpeting is fluffy, and all leather seat surfaces are soft and supple with only minor wear. All of the interior trim is intact, tight and in great excellent as well. The owner was a non-smoker, and there aren't odors or burn marks inside this vehicle.

The vehicle history report is clean without any accidents, and we have the clear title in hand. I wouldn't hesitate to jump in and drive this BMW anywhere is the country.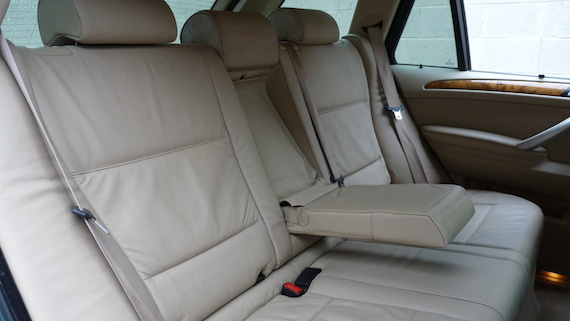 The first generation X5 (E53) was as handsome an SUV as one could ask for back in the early aughts. I think the styling has held up well over time, especially on the 4.8is models with their ultra wide rear wheels and aggressive front and rear fascias. This pre-2004 facelift 3.0i is a very casual looking ride, but that doesn't bother me one bit. Back then not every SUV had to look like it was going to run up on you and rip your face off. They could get by on decent driving dynamics and utility. Some years back I spent a lot of time driving a friend's 2004 X5 with the 4.4L V8 and I was always impressed with how it handled itself on winding mountain roads. It never felt like I was riding up on top of the chassis but more like I was in it, rare for an SUV of that era. That can be attributed to the fact that BMW designed the X5 to be a sport sedan with lots of its parts being pulled from the E39 bin. With 62% of the power being routed to the rear wheels through the AWD system, the X5 does a decent job of keeping with a traditional BMW rear-wheel drive feel.
It's a shame that BMW didn't offer a manual with the V8 but I suppose we're lucky to have gotten one at all. If they had I'm sure the vehicle would have an even larger cult following than it already does. I could see myself using this as a daily driver, just not here in Los Angeles. No, this example is well suited for transport between a rural estate and the town were one must regularly travel for provisions. Of course the minor amount of Land Rover DNA embedded in its bones would allow for light duty off-roading, a picnic enjoyed on the horizontal split hatch at the top of a grassy trail or easy navigation of a muddy farm road. The point is that this particular X5 is a far cry from the 20″ rim wearing 4.6is "fastest SUV in the world" models that I regularly see in used car lots around Hollywood. This is a rather honest BMW, one that is ready for just about anything you can throw at it. It appears to have been well cared for over the 134,593 miles it has traveled so far and the M54 inline-6 is a reliable motor as BMWs go. I'd bet this thing is ready for another 100,000 easily. With three days left to go, no reserve and the bid sitting at $5,100 this is going to be a great buy for somebody. I hope that whoever takes it home appreciates how different, dare I say radical this vehicle was for its time and that it remains a special ride.
Cheers,
-Andrew