Warning!
This post is in our archives. Links in this post may have been updated to point to similar cars available to bid on eBay.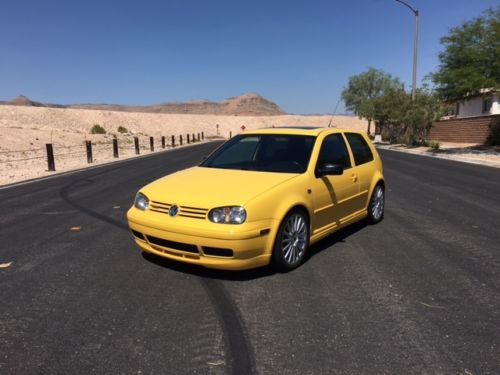 Volkswagen's special editions on the fourth generation Golf were confusing for a bit. Once again in 2001, a neat GTi was launched that – of course – wasn't coming to the United States. But of all of the special editions that weren't sold here, perhaps this one made the most sense to be excluded. It was called the 25th Anniversary Edition and you didn't need to be good at math to realize that there was no GTi sold here 25 years before 2001. Since the "18 year Anniversary Edition" didn't make much sense from a marketing perspective even in spite of Volkswagen's continual spotty judgement in that regard, it was no surprise that it wasn't offered. That was too bad, as it had a lowered suspension, better brakes, a bit more power, fantastic Recaro seats and the best looking BBS wheels fit to any Volkswagen, ever. Volkswagen enthusiasts in America drool inwardly and shouted openly, so in 2002 Volkswagen finally did bring the special edition here. Again, since "19th Anniversary" didn't make any sense, we instead got the "337" Edition. This was, for all intents and purposes, an exact copy of the 25th Anniversary model, but instead the 337 referenced the internal project code for the original GTi. But they were quite limited, with only 1,250 sold in the U.S. and 250 sold in Canada. So, you probably missed out on your chance to own one, right? Well, wrong, because in 2003 Volkswagen re-released the 337 edition. Conveniently, there was now a round number that they could actually commemorate the GTi's longevity with as it had been 20 years since the A1 GTi rolled out of Westmoreland. Again, it was a greatest hits edition of the GTi; the 337 upgraded 12.3 inch vented brakes with go-faster red calipers carried over, as did the upgraded suspension. Though they sported different fabric, inside was the same Recaro interior with deep bolsters. The golf ball shift knob also returned, though it now was mated to a new 6-speed transmission (MQ350) which in turn were connected to R32 Aristo wheels in place of the BBS RCs. Deeper front and rear valances matched the previous two models, and the 20th AE got blacked headlights more similar to the 25th AE. A final homage to the original model were subtle rabbits adorning the rear and vintage inspired GTi badging. But the biggest change was that the 20th AE was available in three colors unlike the silver-only prior cars; Black Magic Pearl, Jazz Blue and Imola Yellow: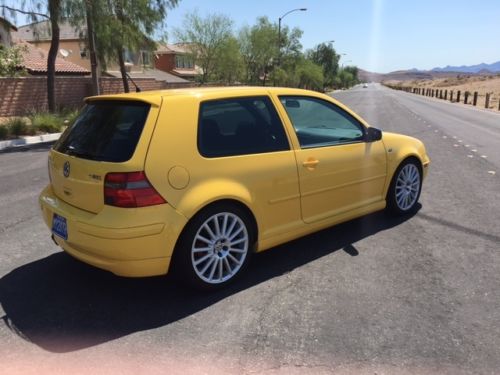 Year: 2003
Model: GTi 20th Anniversary Edition
Engine: 1.8 liter inline-4
Transmission: 6-speed manual
Mileage: 152,000 mi
Price: $8,500 Buy It Now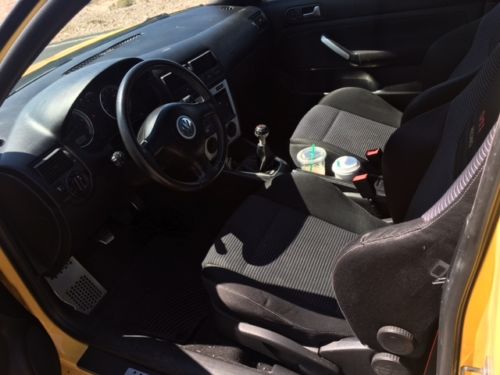 Year: 2003
Make: Volkswagen
Model: 20th Anniversary GTI
Mileage: 152000
Title: Clean
Ext. Color: Imola Yellow
Int. Color: Black
$8,500.00 OBO 🙂

1 of 1,000 in the US.
Number: 0899
Never been in an accident
West coast car
Have clean car fax and clear/clean title in hand

Unmodified motor that runs strong with a brand new clutch
No vagcom, stock turbo

New //
CV Boots
Rear Main Seal
Oil Housing Seal
Front Tires – Brand New Yokohama YK580
Rear Tires – 3k miles Yokohama YK580
Monster Floor Mats
Power Steering Pressure Hose
Seat belts replaced due to gauge/warning light
Smoked Markers and Turn Signals
The wheels have absolutely no curb rash
H&R Sport Springs just installed

Interior: 9/10 – Very Clean
No rips or tears in the stock GTI Recaro seats – bolster clean
The carpet and door panels are immaculate
Speakers and radio all in GREAT shape
No drooping in the headliner
Brushed Aluminum Door inserts are in perfect condition

Exterior: 8/10
Car has typical rock chips – very minor
No dents or body damage
Lip and side skirts have no cracks

Engine/mechanical 10/10
Car runs perfect
No noise
No leaks
Engine bay is clean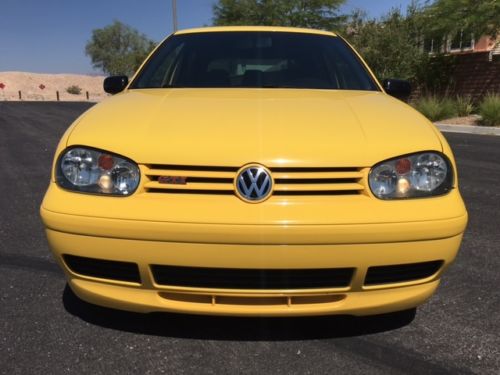 Though there were 4,200 produced, finding a clean, original and mostly unmodified 20th AE is pretty difficult today. Miles are higher on this one but the condition generally looks pretty good. Jazz Blue and Imola Yellow were produced in lower numbers – 1,000 each. The 1.8T was good for 180 horsepower, and coupled with the sub-3,000 lb. weight, these were entertaining cars to drive. I was lucky enough to spend time behind the when these were new at Watkins Glen, and out of the box they were really a lot of fun to drive. Unfortunately, downstream reliability on the Mk.4 hasn't been great, but as they're not hugely complicated (unlike the W8 from this morning), getting them correct isn't a budget-breaking proposition. The only problem I see is that the 337s and 20th AEs typically carry a premium. Here, this 150,000 mile GTi is asking $8,500. For less than half that, there are a few other 1.8T GTis from the same generation on eBay with similar miles. Admittedly, you don't get all the trick AE stuff or the numbered build plate. More troubling is that you can get into the faster Mk.5 model which has better build quality for similar or less money than the ask here. I've always loved the look of the AEs though, and pretty much any special edition GTi will hold more weight to fans down the road. This one has a few too many miles to be a collector, so the price would have to come down slightly for it to really be a good deal, but still it's a quite entertaining and very affordable daily driver with a lot of unique character – all hallmarks of what made the GTi great.
-Carter