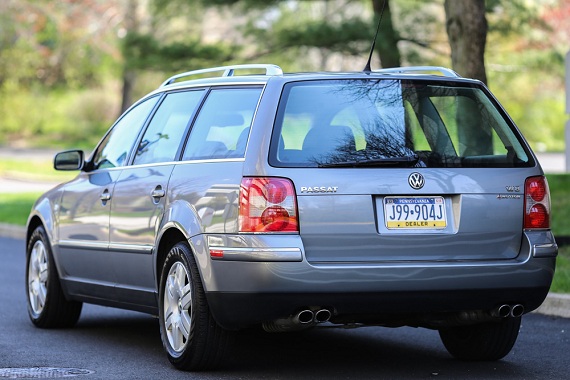 Earlier in the day that I wrote this, I was out and about doing errands with my son in my 2002 Volkswagen Passat 1.8T Variant. I was enjoying a sunny spring day that has finally arrived in New England, sunroof open with my son pointing out everything of interest to him; which is most things, as it turns out. But what struck me as I drove around is how nice and underrated the Passat is; an Audi in a Volkswagen dress, it's a well built, quiet and comfortable cruiser. When you want to go a bit faster, it acts more like a big GTi than a small Audi. And in back, it can swallow a load of cargo that would leave most sport utility vehicles to shame. Yet the Passat is often overlooked as a choice, heaped into the Check-Engine-Light generation of Volkswagen Audi products to look out for. Well, speaking from now 6 years of Passat ownership, it's never once left me stranded and for what should be a dull daily driver, it's a good looking and fun to drive reminder of why we buy German cars. To top off my drive, I ended at my mechanics where I had to drop off some parts for the Coupe GT; one of the patrons walked out and up to the Passat and remarked "It looks like a new car!" While that may be a bit of a stretch on my 12 year old, 115,000 mile example, it's not on this top of the line Passat today – a W8 4Motion Variant with a scant 33,474 miles covered since new: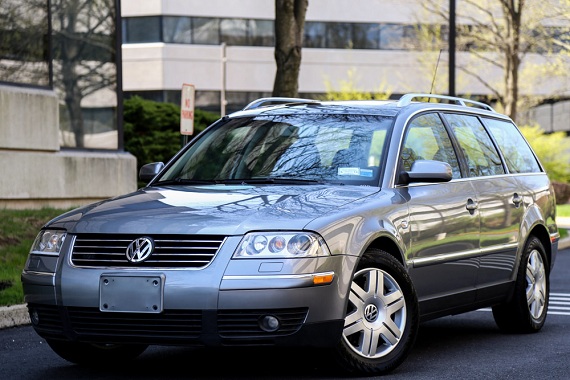 Year: 2003
Model: Passat W8 Variant
Engine: 4.0 liter W8
Transmission: 5-speed automatic
Mileage: 33,474 mi
Price: $14,950 Buy It Now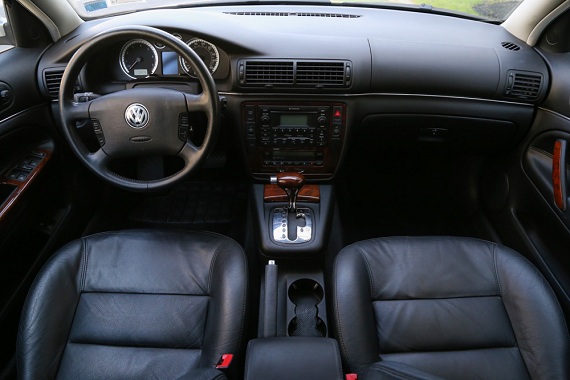 Very HARD to FIND Volkswagen Passat W8 with ONLY 33K Original Miles!

1 OWNER!

Fully serviced! (see service records on bottom of listing)

MOST EXPENSIVE PASSAT EVER PRODUCED!

4MOTION ALL WHEEL DRIVE@

ALLOY WHEELS

SUN ROOF

Folding rear seats

You are looking at a very popular and respected German sedan that has been well kept and maintained; it's an all around great looking vehicle. This car has a powerful yet economical W8 engine! This is a loaded model, featuring heated seats, CD player, wood trim, power windows, mirrors and locks!

There are no reported manufacturer's defects on this vehicle. This is a-never-smoked-in beauty that looks and smells great. The cars exterior is painted with a great looking dark gray that has a deep sparkling shine to it. The gray with black interior combination is highly desirable and combined with genuine wood trim gives the car a true luxury appeal.

The engine sounds, runs and feels smooth and provides abundant power. It's a W8 engine, which means you get a lot of power. The Excellent Automatic TIPTRONIC transmission shifts like on a new car with the – smoothly and easily, while the in TIPTRONIC mode it lets you shift gears on the fly with the tip of your finger.

All electric componenets seem to be in working order, while the engine compartment clean, and void of any leaks.
The A/C blows ice-cold and the heating works as it should. The interior is in great shape and shows almost no wear at all (the pictures clearly show the interior is nearly flawless). The front seats lean all the way back to the rear, so you can actually sleep rather comfortably in the car!

The Volkswagen Passat rates very high in safety, it's not a very light car, and has a lot of specially engineered alloys along its frame to dampen any possible impact. The SIDEGUARD Curtain and the front airbags provide the safety you and your family require. As you can see from the pictures, the rims are in good condition, while the all season tires on this auto have been rotated, balanced and still have plenty of tread wear left. The car is also equipped with projector fog headlights

The trunk has many functions, one of which is obviously the superior cargo capacity. There rear seat has a 40/60 split in case you go skiing or just have boards to take home from Home Depot. The trunk is very clean and roomy as you can see from the pictures. The previous owner used it sparely and it looks as if it were new. This is a unique hard to find car, that is painted with a color that really makes it stand out in the crowd of other cars. It's been garage kept, and is in good condition.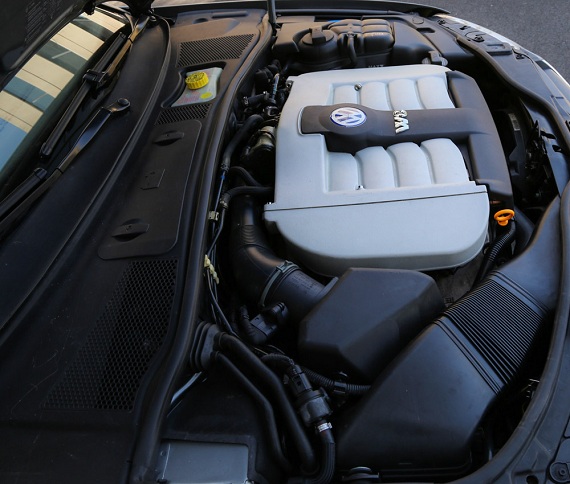 Obviously, service records would be key when purchasing any older Volkswagen, especially one of the more complicated ones ever produced. Because the miles are so low, there wouldn't be much to service here, and the records seem to indicate that it was regularly treated to a going-over. Mileage is the lowest I've seen on a W8 yet, and the condition is certainly the best I've seen since they were new. This car doesn't have some of the more sporty options, such as the 6-speed manual and 17″ BBS "Madras" wheels, but there weren't too many options available for the W8 so it's not a stripped model. The color is conservative but nice; it probably wouldn't have been my choice but I like brighter shades. The price for this near perfect 11 year old car is fairly high for an older Passat, but not incredibly out of line. While not as sport as the S4 and the automatic will likely keep most enthusiasts away, for the same money as a new base-model stripped Jetta you could have the top of the line Passat with all-wheel drive, a 8 cylinder engine and the versatility of the wagon – in basically new shape. For me, it's no question which I'd choose!
-Carter